VERDICT:
With the Amkette Flash TV HD media player, what you get is good performance, at a price of just above Rs 4k. Videos get upscaled without any issues. The design stands out, and the slim form factor makes it easy to setup near the TV. However, the lack of LAN connectivity options means you shouldn�t buy this if you have network storage that holds on to your media files.
Now, Amkette has rolled out the latest addition to its media player portfolio- the Flash TV HD. Let us find out how good it actually is.
Look and Feel: The new look
Straight out of the box, the Flash TV HD catches the eye with a completely unique look. While HD media players have traditionally followed a largely similar form factor, barring size differences, this one does offer something different. The rounded design, along with the extremely thin form factor, does make this stand out when placed in the entertainment console at home.
The top panel has a glossy black finish, with the product name clearly plastered across it, along with the logos clearly stating this one has HDMI, is DTS and Dolby audio capable. The rounded side panels are largely clean, except for the memory card reader on one side. The rear panel (whatever the rear panel on a circular design is!) is the business end for all the ports- composite video, component video and HDMI. Digital audio requirements, in case you will connect this to a home theater setup are met by coaxial audio. No optical audio port here, though.
While the build is completely plastic, the quality offered is good, with no rough edges visible. However, there is a distinct lack of "high quality" finish to the product.
Features: Basic HD media player
The Flash TV HD looks superb, but as far as the feature set is considered, there really isn't anything out of the ordinary. This can handle almost all video formats, including rmvb and flv. Audio formats are handled with ease. However, the lack of LAN capability means any network-based media cannot be accessed. The fact that there is only one USB port on the media player limits you to connecting one hard drive to it at any point of time. This will have serious ramifications for someone who wants to connect a couple of storage devices to it, and not have to keep connecting them again and again.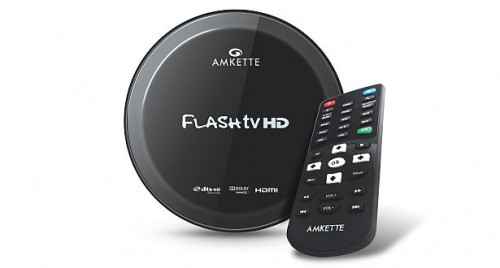 Performance: No complaints here
Whatever this media player lacks in terms of connectivity options, it more than makes up for with the good performance. Video upscaling to HD resolutions is good. No extra noise or artifacts were visible on Standard Definition files after the upscale treatment, except one. This one particular SD file, in the avi format, just became a tad noisier, than it originally was. However, we can also blame that on video containers, and the compression implemented on the file originally, to keep the size down.
The remote is pretty slim, which is welcome. However, button placement isn't optimal. Nothing beats the remote of the WD TV Live HD media player, in terms of size, button placement and the feel of using it without having to look at it.
Audio can be channeled either via HDMI, directly to the TV, or via coaxial audio. If you are connecting this media player to a setup that has a home theater involved, we suggest you use the coax audio option, since this will offer the actual surround sound experience. Audio transmitted via HDMI, contrary to general opinion, does not offer the perfect surround sound experience.
The interface left me divided, and seems to be a balance between the good and the bad. The colours dull, and the home screen isn't very awe inspiring, but a couple of minutes of running through the menu and you will not have any problems with the navigation. What we do not like about HD media players is the complete lack of customization options, as far as the interface is concerned. While installing the Mochi UI (as seen on the WD Live Hub) isn't possible on all media players, at least some bit of theme management and customization should be available.
Our take: Good buy, limited features
The Amkette Flash TV HD media player offers good performance, for a price that isn't very high. Having said that, if you want to access network storage or use some streaming software like the PS3 Media Server or TVersity, then this just wont work. For Rs 4.2k, this media player is a good one if you are on a tight budget. Else, you should check out the WD Live, which offers a lot more, but costs Rs 5.6k. You may just want to stretch that budget a bit more!
Specifications
HD Media player, HDMI 1.3, Composite and component video, Full HD (1920×1080) upscale for videos, coaxial audio out, 1 USB port, memory card reader
Price: Rs 4,295
Ratings
Features: 5
Performance: 7
Build: 6
Value: 6
Overall: 6
| | |
| --- | --- |
| | Amkette |
| | Flash TV HD |
| | 4295 |
| | |
| | |
| Performance (Out of 50) | |
| | |
| Max resolution supported | 1920×1080 |
| | |
| | 1 |
| | N |
| | 1 |
| | N |
| | N |
| | |
| Video (MKV / FLV / Real video / MOV / MP4) | AVI (Xvid, AVC, MPEG1/2/4, WMV9, VC-1), MPG/MPEG, VOB,ISO, MKV (H.264, x.264, AVC, MPEG1/2/4, Xvid, WMV9, VC-1), TS/TP/M2T (MPEG1/2/4, AVC, VC-1), MP4/MOV/M4V(MPEG4, H.264, M2TS, WMV9, DAT, ASF, RM, RMVB,FLV |
| Audio (FLAC, WMA / AAC) | WAV, MP3, AAC, WMA, OGG, LPCM, Dolby Digital Plus, Dolby True HD (Passthrough & Decoding), DTS 2.0 Digital Out, DTS – HD MA |
| | |
| Youtube / Google Videos | N/N |
| | N/N |
| RSS feeds / Weather / News | N/N |
| | N/N |
| | N/N |
| | N/N |
| | N/N |
| | N |
| | |
| | NA |
| | N |
| | Y |
| | Y |
| | Y |
| | Y |
| Performance (Out of 10) | |
| | 6.1 |
| | 3.7 |
| | 6 |
| | 6 |
| MKV (720p) (Performance) | 6 |
| | 6 |
| MKV (1080p) (Performance) | 7 |
| | 6.5 |
| | 6.5 |
| | 6 |
| | 6 |
| | 5.5 |
| | NA |
| | 6 |
| | 5.5 |
| | 8 |
| | 7.5 |
Contact: Amkette India
Phone: 1800119090
Email: techsupport@amkette.com