Amkette EVO TV 3 4K detailed review
Getting your hands on a budget 4K TV isn't hard nowadays. We have brands like Intex, TCL, Kodak etc. giving users 4K TV's at an affordable price. One of the drawbacks of these TV's is that despite being internet enabled or "smart", they don't offer the best experience when it comes to consuming content from services like Netflix, Amazon Prime and more. If you want to make the most of these services, you will need to invest in a streaming box. Unfortunately, devices like the Chromecast Ultra, Amazon Fire TV 2017, NVIDIA Shield, Roku and more aren't officially available. The only 4K streaming box officially available in India is the Apple TV 4K.
Today, we have with us the Amkette Evo TV 3 4K streaming box. The box boasts the ability to play 4K content and runs on Android. Is it a worthy companion to your 4K TV?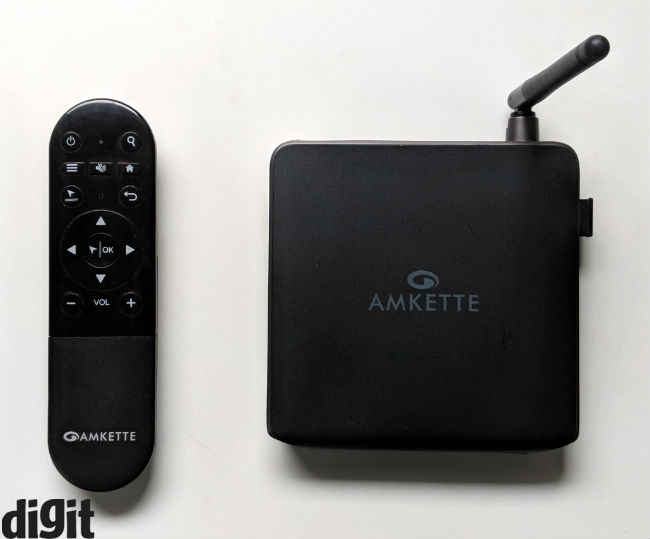 Build and Design
The best way to describe the Amkette EVO TV 3 4K is that it looks like a compact Wi-Fi router. It's slim, with a Wi-Fi antenna sticking out upwards from its back. It won't be the center of attention in your entertainment center. It has a really small form factor, which means you won't have to make space for it – a really good thing.
When it comes to connectivity options, on the right you have a microSD card slot and 2 USB ports. On the back you have AV out, Ethernet port, HDMI out, optical out and the power port.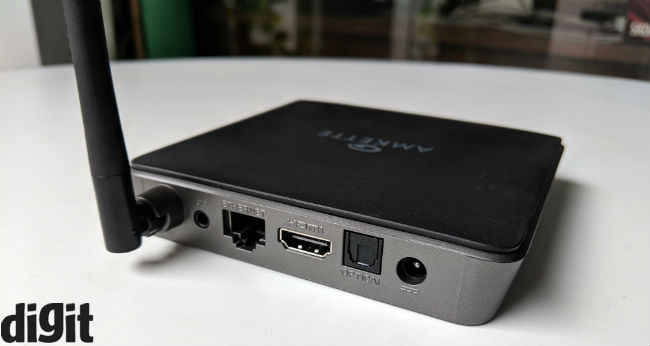 The device also comes with a remote control. The remote is small, compact and comfortable to hold. It has a standard slew of controls and supports motion control too. A good thing about this remote when compared to the Fire TV remote is the presence of a volume controls. This is especially helpful, if like me you have a monitor and speaker setup, where the volume controls are on the speaker itself.
The top two thirds of the remote control have a glossy finish, making it a fingerprint and dust magnet. It runs on two AAA batteries.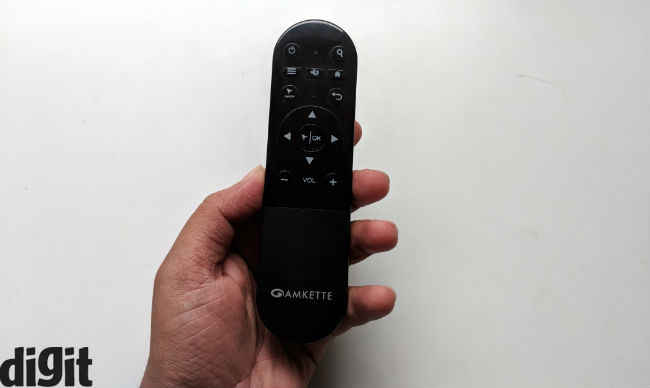 Overall, the build and design of the Amkette Evo TV 3 4K is good. It is compact and has a minimalist design. The only downside is that one of the two USB ports will be occupied with the dongle for the remote controls, which is a bummer when you have devices like the Fire TV Stick that sports a Bluetooth controller.
Features, UI and performance
If you own the Amkette EVO TV 2, you will feel right at home with the UI. It's exactly the same, and that isn't a good thing. The only good thing about the UI is the home screen that houses shortcuts to your favourite apps. For the rest of the UI and performance, we are breaking it down into two categories – consuming locally stored content and content off streaming services. We will also talk about the performance of the device when it comes to Android apps.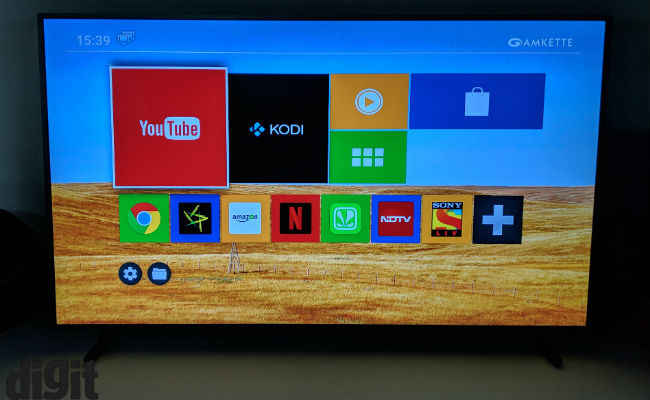 Amkette Evo TV 3 4K UI
Consuming locally stored content
If you have a hard drive full of high resolution movies, then all you have to do is plug it into the device and hit play. You can download any Android player that you like, be it VLC, Kodi, MX Player and more, and they will run the content. Kodi presents the best experience, especially if you have h.265 files. We didn't have any locally stored 4K HDR content, but our 30 odd GB rip of Star Wars: The Force Awakens ran smoothly on the device. It took the HDD its own sweet time to load the first time we plugged it in, but if you leave the device plugged in, it shouldn't take so long on your next booth.
If you have built a NAS box and stored all your photos, movies, TV shows and family videos, then the performance of the device is primarily based on your router. I have a mid ranged router at home, so all family videos and photos loaded quite fast. However, using Plex to play my movies and TV shows library, some of the heavier files faced a bottleneck at the Wi-Fi router end. So, if you are planning to stream locally stored content off the network, make sure you have a router that supports it.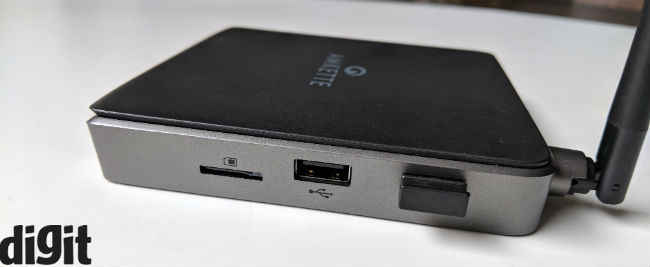 Overall, the experience of streaming locally stored content was good. The experience is only hampered by the UI. The pointer like controller isn't as fluid as those on WebOS powered TV's by LG. The remote control also doesn't have dedicated controls for play, pause, stop, etc, which is disappointing.
Consuming content from streaming services
When it comes to streaming content off apps like Amazon Prime Videos and Netflix, the experience is lackluster. To begin with, the UI of the two services is the same as we have seen on Android smartphones or tablets, just scaled to fit the big screen. It is overall a very frustrating experience trying to navigate a smartphone UI on a big screen where the play button for an episode is small and in a corner.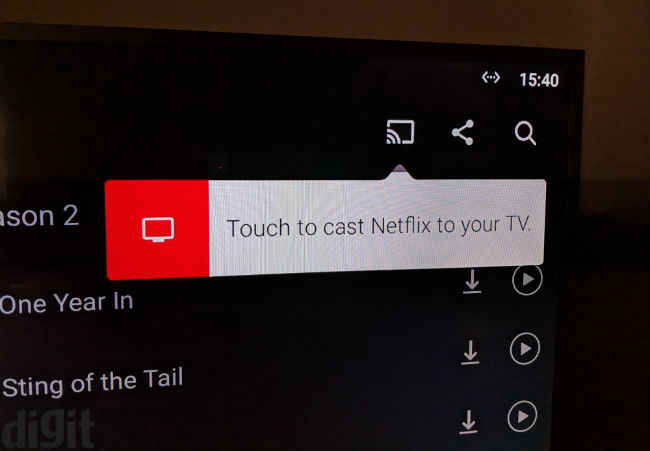 Smartphone UI of the Netflix App
Another thing to keep in mind is that Amazon Prime Videos and Netflix have 4K content in India but the Amkette Evo TV 3 4K doesn't support it. We asked Amkette about this and they responded, "The EvoTV 3 can play 4K content only from local sources so far. We are working on support for Netflix, Prime and YouTube."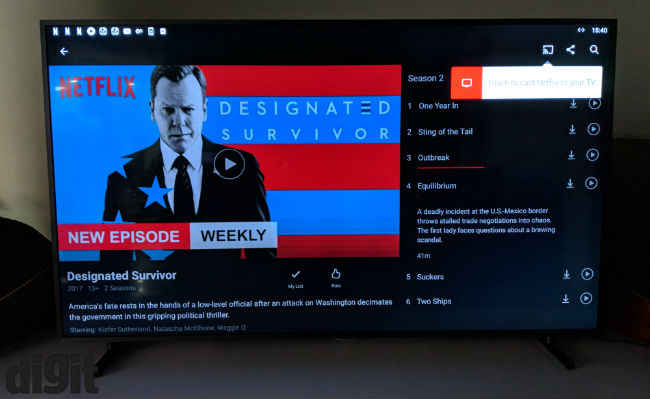 Smartphone UI of the Netflix App
We also asked the company about the Android smartphone/tablet style UI to which they responded, "Being built on Android, we have some huge positives like being able to run any Android app, including apps like Popcorn Time and Cartoon HD but as a result we need to use 'tablet' apps and the tablet UI's. This is not really an issue as the provided remote can easily navigate all the interfaces". Yes, the ability to run apps like Popcorn Time is great, but I can do the same on my Android TV and the UI experience on the Android OS for TV is much better than what is on offer on the Amkette Evo TV 3.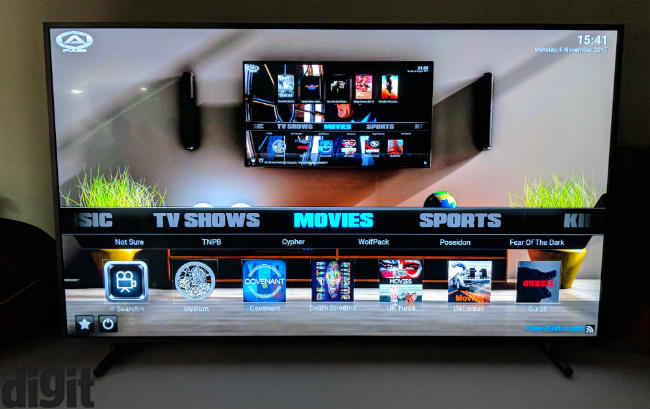 Kodi running on the Amkette Evo Tv 3 4K
Apps ecosystem
Since the Amkette Evo TV 3 4K runs on Android you can literally download any app off the Play Store. You can also side loads apps like Terrarium TV if you desire. You also have access to games off the Play Store but you will only be able to play those that support a controller. Despite having a large app ecosystem it's the UI which will give you a frustrating user experience.
Amkette Evo TV store
Google Play Store
How it compares
If you have an entry level smart TV, then you will have to invest in a smart box to enjoy online and locally stored content. If you have a large library of h.265 files stored on a hard drive and are looking to play them on your TV, then you can consider this. But if you want to enjoy Netflix and Amazon Prime in 4K (on your 4K TV), then you will need the Apple TV 4K, which at Rs 15,900, costs almost twice as much as the Amkette Evo TV 3 4K. If you are looking to consume 4K content off Netflix then you can consider the Chromecast Ultra, which is available for about Rs 8000 in the grey market. The Chroemcast Ultra doesn't support Prime Videos though. The Amazon Fire TV Stick 4K is available at about Rs 10,000 in the grey market. If playing games is also something you want in addition to consuming 4K content, we suggest you consider the NVIDIA Shield. The device isn't officially available in India but you can get it for about Rs 25000 to Rs 30000 in the grey market.
BottomLine
If playing locally stored content is what you are looking for then you can consider the Amkette Evo TV 3 4K. the UI is cumbersome, but if locally stored content is what you will play, then you should do fine with this. If it's 4K content streaming services you wish to consume, you are better off looking at alternatives.