VERDICT:
The second-gen Amazon Echo Plus is undoubtedly better than the first-gen device and the current Amazon Echo in terms of aesthetics and acoustics. Even with its new few new features, it doesn't warrant an upgrade. It makes an excellent first smart speaker though, and a hub for ZigBee home equipment.
What we have here is the second-generation Echo Plus. Straight away, you can tell it looks different from the original model. You'd be forgiven for assuming it's a device from the Google Home family and not the Echo family when viewed from the side. Amazon India is currently selling the new Echo Plus for an introductory price of Rs 11,999. Let's take a closer look at it to see if it's worth its seemingly heavy price tag.
Inside the box
1. Echo Plus speaker
2. Power adapter
3. Quick start guide
Specifications
Dimensions: 5.8 x 3.9 x 3.9 (W x H x D in inches)
Speaker size: 3-inch woofer, 0.8-inch tweeter
Virtual Assistant: Amazon Alexa
Ports: Power port, 3.5mm audio jack
Power: Proprietary 12v/30W round pin connector
Battery powered: No
Water- and dust-resistance: None
Design and Build
The first thing you notice about the new second-generation Echo Plus is that its design is considerably different from that of the first-generation model. While the original Echo Plus resembled a magician's cylinder for concealing wine bottles, the new model looks like a mix of the Google Home and the aging Amazon Echo. Height is now down from 9.2 inches to 5.8 inches. Weight too has reduced from 954g to 780g. The diameter, however, has grown from 3.3 inches to 3.9 inches.
Unlike the original Echo Plus, which came with a hard plastic shell, the new Echo Plus comes with a fabric shell, which admittedly is no softer to the touch but does lend the speaker's appearance an air of class. In my opinion, the stubby new Echo Plus looks cute at last and more approachable. I feel it blends in better with books, figurines, and other trinkets atop a shelf in the main bedroom.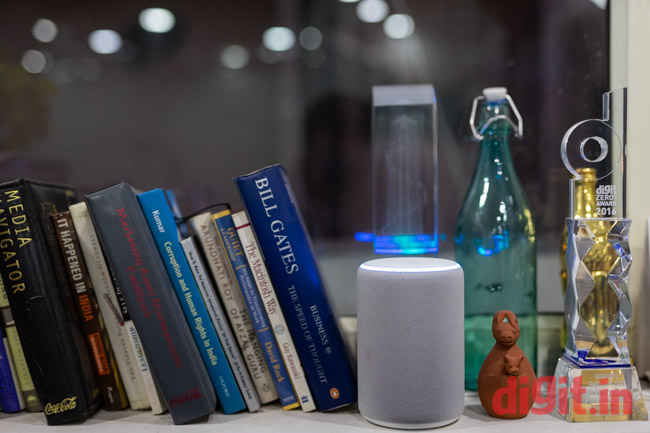 Fits better in a shelf now
On the top deck, the light ring remains as is. Counting the buttons on the top surface, we see two new ones for controlling volume apart from the existing action button and the microphone-off button. The holes for the seven-microphone array don't make an attempt to hide themselves. Down below, we see just two connectors: the power port and a 3.5mm audio jack, which, I'm happy to report, now works as both line-out and line-in. Amazon has quietly ditched the dust cap that covered the audio jack. On the bottom of the Echo Plus, we see a tripod receptacle and a covered power port for connecting the speaker to third-party devices.
Like all smart speakers tethered to a wall socket, the Echo Plus lacks water- and dust-resistance. Though the speaker seems solid enough to survive a short fall on a carpeted floor, I recommend you make use of the large anti-slip boot on its base to place the speaker on a flat, stable surface.
Setup
The Echo Plus' setup I felt was an easier and faster affair than the second-gen Echo's. A complete reset took no more than a minute to finish. The updated Alexa app too seemed more responsive on my iPhone. Within ten seconds of entering the setup mode, I was able to choose the Echo Plus on the Alexa app and enter the Wi-Fi network details. Device discovery has certainly improved from previous models; you no longer have to connect to the speaker through its own Wi-Fi network and then make it latch on to another one.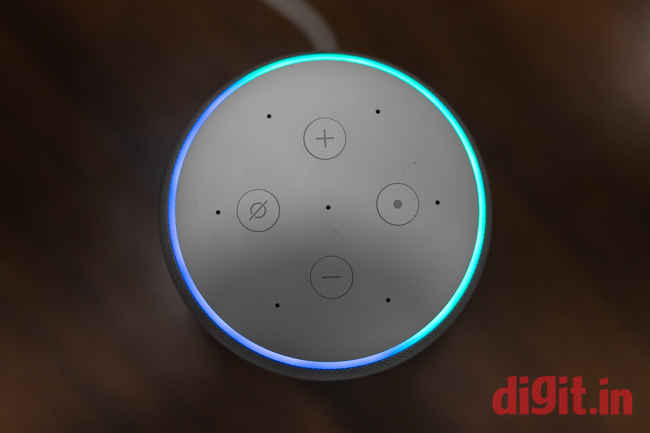 Top surface gets volume control now
Connecting to the speaker directly though Bluetooth is also a simpler process now. I felt there were fewer screens and menus on the Alexa app to go through before selecting the Echo Plus from the Bluetooth devices screen on the iPhone. To use the Echo Plus like any other speaker, I simply hooked it up to my phone and hit play on Apple Music. Switching between line-in and line-out functions, I noticed, was possible through Settings in the Alexa app.
Features and User Interface
The Echo Plus, like its predecessor is a smart speaker and a hub for connected home equipment. To connect to them the Echo Plus uses ZigBee as a wireless communication protocol. It skips Z-Wave, the competing protocol completely. To pick up commands from across the room the Echo Plus uses an array of seven microphones with beamforming and noise-cancellation technologies.
Giving commands to the Echo Plus while sitting close to it worked nine out of ten times whether it was noisy or quiet around. The only time Alexa missed my call was when I said her name too softly. From ten feet away she responded only when I gave her a lusty shout. In terms of response, I thought the second-gen Echo did a slightly better job of picking up Alexa wake-calls than the Echo Plus.
Surprisingly I was able to give Alexa commands in not just English but Hindi as well, without changing any language settings. I would ask her to start playing music in English but tell her to stop in Hindi and she would oblige. There were times when giving commands in languages other than English failed miserably. For instance, asking her what her name was in Tamil drove her to disconnect herself from my iPhone. She managed to give me the right translation of the phrase 'I miss you' in French though.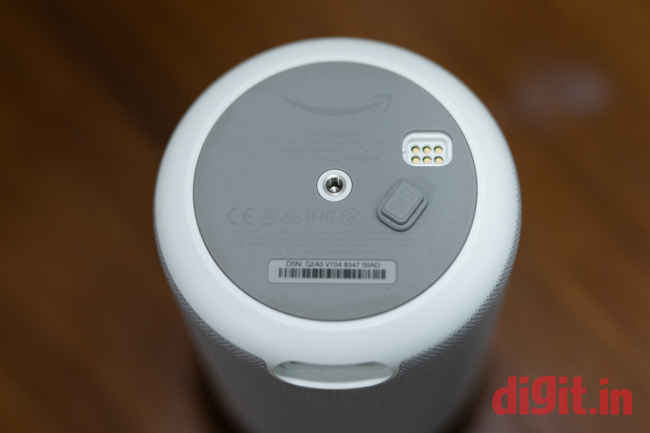 Ports to connect to third-party devices
The new Echo Plus comes with a dedicated temperature sensor on the back so it can tell you what the exact temperature around you is. This data, in my opinion, is more relevant than providing an online weather report. When asked for "the temperature inside the room", Alexa responds with a decimal value, like "it's 21.9".
The Echo Plus can be paired with another Echo Plus speaker to create a stereo effect. It can also be connected to an Echo Sub to beef up bass output. Considering the Echo Plus already has a price tag that nears the Rs 15,000-mark, it would seem a little pointless to invest in multiple Echo Plus speakers just for better sound, especially if you're an audiophile. In that case you're better off with a more professional sound setup.
Audio Quality & Response
Audio on the Echo Plus is one area where you can see a marked improvement from the previous model. While the first-gen speaker used a 2.5-inch woofer with a long bass reflex port on the inside the current Echo Plus uses a slightly larger 3-inch neodymium woofer with a shorter reflex area inside. The size of the tweeter stays the same at 0.8 inches.
Played directly through Alexa or via Bluetooth from a phone, music sounds rich and loud on the Echo Plus. Thumps feel full and the woofer doesn't seem to bottom out even when the volume is turned up all the way to full. High frequencies are heard equally well but there are times when they're overshadowed by lows. The effect could be caused by the design of the speaker; the two speakers sit so close to each other in a tiny cylinder.
Vocals are heard clearly enough but the lack of a mid-range speaker becomes apparent while playing pop tunes. This effect becomes significantly more noticeable when audio is played through line-in. Movie dialogues pass mostly through the woofer, making too deep to be understood. Luckily, there's an equaliser option in the Alexa app to adjust the lows, mids, and highs that allows some compensation.
All in all, audio on the Echo Plus is definitely clear and dynamic enough for most genres of music but it's certainly no replacement for a proper stereo setup. At any rate, it's the best you'll hear on an Echo device for now. We'll be able to do a deeper study when the Echo Sub gets here later this year. If you're more interested in the Echo Plus' automation capabilities and in Alexa's skills than audio quality, then you can get the Echo Plus with your eyes closed; she'll sing just fine.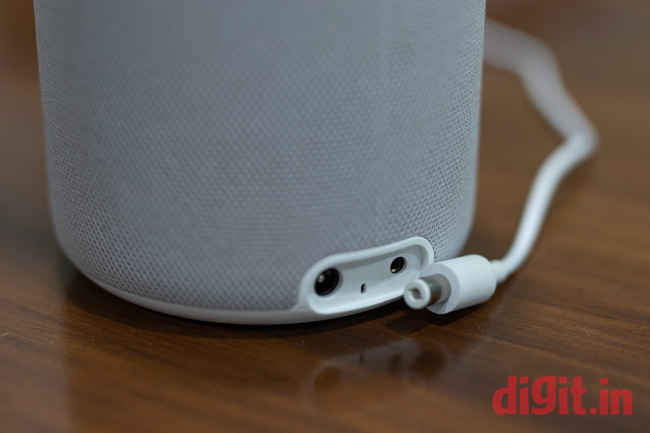 3.5mm audio jack now supports line-in as well
Unlike Google Assistant, Alexa doesn't yet support follow-up questions without losing context. For example, you can't follow up a question like "will I need an umbrella today?" with "how about tomorrow?" just yet but this feature is said to be coming soon. On many occasions Alexa responds to even simple questions with, "Sorry, I don't know that." On more occasions than I'd like, the Echo Plus' light ring goes completely off after taking a question and no response is delivered for a few long seconds.
Alexa's voice follows more or less the same level of intonation as Google Assistant's, which is not much at the moment. Responses sound dead and forced when Alexa attempts long sentences. There are times when an overlap or static stutter is heard in her voice. Understandably it's still going to take many more years to perfect voice response on machines. Amazon's technology, in the meantime, is still good enough to be thrown into a small cylindrical speaker.
Bottom line
The second-gen Amazon Echo Plus is certainly a step-up from the first-gen model. It's also definitely an upgrade from the Amazon Echo. Its larger woofer produces better sound and the internal temperature sensor makes it a thermostat with a fancy read-out function. But apart from that, there's nothing phenomenally different or better on this model to warrant an upgrade.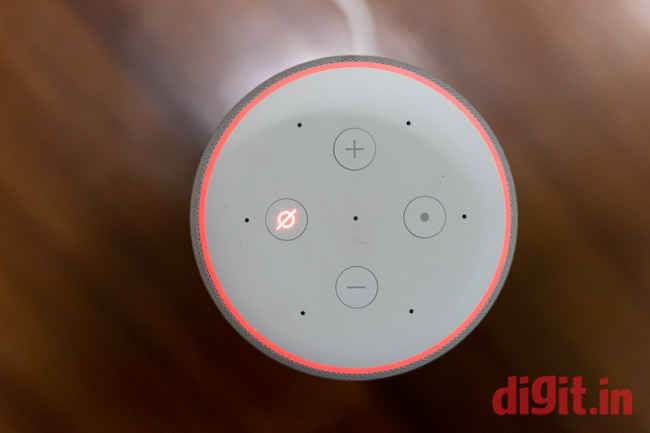 The 'don't spy on me' mode enabled
If, however, you're buying a smart speaker for the first time, consider the Echo Plus. It's got a responsive set of ears (seven of them to be exact), is capable of talking to ZigBee-enabled devices, and can sing quite well. The newly added line-in feature also makes it double up as a decent powered speaker for your calls and movies.
Reviewer's Notes
The microphone-off button has a new symbol that vaguely resembles the 'No Parking' sign on roads. This, I imagine, will confuse first-time users who want to get started with the device without wasting time on reading manuals or watching tutorials.
Symbols on the buttons are embossed so you can feel them easily in the dark for quick muting and volume control.
A status light to tell whether the speaker is on and listening would have helped in a country like India where power cuts are frequent.