Altec Lansing Mini Lifejacket 2 detailed review
When news comes in of Altec Lansing reentering Indian shores, any audio lover who has lived through the pinnacle of this company is bound to get excited. I distinctly remember two sets of Altec Lansing speakers - the 5.1-channel VS3251, and the 2.1-channel MX5021, being admired and adored all across. Even today, my 6-year-old Altec Lansing VS3251 sounds like a charm, and outdoes many other speakers that reached the shores after it.
In light of this, the Altec Lansing Mini Lifejacket 2 is as different from the traditional Altec Lansing that was. What remains is the logo, and the hope of the mammoth brand continuing its legacy of stellar audio. Here's what the Altec Lansing Mini Lifejacket 2 is all about, in detail.
Build, Design and Durability
To adapt to the changing times and needs of the consumer market, Altec Lansing is now focusing on wirelessly synchronised audio, portability and durability. As a result, what you get is a Bluetooth speaker that can withstand water, snow, sand and shock. Design-wise, the Altec Lansing Mini Lifejacket 2 looks decent to me, but many may not agree to the blue plastic body. It is heavily guarded by black rubber girders, which actually see it through heavy torture. It is heavy, too, weighing 410 grams. I've tried playing it under water for 10 minutes, smashed it on the floor from 10 feet high, thrown it down a staircase, and even stomped on it, and barring minor blemishes and bends on the grille, the speaker is absolutely fine.
Breaking it further down in details, the front and rear grilles seem lacklustre, albeit sturdy. It doesn't look like a premium speaker component in any angle. There is a rubber flap to the left of the rear end, which protects the micro-USB and 3.5mm ports from the invasion of water or any other material. The power, volume up and down buttons are all rubber-insulated, and the volume buttons also double up as next/previous buttons. Button response has been flawless, although the limited volume range often made me doubt whether the volume buttons are actually effective.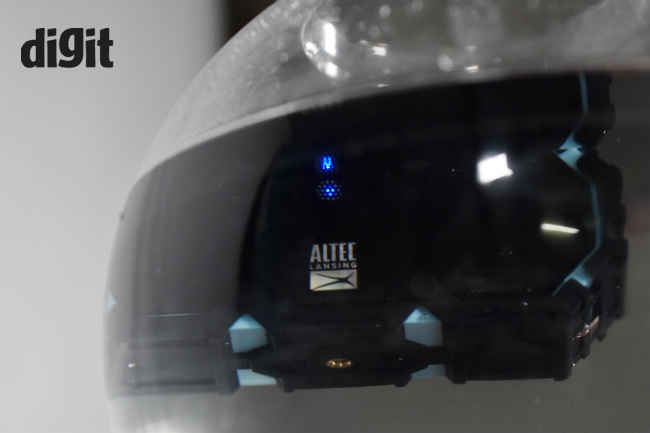 Design-wise, the Mini Lifejacket 2 has hard-edged angles and an octagonal pattern, which means that you can even align it vertically. The design is not exceptional, but it is not bad, either. It serves its purpose of being a monster in terms of durability, but the similarly-priced JBL Flip 3 looks and feels better, even with being splash-proof.
Connectivity
The Altec Lansing Mini Lifejacket 2 connects only via 3.5mm cable, or Bluetooth. Bluetooth connectivity is stable, and even amidst furniture obstacles, remains connected till about 25 feet. This is decent at best, and falls just about short of the advertised 33 feet. The Bluetooth drivers do not get disturbed through falls and crashes, although dipping it in water at low battery level does hamper connectivity significantly.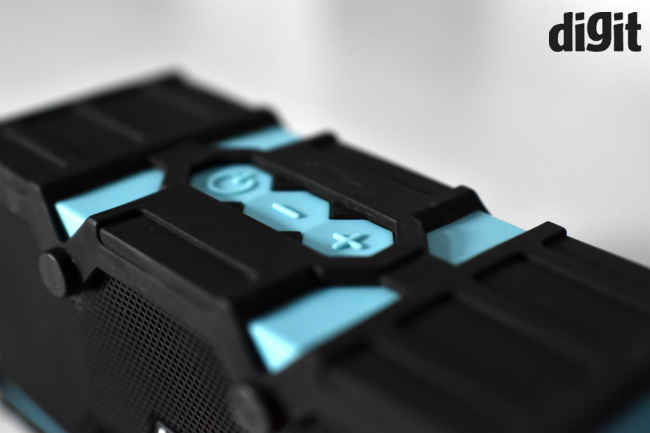 Once it is placed in water, Bluetooth remains connected till about 10 feet, after which it gets intermittent, and finally stops at around 18 feet. Audio quality is equally good when connected with a wire, although you will require a torment-proof wire to use it with the Mini Lifejacket 2's fullest potential. One pestering issue that I've faced with the Mini Lifejacket 2 is the device repeatedly getting disconnected, after about 5 hours of playing audio. After about every 20-25 minutes, the speaker kept getting disconnected from both my laptop and my phone, individually. This may be an isolated incident with this particular unit, but if the situation is otherwise, the connectivity is definitely inconsistent. After all, if you have a speaker with which you can go water-skating with, you need to be free from the worry of looking for power sockets underwater.
Performance and Battery
This is where the Mini Lifejacket 2 disappoints heavily. Audio performance is nowhere near the legacy that the brand Altec Lansing presents. Volume level is loud, but clarity is heavily compromised. The bass drivers are placed on the rear, and the front houses two 1.5-inch Neodymium drivers. At the highest audio levels, there is distinct distortion, even in clean tracks like Pink Floyd's Coming Back to Life and Wearing the Inside Out. Move on to tracks like Skrillex's Cinema, and the highs are shrill and piercing. The Mini Lifejacket 2 favours too much of treble, as a result of which it becomes difficult to keep listening to high pitch vocals like Sharon den Adel's Ice Queen, which almost sounds like torment to the ears.
Listen to tracks by bands like the Foo Fighters, and the guitar patches sound at least two levels more intense than what they actually are. Bass-ridden tracks like Pink Floyd's Hey You, Trent Reznor and Atticus Ross' rendition of Immigrant Song and the likes are heavily compromised, simply because the bass drivers are weak. Although the official specifications do not state the Mini Lifejacket 2's frequency range, it is possible that the lowest frequencies do not fall within the range that it can produce, as a result of which bass feels weak and low. The mid frequencies are flat, and as a result, much of instrumental details are compromised, often feeling too garbled to make out distinctly. Soundstage is decent, but the overall garbled audio quality makes it disappointing overall.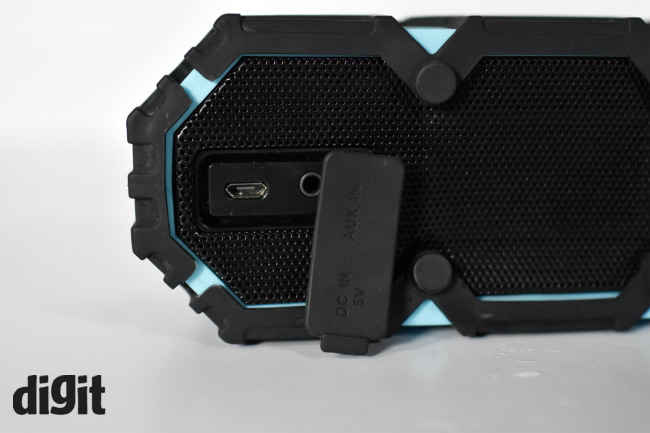 Not looking at it critically, though, and it does serve the purpose that it is supposed to do. For instance, the Mini Lifejacket 2 is loud enough to make sure you hear your favourite song in a crowded beach loud, maybe not so clear. It keeps playing even when you throw it into a pile of sand, a tumbler with three feet of water, or even shove it into your house freezer. Evidently, Altec Lansing focused heavily on durability, and it does work indeed, but for a company that has been through Woodstock and Abbey Road, audio quality had to be the first concern, where the Mini Lifejacket 2 thoroughly disappoints.
Talk about battery life, and the Altec Lansing Mini Lifejacket 2 lasted for about 8 hours on every full charge. There is a singular LED indicator that shows you if the device is charging, and when it is charged fully. The Mini Lifejacket 2 also has a voice confirmation system, which notifies you when you turn the device on and off, and when it connects to a device. Additionally, you can also answer calls via the speaker. If you're conscious of saving battery life, keep switching the device off whenever you're not listening, and the best it will last is for a little more than 9 hours - just about enough for a day spent skiing.
Bottomline
The reason for a relatively short review of the Mini Lifejacket 2 is the massive disappointment that the Mini Lifejacket 2 is, in terms of pure audio quality. In terms of durability, you will not find a consumer-grade portable audio device that is so durable for a price of Rs. 7,200. You can even try to smash it (in case you're angry and wish to fling something at the wall), and it will keep playing. The Altec Lansing Mini Lifejacket 2 is not for the audiophile, who loves the warmth of quality audio timbre. It is in the same price bracket as the JBL Charge 2, Flip 3 and the Bose SoundLink Color. In terms of performance, it is marginally better than the SoundLink, although the Charge 2 and Flip 3 are much better in terms of audio performance. If you can do with water resistance, and not need a device that can last through hard smashes against concrete, go for either of the JBL speakers.
Altec Lansing has indeed built a monster of a speaker, but has lost the shine it held proudly in its last stint in India. Here's hoping that future devices will be better and brighter in terms of audio quality.