VERDICT:
With the launch of the 1MORE iBFree, the maker of affordable headphones has managed to produce a promising debut product for itself in the Bluetooth space. It still needs to iron out some kinks, but overall the iBFree is a rugged and nice sounding in-ear. While the pure audio performance of the iBFree exceeds that of close rivals in its price range such as the SoundMagic E10BT, the in-ear by 1MORE loses a few points for connectivity stutters and not including a hard case in the package. Still, if you are in the market for a sport-focussed wireless in-ear which offers great fit and quality materials, this might be the device for you.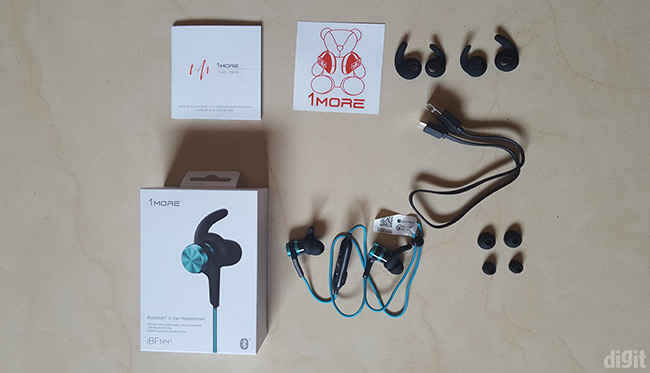 Bundled accessories
Specifications
Frequency range: 20-20,000Hz
Bluetooth version: 4.1
Wireless Range: 10m
Rated battery life: 8 hours (music), 10 Hours (talk), 2 Hours (charging time)
Weight: 14g
Build and design
The iBFree in-ears come in four colour variants: Vibrant Red, Space Gray, Aqua Blue, and Apple Green. We got the Blue variant and it looks quite nice. The driver housings are made from textured aluminum and they feel like they can certainly withstand a drop or two. Thankfully, the ergonomically designed sport-grip wings on the earpieces ensured that an inadvertent drop-test didn't occur. 1MORE claims to have used a titanium driver assembly and if so it should add to the durability of the earphones. As far as design goes, they are fairly simple in their construction: two earbuds connected with a cable that features an in-line control pod. The control pod has the play/pause and volume up/down buttons along with the microphone. A small blue+red LED on the same indicates charging/pairing etc. The cable length is not too long – in fact, it is just right. If you need to shorten it even further there's a handy sliding shortener present. The buttons are easy to press and have a good tactile feel. The grooves on them make it easy to find the button you are looking for just by feel. The micro USB charging input is also on this control pod and it is covered by a flap. The iBFree's are built with water, sweat, and splash resistant earpieces and controls, earning them an IPX 4 rating.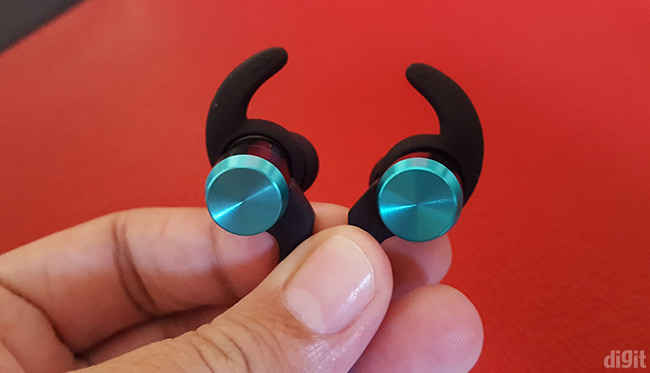 The driver housing is made of textured aluminium
Features
The iBFree has a couple of interesting features that you discover as you use them. For instance, the headphone incorporates vocal audio cues for various things like pairing and battery level. So as soon as you power on the device, you are told by a friendly voice whether the battery level is "high" "medium" or "low". It has a few other things too such as support for aptX encoding, Bluetooth version 4.1, and ingress protection rating of X4. The bundled accessories include 3 sets of silicone ear tips and 3 sets of sports grips in various sizes. Sadly though, there was no hard case bundled. At this price point, a hard case is pretty much par for the course.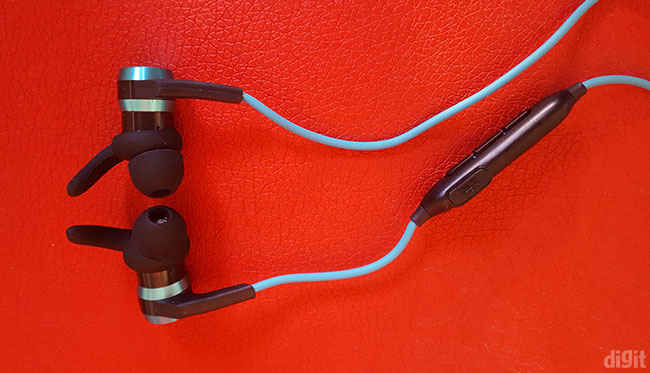 In-line control pod features volume up/down and play/pause buttons
Performance
1MORE products have always been known to be good performers while managing to keep prices relatively low. Previously, we've enjoyed the aural performance delivered by the 1MORE Single Driver as well as the Piston Fit, so the bar was set quite high for these little guys. To ascertain performance ratings with regards to audio fidelity and connectivity, we decided to try out the 1MORE iBFree with a number of sources. These were:
1. Samsung Galaxy S6 Edge
2. Moto Z2 Play
3. Nexus 5
4. Tewtross aptX compatible optical to Bluetooth receiver/transmitter connected to Asus Xonar Essence STX
The idea behind using a variety of sources was to see how the headphones performed under controlled settings as well as various real-world scenarios. Also, depending on one source would have narrowed our scope of assessment. Along with the variety of device sources we also played around with source files too this time by mixing in our standard high bitrate FLAC files with tracks that were streamed from streaming services like Amazon Music and Google Play to simulate real-world usage. One would think that transmission over Bluetooth would downgrade source files to such an extent that the quality of source files won't matter. However, while testing the RHA MA750 wireless last year, we had noticed a discernible difference between streamed music, MP3s encoded at about 320 kbps and high-resolution FLAC files, even while being transmitted over Bluetooth. The how and why of it could be the subject matter of an entire article in itself but for now we'll get on with our performance review of the iBFree starting with audio performance.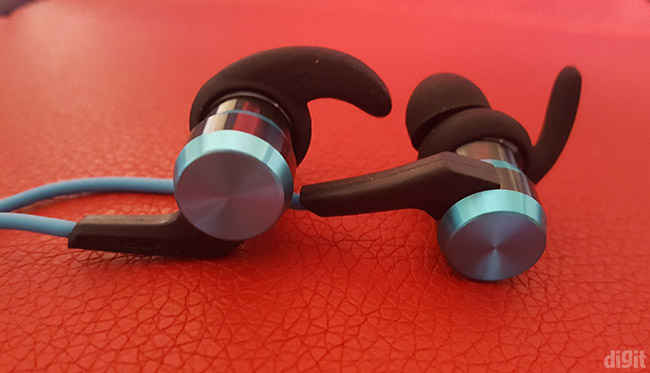 Would've been nice if the housings had magnetised rear shells
Audio
Let's get one thing out of the way at the outset – these are not audiophile grade in-ears. No wireless in-ear in this price range can make that claim and, quite frankly, it would be unreasonable to expect that kind of performance in this relatively affordable space. Having said that, it would be churlish to not admit that the iBFree sounds good. We threw a whole variety of tracks at it and were surprised by how well it handled most genres. This time we decided to have a bit of fun with our track selection by throwing in new tracks in with our old favourites. These included tracks such as Mark Ronson – Uptown Funk ft. Bruno Mars and Martin Garrix & David Guetta – So Far Away. The overall sound signature on the iBFree tends to lean towards the brighter side of the audio spectrum. The highs are more pronounced than the mids and lows. While playing Money For Nothing by Dire Straits, for instance, the guitar bits sounded nice and sharp but the bass while sounding not exactly hollow, lacked a certain heft and body to it. For the sake of comparison, we had a couple of wireless in-ears handy as a reference. Our main comparison was between the iBFree and E10BT which are similarly priced, but for an upper reference point, we also had the RHA MA750 Wireless and our good old Jaybird X2 around.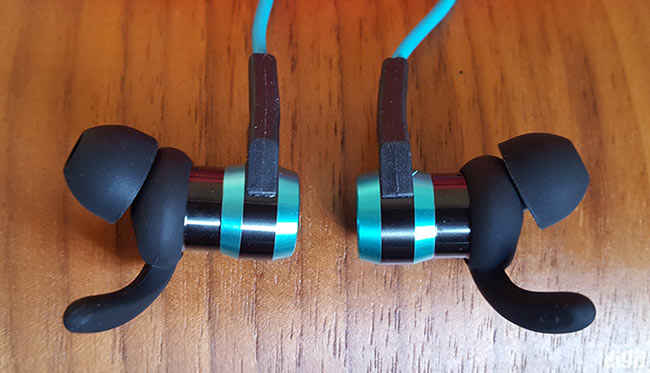 The Aqua Blue variant looks eye catching
The differences between the E10BT and the iBFree really jump at you on tracks such as Learning to Live by Dream Theater. The E10BT sounds almost mellow and warm in comparison to the sharpness offered by the iBFree. So yes, while audio gear that is sharp doesn't automatically translate to more detail, is the iBFree detailed? It's certainly more detailed than the E10BT, but it falters a little when trying to reproduce high-density instrumentation. Layered tones too tend to get muddled and because the tuning is such that mids are cut off a bit, you won't find the audio to be rich or smooth.
Leaving aside such exacting expectations and specific scenarios, the iBFree will do nicely for most purposes. However, be warned – if you are expecting brain rattling bass this is not the in-ear for you. We found the bass to be adequate but most listeners will find it on the lesser side. If you need more, look elsewhere or turn to your old friend – the equalizer.
Call / Microphone
With the resting position of the in-line control pod being a little far away from the mouth, we were initially sceptical about microphone performance. We were, however, pleasantly surprised to find that the microphone was able to capture audio nicely. Over dozens of calls – sometimes even with ambient noise present – the person at the other end was able to hear the caller perfectly.
Battery life
To get an accurate estimation of battery life, we ran Centuries – Fall Out Boy on loop till the battery died out. The volume was kept at 65 percent (which should be the normal listening level for most people) and the distance was about 1 meter, which is about what you'd find between your pocket and your ears. The iBFree lasted a total of 8 hrs and 7 mins on a full charge before dying out. That is a full seven minutes beyond its rated battery life. Impressive.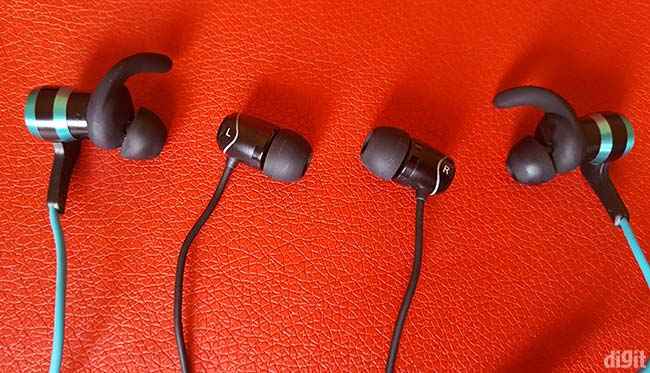 1MORE iBFree vs. SoundMagic E10BT: Who wins?
Connectivity
This is surprisingly an area where we find ourselves needing to spend a bit of time. One of the reasons why so many different source devices were used for this review was because the 1MORE iBFree didn't play very well with our original two devices – the Galaxy S6 Edge and the Tewtross Optical to Bluetooth transmitter. By "didn't play well", we mean that in real-world scenarios the audio would stutter randomly when the phone was in say a jeans pocket. Switching to a shirt pocket (i.e. reducing distance) would solve connectivity issues. Additionally, wrapping fingers around the control pod (in order to feel for buttons) would be enough to block the signal and cause stutters. Surprisingly though, connectivity improved substantially with the Nexus 5 and Moto Z2 Play. On average with all our devices the signal began to fade causing stutters in the audio at a distance of about 16 feet without any obstruction. Since the lacklustre connectivity did improve with the other two devices, we haven't docked too many points from the iBFree's final score, but it is worth mentioning.
Fit and isolation
Being a sport-focused Bluetooth in-ear headphone, fit and comfort are very important. Thankfully, the 1MORE iBFree doesn't disappoint in this regard. The driver housings are fairly light even with the silicone sport wings attached. We wore them for several days during our morning runs and not once did they slip out. The wings ensure that the fit holds fast. The isolation could've been better i.e. ambient sounds aren't blocked all that much. But hey, some runners actually prefer leaks in order to maintain situational awareness while running, so it's an individual preference in the end.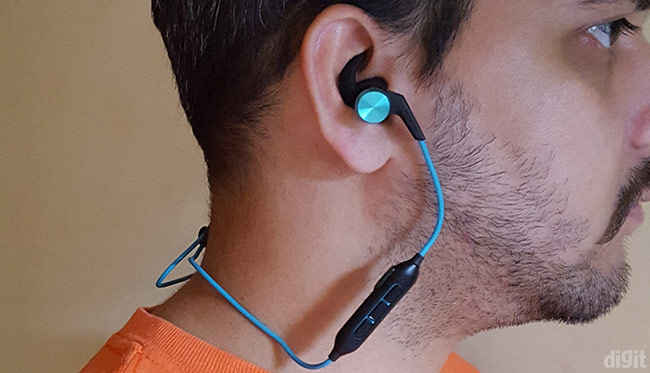 The sport wing ensures a good fit
Bottomline: Should you buy the 1MORE iBFree?
The iBFree certainly offers better sonic performance than lower-priced wireless in-ears such as the Soundpeats Qy7 or the Mpow Swift, which are also sporty in their design. However, the connectivity issues are cause for concern. And while pure audio performance is better than even the Soundmagic E10BT or the BLU200, the E10 is still a more well-rounded value-for-money package, unless you are exclusively buying in-ears specifically for jogging or accompanying your workouts. In which case, the 1MORE iBFree is certainly worth considering. While the MRP is Rs. 3,999 they are usually available for between Rs. 3,149 and Rs. 3,499 at various online retailers, which still isn't exactly affordable but it's not expensive either for the audio and build quality you are getting.