GIGABYTE GA-X99P-SLI motherboard is the first X99 chipset motherboard to be certified to support Thunderbolt 3
GIGABYTE has announced the addition of Intel Thunderbolt 3 ports to their X99 chipset motherboard series after launching world's first Thunderbolt 3 motherboard that we reviewed recently. The GIGABYTE GA-X99P-SLI motherboard is the first X99 chipset motherboard to be certified to support Thunderbolt 3, enabling users to connect up to 6 monitors. Being the X99 line lacking of GPU integrated into the CPU of the controller, Thunderbolt 3 needs to be connected to a discrete graphics card for which GIGABYTE has made arrangements and also bundled the necessary cable.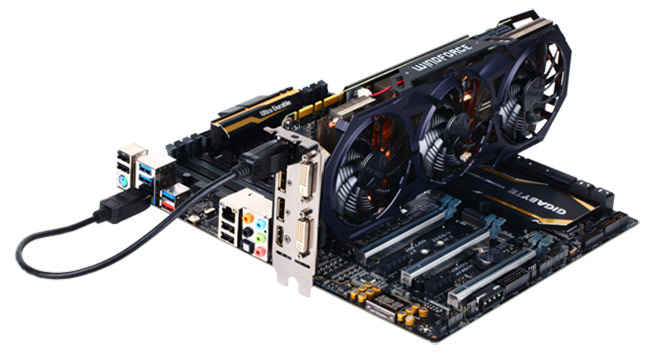 You can read the full press release below:
GIGABYTE Gets World's First Intel® Thunderbolt™3 Certified X99 Motherboard
The power of HEDT meets Thunderbolt to create the ultimate enthusiast's PC
Taipei, Taiwan, April 14, 2016 – GIGABYTE TECHNOLOGY Co. Ltd, a leading manufacturer of motherboards and graphics cards, is pleased to announce that its support for Intel® Thunderbolt™ 3 has further expanded with the certification of the Ultra Durable™ GA-X99P-SLI motherboard. The GIGABYTE GA-X99P-SLI motherboard is the world's first X99 motherboard to be certified to support Thunderbolt™ 3. This gives enthusiasts that need the tried-and-true horsepower and reliability of the X99 chipset access to the world's fastest connectivity protocol. Powered by Intel's own Thunderbolt 3 controller, the new Thunderbolt™ 3 protocol is available over a USB Type-C™ connector on the back I/O of select GIGABYTE motherboards including the GA-X99P-SLI.Bringing an unprecedented single-wire bandwidth of up to 40 Gb/s -- twice more than the previous generation!

Support for Thunderbolt™ 3 on the GIGABYTE GA-X99P-SLI motherboard opens up a world of possibilities for enthusiasts or professionals using the X99 chipset. With the unmatched bandwidth that Thunderbolt™ 3 provides, enthusiasts can use new devices such as discrete GPU boxes, external quad M.2 drives, or U.2 expansion drives.
One of the main advantages of Thunderbolt™ 3 is its ability to carry a video signal, but as X99 platforms don't have a GPU integrated in the CPU, the Thunderbolt controller needs to link with a discrete graphics card. In order to solve this conundrum, GIGABTYE designed the GA-X99P-SLI with a DisplayPort input on the back I/O allowing users to pair their system to a monitor with a Type-C connector (the required cables to connect the graphics card to Thunderbolt controller are bundled with the board). With a single wire, users can now daisy-chain up to 6 devices via Thunderbolt 3, including a monitor with all the GPU power from the discrete graphics card to display high frame rate games at max settings or render 3D models in a flash.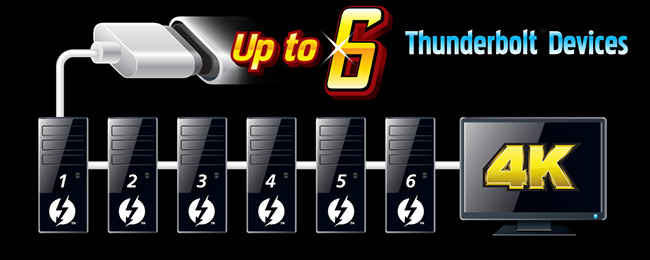 Thunderbolt 3 support for the X99P-SLI is available now. Users interested in enabling support can use the link below to download an update for their motherboard's BIOS.
Tags:
gigabyte
gigabyte-motherboard
thunderbolt-3
thunderbolt-3-motherboard
gigabyte-thunderbolt-3-motherboard