MSI has launched its new gaming gear, called the Vortex G65. The Vortex G65 is powered by an Intel Core i7-6700K CPU clocked to 4GHz, dual GTX 980M GPUs, 8GB of GDDR5 memory and 2048 CUDA cores, all packed in a mesmerisingly designed compact gaming tower. It is HTC VIVE VR ready and also supports Thunderbolt 3. A 450W Gold Certified PSU Embedded with an efficient and quiet cooling assembly is also included. Already shipping in some parts, MSI Votrex's availability and pricing information for the Indian market is not disclosed yet.
Specification Table
Model Name

Vortex G65 6QF / 6QD SLI

OS

Windows 10 Home / Windows 10 Pro

CPU

Intel 6TH Gen Core i7-6700K

Intel 6TH Gen Core i7-6700

Intel 6TH Gen Core i5-6600K

Chipset

Z170

Memory

DDR4-2133, 4 slots, up to 64GB

Graphics

NVIDIA GeForce GTX980 SLI

NVIDIA GeForce GTX960 SLI

Graphics VRAM

8GB GDDR5

Storage (GB)

1 x 2.5" HDD +up to Super Raid 4 (2 x NVMe M.2 SSDs by PCIe Gen3 X4 in RAID0)

Audio

Nahimic Audio Enhancer

LAN

2 x Killer E2400 Gigabit Ethernet and Killer Shield

Wireless LAN

Killer Wireless-AC 1535 (MU-MIMO support)

Bluetooth

v4.1

HDMI

2 (v1.4)

USB 3.0

4x USB 3.0 Type-A

USB 3.1

2x USB 3.1 Type-C

Thunderbolt 3

Refers to the USB3.1 Type-C port (4K output, 3A output charging)

Mini-DisplayPort

2 (v1.2)

Mic-in/Headphone-out

1/1 plus SPDIF Out x1

Power

Embedded 450W 80 Plus Gold Certification PSU

Dimension

191.7 x 278.0 x 202.5 mm (W/H/L)

Weight (KG)

4Kg

Volume

6.5 Liter
You can read the full press release below:
Desktop Gaming Redefined! Power of a PC, Size of a Console.
Transform Your Living Room into the Coolest Home Entertainment Center for Gaming
Taipei, Taiwan – As the No.1 in Gaming brand in the gaming industry, MSI is always ahead of others in meeting users' needs by introducing the most up-to-date solutions and offering more new gaming features for extreme gamers. Breaking the stereotype of bulky and huge case gamers have towards a gaming tower, MSI introduce gamers today this revolutionary mini gaming tower, the Vortex G65, putting all extreme gaming specifications into a compact 6.5-liter and 27.8cm high chassis.
Revolutionary ID Design: Desktop Gaming Redefined
Spending more than 2 years, MSI conquers "the bigger the more powerful" stereotype of a desktop PC by introducing the Vortex G65. MSI's research and development team manages to embed F1 level system performance, overclockable CPU and Nvidia SLI graphics, into a compact 6.5-liter, 27.8cm high, metallic silvery grey finish chassis.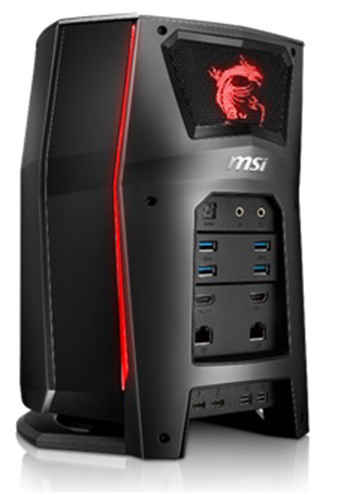 Vortex G65 delivers ultimate performance and extreme functions to gamers just as Formula 1 level racing car to the highest class auto racing competition. Like an officially designed racing car, Vortex G65 has taken all circumstances into consideration for its product design. Users hence don't need to MOD the machine anymore for the Vortex G65 already being the most compact, powerful and the coolest of all current generation desktop PCs.
Desktop Intel Core i7-6700K processor up to 4.6GHz and Nvidia GTX980 SLI Graphics
Vortex G65 6QF SLI is powered by Intel Core i7-6700K, permitting users to overclock and stretch the system from the basic 4GHz up to 4.6GHz. Astonishing visual performance is guaranteed by dual Nvidia GTX980 8GB GDDR5 graphics cards, a 2048 CUDA Cores GPU requiring much less power consumption, and easily reaching P2,1000 on 3DMark 11 under SLI mode.
HTC VIVE VR Ready
VR system demands high GPU and CPU performance so that when the extreme performance GPU delivers 7 times the power of what a normal game needs, the CPU is able to catch up the pace and provide stable VR experience.
Equipped with the Intel Core i7-6700K, overclockable up to 4.5 / 4.6GHz, and the Nvidia GTX980 SLI graphics cards, the Vortex G65 can easily fulfill the performance-consuming HTC VIVE VR system. The same theory applies to all VR devices and Vortex G65 is definitely the first choice to enjoy great and sensational VR experience.
Matrix Display Outputting 6 Monitors for Extreme 4K Gaming
Vortex G65's Matrix Display feature supports up to 6 monitor output all with 4K resolution for true extreme gaming experience. It also supports up to 1x4, 2x2 and 4x1 4K display surround mode. 4K gaming shall become a new standard for a gaming PC. It is certain that 4K surround will be a new standard of the PC gaming platform in 5 years. MSI leaps ahead of all competitors and presents gamers Vortex G65, the best and the smallest gaming tower, to fulfill this future trend right now!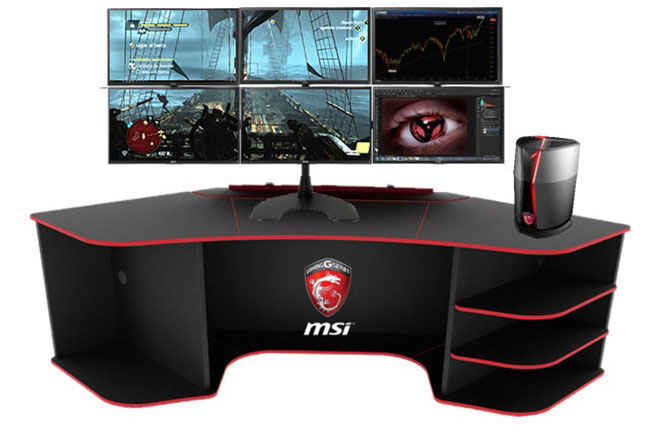 Fast and Stable Internet Experience
Killer DoubleShot-X3™ Pro consist of two Killer E2400 Gb LAN controller and one Killer Wireless-AC 1535 chipset, granting users unprecedented network speed. MSI Vortex G65 therefore not only connects home Cloud/NAS and external internet environment easily but also delivers smoother online gaming experience. A Vortex G65 is all you need to easily transform your living room into an entertainment center for multimedia enjoyment and extreme gaming.
Revolutionary Cooling for Extreme Performance / Gaming
Vortex G65 applies the latest cooling technology, the Storm Cooling, and a 450W 80 PLUS Gold PSU in the system.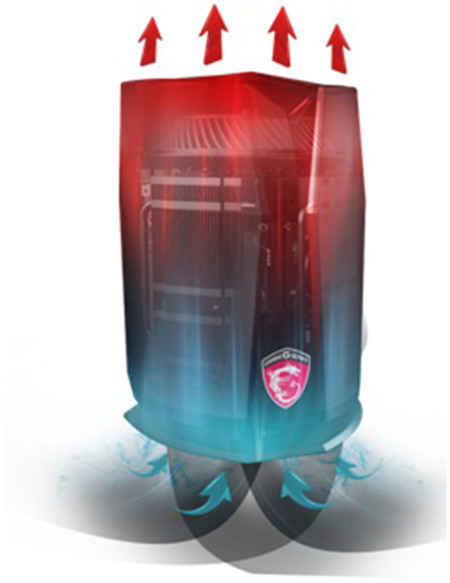 With Strom Cooling technology, a single large fan draws in cool air from the bottom and dissipates heat through the vents at the top, creating a cyclone of airflow throughout the Vortex for a super efficient and whisper quiet cooling design. The fan noise remains under 37dBA even under heavy loading works or games.
A 450W 80 PLUS Gold PSU Inside
A 450W 80 PLUS Gold power supply unit is embedded to power up the whole system. With this 80 PLUS Gold certified PSU, Vortex G65 supplies powerful and stable current with less noise, less power consumption and lower noise. Furthermore, MSI manages to keep the total machine weight under 4kg, which is even lighter than a 17" top performance gaming notebooks.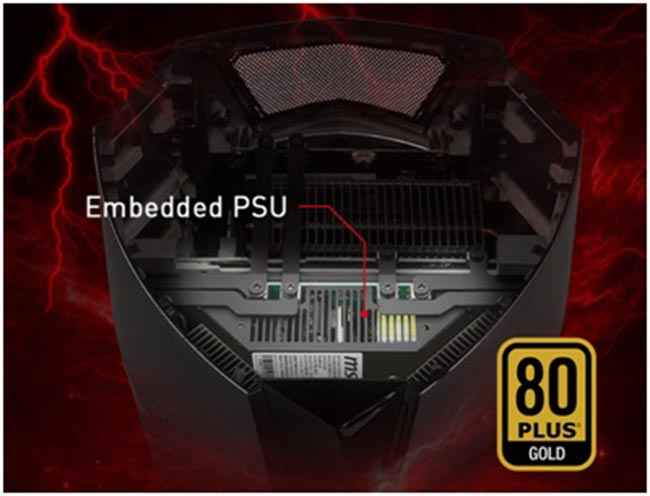 Control Vortex Easily with "Dragon Center" and Mobile App
Dragon Center provides five functions to get a total control of your personal computer : easy access to all apps at once (App Portal), real-time system performance monitor including hardware frequency and temperature (System Monitor), adjust LED effect (LED Wizard), overclock CPU up to 4.5/4.6GHz or boost system performance under controlled temperature and noise (System Tuner), monitor parameters and adjust system profile and LED settings from mobile phone (Mobile Center). Dragon Center empowers users to facilitate tweaking process without occupying system resources.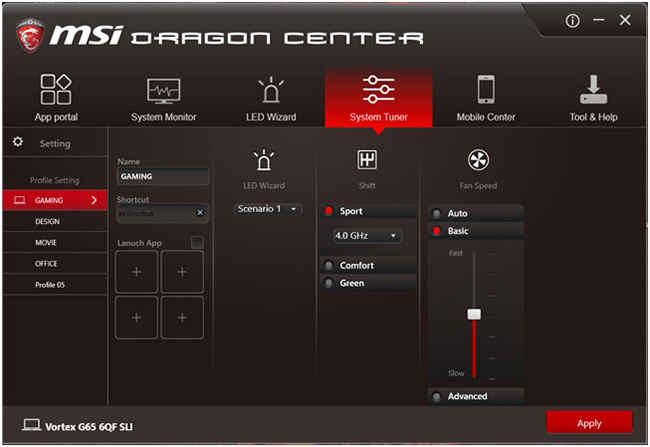 Expand Beyond Expandable
Vortex G65 is not only ideal for high performance 4K gaming, but also suitable in the living room placing beside your AV system or LCD TV thanks to its more than enough expansion ports. It's a new standard of 4K gaming and 4K media center in your sweet home.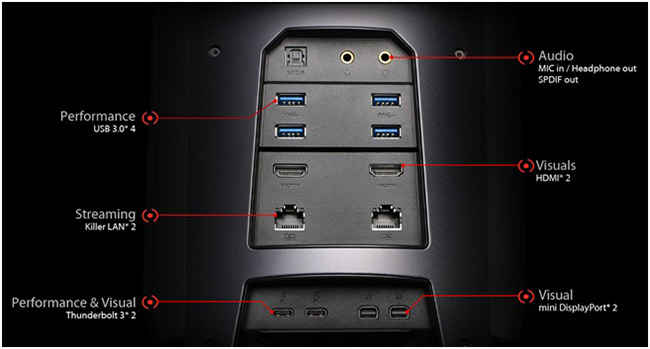 Other Gaming Features
Super Raid 4 runs dual M.2 PCI-E Gen 3.0 x4 SSDs in RAID0, outputting extreme read speeds over 3300MB/s. Nahimic Audio Enhancer brings better sound experience with all your external speakers. Thunderbolt 3 supports up to 40Gbps data transfer rates and dual 4K displays with daisy chain capabilities.
Unlike other gaming towers with a monster size dimension, MSI manages to put all extreme gaming specifications into a compact 6.5-liter, 27.8cm high and metallic silvery grey finish chassis. Power and size of a personal computer are no longer two conflict characteristics. MSI redefines desktop gaming with this impossibly compact and incredibly powerful brand new mini gaming tower, the MSI Vortex G65.