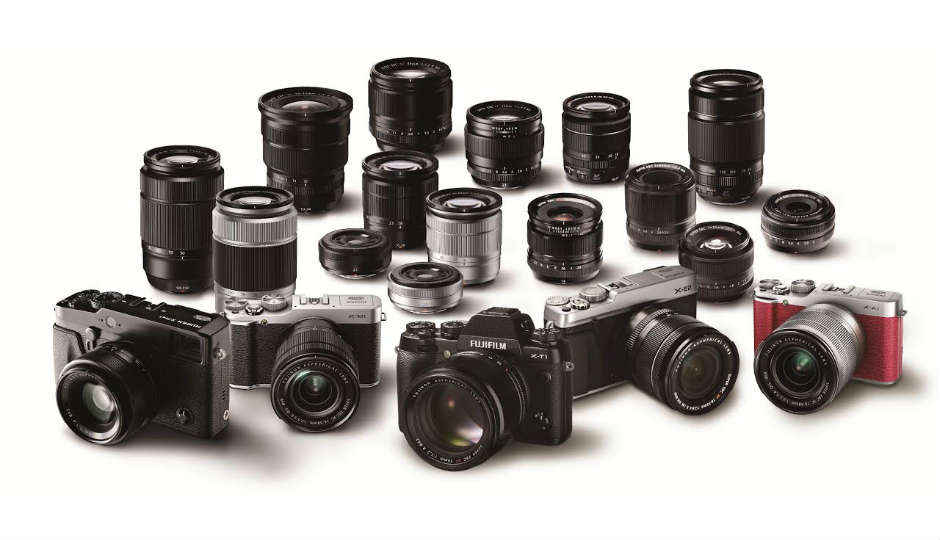 HIGHLIGHTS
The company has launched the FujiFilm X70, X100T, XA2, XE2S, XPro2, and XT10.
FujiFilm has launched six new cameras in its flagship X Series. These include the X70, X100T, XA2, XE2S, XPro2, and XT10. The company notes that it is focusing on customers who are either serious amateurs or professional photographers. The company also notes that the advantage of an X Series mirrorless cameras lies in its compact size and cutting edge technology.
Read the complete press release below
Fujifilm India Private Limited, a leader in a broad spectrum of imaging industries, is all set to strengthen its postion in the mirrorless premium camera segment by adding six new cameras to its flagship X series with the launch of X70, X100T, XA2, XE2S, XPro2, and XT10 cameras. While there has been a decline in the demand for entry level compact digital cameras largely taken over by smartphones, Fujifilm is focussing on customers who are looking for better quality pictures. These customers are essentialy either serious amatuers or professional photographers. The advantage of an X Series mirrorless camera lies in its compact size packed with cutting edge innovative technology and unique features that provide great controls needed by an advanced digital camera user along with excellent color reproduction and image quality.
Commenting on the occasion, Mr. Yasunobu Nishiyama, Managing Director, Fujiflm India Pvt Ltd., said, "The X series was first introduced in March 2011 and is now the most widely accepted mirrorless camera worldwide. In India too, the Mirrorless Camera Segment has been growing continuously which is the reason why we see so much scope in the Mirrorless Camera Market. It will be our continued endeavour to delight our customers by launching exciting new X Series line up in the coming years as well."
The first in this series, FujiFilm X70, the smallest and lightest model with an APS-C sized sensor, is a premium compact digital camera. It features a new FUJINON 18.5mm F2.8 lens suitable for a range of applications from landscapes to snapshots in addition to an APS-C sized X-Trans CMOS II sensor and EXR Processor II image processing engine. The X70 is Priced at Rs. 61,999/-
Featuring the world's first Electronic Rangefinder, the third generation FujiFilm X100T premium digital compact an APS-C size X-Trans CMOS II sensor, high-speed EXR Processor II image processing engine and a FUJINON 23mm F2 lens. The X100T delivers unsurpassed image quality thanks to advanced color reproduction technology and the new unique Classic Chrome film simulation mode. Following up with the legacy of X100 and X100S, the new X100T marks the ultimate evolution as the third generation of the X100 Series, reflecting the feedback from customers for each and every part, including image quality, viewfinder and operability. Priced at Rs.115, 999/- It is available in both black and silver versions.
Next in the series, FUJIFILM X-A2 is a premium interchangeable lens camera with 175° tilting LCD and new Eye Detection Auto Focus for perfect selfies. Offering outstanding color reproduction, enhanced autofocusing and superb resolution, the X-A2 makes it easier than ever before for photographers to get the premium image quality that's become synonymous with Fujifilm's X Series.
The X-A2 features Fujifilm's newly developed Eye Detection AF, Auto Macro AF and Multi-Target "MULTI AF" for fast and accurate autofocusing. It's also the first X Series model to sport a 175-degree tilting LCD making it easier to take selfies and it comes with the new XC16-50mm F3.5-5.6 OIS II kit lens, which has a class-leading minimum working distance of 15cm (approx. 7cm from the edge of the lens) for macro photography. The X-A2 is priced at Rs.48,499/-
The latest rangefinder-style model in the X-Series range, the FUJIFILM X-E2S features optimum AF performance and easy handling. The X-E2S has a durable, compact and lightweight body with a Real-Time Viewfinder that offers a large display magnification of 0.62x and an electronic viewfinder with the world's shortest display time lag of 0.005 seconds. It also comes equipped with an AF system that excels at capturing moving subjects. The new model inherits the functionality and rangefinder-style design of the original X-E2, and adds new features including an improved grip, an electronic shutter and a more intuitive GUI to enhance the user experience. With this launch, X-E2S becomes the latest premium mirrorless camera to join the world-renowned X-Series. The X-E2S is priced at Rs.61,999/-
FUJIFILM X-T10 is the latest premium interchangeable lens model to join the world-renowned X-series digital camera line-up. It boasts of outstading image quality courtesy unique color reproduction technology. Aimed at Photography Enthusiasts, the X-T10 combines a compact and lightweight body with a new AF system that excels at capturing moving subjects. It is also equipped with an electronic Real Time Viewfinder, which boasts an impressive 0.62x*1 magnification ratio, high-definition precision 2.36 million dot
display and the shortest time lag of 0.005 seconds. It is priced at Rs.69,999/-
*1 Market leading viewfinder magnification ratio. Approx. 0.62x magnification 50mm (35mm format equivalent) at infinity and diopter set to -1.0 m-1
Taking perfromance to new heights, the FUJIFILM X-PRO2 , a premium mirrorless camera, offers the world's only Hybrid Multi Viewfinder and features a brand new 24MP X-Trans III sensor. The new model boasts a Hybrid Viewfinder capable of instantly switching between optical and electronic finders, plus an updated image sensor and processor, which dramatically improve image quality. By combining these features with the ultra-high image quality of FUJINON X-Mount lenses and the color reproduction technology accumulated through more than 80 years as a photographic film manufacturer, the X-Pro2 delivers the best ever results from an X-series camera. With this launch, the X-Pro2 becomes the only mirrorless camera in the world featuring a Hybrid Viewfinder system that incorporates both types of viewfinder. The Fujifilm X-Pro2 is priced at Rs.147,999/-