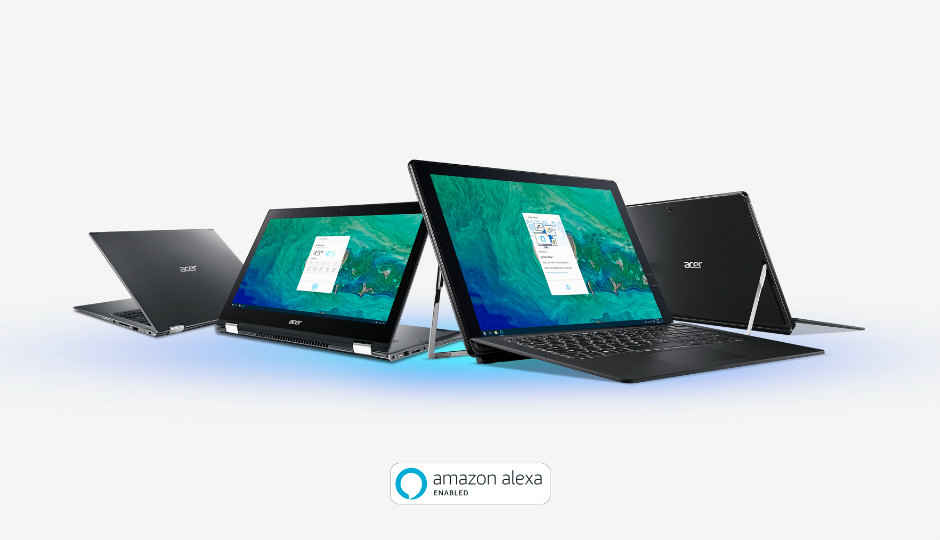 HIGHLIGHTS
The company also announced its new V6820M/i 4K UHD projector with Amazon Alexa.
Acer has announced that it will soon integrate Amazon Alexa to select Aspire, Spin, Switch and Swift notebooks along with Aspire all-in-one PCs starting from Q1 2018. The smart assistant will be initially rolled out via an update in the US with a wider roll-out anticipated by mid-2018. Acer has also announced its new V6820M and V6820i 4K UHD projectors which will come with support for Amazon Alexa.
Read the complete press release below
Acer today announces that Amazon Alexa will be coming to select Aspire, Spin, Switch and Swift notebooks, as well as Aspire all-in-one PCs starting from Q1 2018. Amazon Alexa will initially be available in the US via an update through Acer Care Center, while wider support is expected to be rolled out mid-2018.
"Acer is excited to be among the first brands to bring Alexa to PCs," said Jerry Kao, President of IT Products Business of Acer Inc. "With industry-leading audio technology across our portfolio, we're providing consumers the possibility to interact with multiple voice services on their notebook or desktop. Alexa lets users do thousands of things and we're now bringing those capabilities natively to PCs."
"We're delighted that Acer will bring Alexa to PC customers," said Steve Rabuchin, Vice President, Amazon Alexa. "Hands-free access to Alexa on PCs can be helpful to customers in many ways, like making it simple to interact with your smart home, get news or weather, set timers, and more. This is a big step toward making Alexa available wherever customers might need her."
Enabled by Intel Smart Sound Technology, an integrated audio DSP (Digital Signal Processor) built to handle audio, voice, and speech interactions, many of Acer's latest notebooks and desktops will support Amazon Alexa and respond to voice commands quickly while offering high fidelity audio without impacting system performance.
"The PC is the ultimate device to bring all your digital experiences together," said Anand Srivatsa, General Manager of Intel's Desktop, Channel and Systems Group. "By introducing voice services like Alexa paired with Intel Smart Sound Technology, we anticipate that the PC will serve an even more important role in maximizing your productivity, getting the most from your entertainment, and managing the smart home or office."
Hands-Free Productivity, Entertainment and Smart Home Control on PCs
With Amazon Alexa, owners of compatible Acer notebooks and desktops can get more done by asking Alexa to check their calendar, create lists and answer questions; be entertained by asking Alexa to play their favorite music, podcasts or audiobooks; and manage smart home devices by controlling lights, thermostats and home appliances through voice commands to Alexa.
Notebooks such as the Switch 7 Black Edition and Spin 5 with Acer Purified.Voice and four digital microphones support far-field voice recognition from up to nine feet (2.74 m) away, while others with dual microphones will be able to activate Alexa within three feet (0.91 m). All supported convertible and 2-in-1 notebooks come with front-facing speakers and provide an immersive audio experience.
New Acer V6820M/i 4K UHD Projector Will Work with Amazon Alexa
In addition to the Acer Air Monitor, which already works with Alexa, Acer's new V6820M and V6820i 4K UHD projectors will be among the first of its kind to support Amazon Alexa. Now part of the smart home, consumers will be able to control the projector after enabling the Acer Projector Smart Home skill by asking Alexa on a device like the Echo or compatible Acer PC, "Alexa, turn on the projector," "Alexa, select HDMI as the projector source," or "Alexa, change projector display mode to bright."
With the Acer V6820M/i wireless projector, film fanatics can truly enjoy the cinema at home with an intensely sharp 120-inch 4K UHD (3,840 x 2,160) resolution display. The V6820M/i is compatible with HDR and Rec. 2020 signals, supports the Rec. 709 standard for cinema-like color accuracy, and HDMI 3D for 3D home theater experiences. The projector ensures visuals are ultra-smooth even in fast-moving scenes with the Acer AcuMotion frame interpolation system, which calculates and generates intermediate frames, inserting them into existing ones for seamless motion. The V6820M/i can operate at an extremely low noise level of 19dBA (silent mode) so even the quietest whispers can be heard in playback.
Exact specifications, prices, and availability may vary by region. To find out about availability, product specifications and prices in specific markets, please contact your nearest Acer office or retailer via www.acer.com.