Highlights:
watchOS 5.2 brings ECG and irregular rhythm notification to hong Kong and 19 European countries.
The update is rolled out for all compatible Apple Watches.
It also brings support for AirPods 2.
Apple has rolled out the watchOS 5.2 software update to all compatible Apple Watches, and it brings the ECG app and irregular rhythm notification to Hong Kong and 19 European markets including Austria, Belgium, Denmark, Finland, France, Germany, Greece, Hungary, Ireland, Italy, Luxembourg, Netherlands, Norway, Portugal, Romania, Spain, Sweden, Switzerland, and the UK. Apart from this, the latest update also brings the AirPods 2 support that will let users to use it with the Apple Watch.
The expansion means that in addition to receiving De Novo clearance in the US from the FDA, the ECG app and irregular rhythm notification are now CE marked giving it a clearance in the European Economic Area. The ECG feature on Apple Watch Series 4 enables customers to take an electrocardiogram from their wrist. The ECG app can capture heart rhythm and alert users if and when they experience a rapid or skipped heart beat. Apple says that the watch can provide clinically important data to physicians.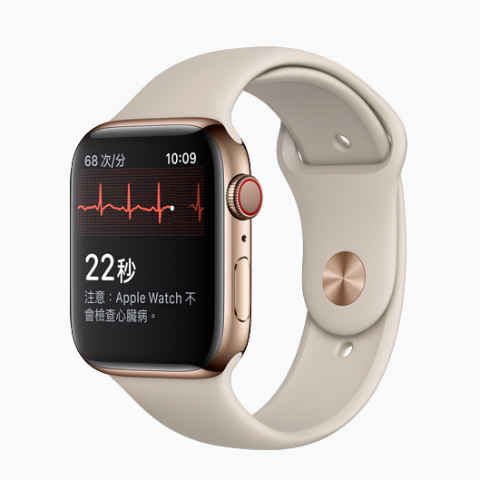 Meanwhile, the irregular rhythm notification feature on Apple Watch occasionally checks heart rhythm in the background and sends a notification if an irregular heart rhythm that appears to be atrial fibrillation (AFib) is identified. If left untreated, the AFib could result in stroke. "We've seen the ECG app and irregular rhythm notifications on Apple Watch have meaningful impact on our customers across the US and are excited to bring these features to customers in Europe and Hong Kon," Jeff Williams, Apple's Chief Operating Officer, said in a statement.
According to a clinical trial of around 600 participants, the ECG app on Apple Watch demonstrated 98.3 percent sensitivity in classifying AFib and 99.6 percent specificity in classifying sinus rhythm in classifiable recordings when compared to a gold standard 12-lead ECG administered by a cardiologist. 87.8 percent of recordings in the study could be classified by the ECG app.
Meanwhile, the irregular rhythm notification feature was recently studied in the Apple Heart Study. Released earlier this month, the study found that "only 0.5 percent of participants received irregular pulse notifications, an important finding given concerns about potential over-notification." With over 400,000 participants, the study further found evidence to support wearable technology has the ability to safely identify heart rate irregularities.
Related Read:
ECG Sensor on the Apple Watch Series 4 saves a life within days of launch
Apple Watch Series 4's Fall Detection feature is turned off be default unless you're over 65