Highlights:
Huawei will announce the Watch GT in India on March 12.
The wearable runs on company's own LightOS operating system.
Huawei is reported to launch two new variants of the device this month.

Huawei has been teasing the launch of its Watch GT wearable in India for some time now. Now, the company has confirmed that its the device will launch in India on February 12. The new smartwatch runs on the company's proprietary LightOS and was announced alongside the Huawei Mate 20 series of handsets. Alongside the confirmation that the company will announce the device, a new report from WinFuture claims that Huawei will announce two new variants of the wearable this month, probably at the launch of the Huawei P30 series of handsets.
As per the WinFuture report, Huawei is set to launch two new variants of the Watch GT called the Huawei Watch GT Active and the Watch GT Elegant. Below embedded images are of the device's elegant model in "Dark Green" and "Orange" color models. The design on the new model slightly differs slightly, as seen from the image. The buttons can be seen with knurled pattern and a different metal finish. They can also be seen with different bands but otherwise, they seem the same as the previously announced version. As per the report, the new watches could feature a 1.39-inch OLED display, same as their predecessors.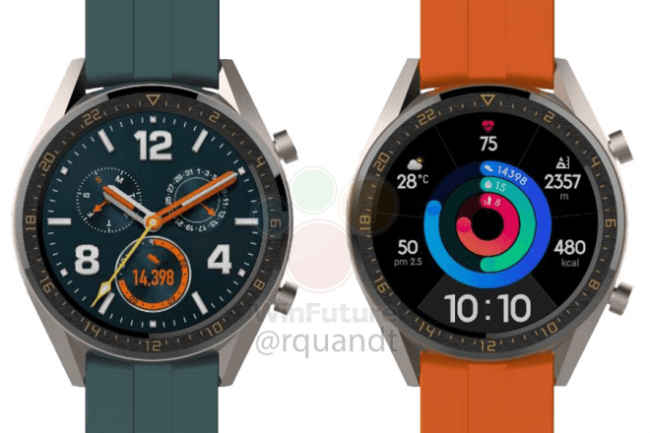 As for the price, the current version of Huawei Watch GT sells for €199 (Rs 15,655 approx), while its Sport version is priced at €229 (Rs 18,016 approx). It is expected to be priced lower in India. As for the newer versions, the Watch GT Active is said to come in White and Black colour models. The Active could carry a price tag of €249 (19,500 approx) while its Elegant variant might cost €229 (Rs 18,016 approx). There is no additional information on what new features could be made available with the upcoming Huawei smartwatches.
Related Reads:
Huawei Watch GT India launch teased