Two separate reports have claimed that Apple Watch has topped the shipments charts in the third quarter of 2018 and placed Fitbit on the second spot.
Apple Watch has been the most shipped smartwatch globally in the third quarter of 2018, two separate reports have confirmed. Both these reports have also placed Fitbit in the second place, making it overtake Samsung and other smartwatch makers. While Strategy Analytics puts Apple Watches' global market share at 45 percent, Counterpoint Research says that Apple Watch grabbed 30 percent of the smartwatch market share globally.
According to Strategy Analytics, global smartwatch shipments grew by 67 percent annually to reach 10 million units in the third quarter of 2018. "Apple shipped 4.5 million smartwatches worldwide in Q3 2018, rising 25 percent from 3.6 million units in Q3 2017. While far ahead of the chasing pack, Apple's global smartwatch market share slipped to 45 percent this quarter, down from 60 percent a year ago. Apple is facing growing competition from a revitalised Fitbit and Samsung. The recent launch of Apple's new Watch Series 4 model was a badly needed addition to its armoury," Neil Mawston, Executive Director at Strategy Analytics, said.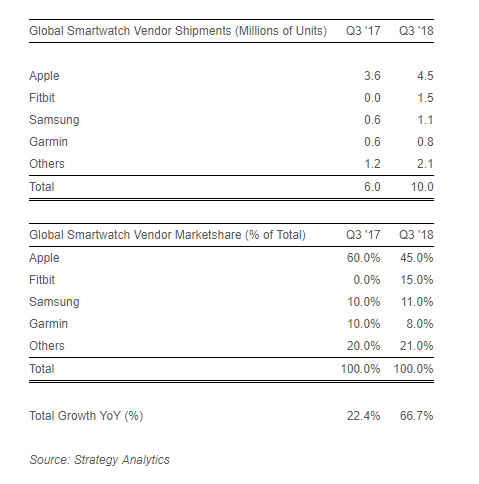 Fitbit shipped 1.5 million smartwatches worldwide and captured 15 percent of the global smartwatch market share, rising strongly from zero market share a year ago. Fitbit is now the world's second largest smartwatch brand, the report shows. Steven Waltzer, Industry Analyst at Strategy Analytics, says that Fitbit's Versa portfolio is proving to be wildly popular across North America. Fitbit has further scope for growth next year by pushing deeper into Europe, Asia and Latin America. Samsung captured 11 percent of the global smartwatch market share in Q3 2018, lifting itself slightly from 10 percent in Q3 2017.
Meanwhile, according to Counterpoint's Global Smartwatch Tracker, global smartwatch shipments grew by 53 percent year-on-year (YoY) in the third quarter of 2018 with strong performance from Fitbit, kids' watch brands such as imoo, and start-ups such as Amazfit. Research Director Jeff Fieldhack noted, "Apple continues to dominate the smartwatch market with a lion's share of 30 percent of the smartwatches shipped. The introduction of the Series 4 this fall was the biggest update from a design and features standpoint, and has quickly resonated with Apple's loyal user base. Apple's Series 3 saw an uptick later in the quarter with discounted pricing, while Apple's Series 1 continued to be the single biggest selling SKU contributing to almost half of all Apple Watch shipments. This could change in holiday season quarter as our channel checks showed pent-up demand for the Series 4."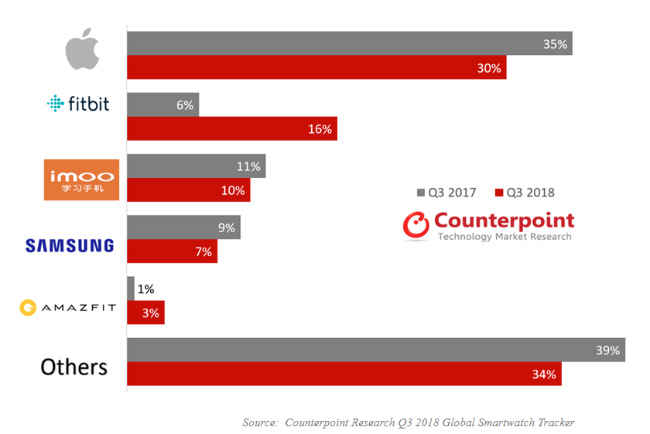 Counterpoint Research Analyst Satyajit Sinha also complimented Fitbit's Versa smartwatch for becoming the driving force of the sales. "Fitbit continues to shift its focus from predominantly SmartBand/trackers to smartwatches and has now evolved as the next best player to Apple in terms of experience and scale. The launch of the Versa smartwatch was the turning point for Fitbit's smartwatch segment growth. The health/fitness factor is playing a key role in driving consumer decision making for the adoption of smartwatches and Fitbit has entirely focused on this core use case," Sinha said.