LG showed off the final consumer variant of its rollable TV at CES 2019. The TV is expected to have premium pricing and will hit store shelves around March 2019.
Last year LG showed off a rollable TV and everyone wondered when the TV would hit store shelves and of course for how much. Fast forward to CES 2019 and the South Korean tech giant has announced the LG SIGNATURE OLED TV R (model 65R9). The 65-inch panel rises from the its housing with the push of a button and goes back the same way. The TV has three modes it can be used in. One is of course as a TV. The second is where the display rises a little bit giving you access to some smart functions, music controls and a menu to navigate. The third is in its housing itself where you can use the speakers to enjoy the audio without turning on the TV. The TV boasts of a 100-watt Dolby Atmos speaker. All the connectivity options are hidden behind the housing. LG has officially made the move to HDMI 2.1 and the feature is available on the rollable TV as well. Sadly, one cannot see the display rolling physically in the housing.
The TV will support both the Google Assistant and Alexa and LG is also adding Apple's AirPlay 2 for media playback or device mirroring from your iPhone or iPad. Under the hood, the TV is powered by LG's second generation alpha 9 processor which is also powering LG's flagship OLED and NanoCell TV line-up of 2019. You can read more about the 2019 LG TV line-up here.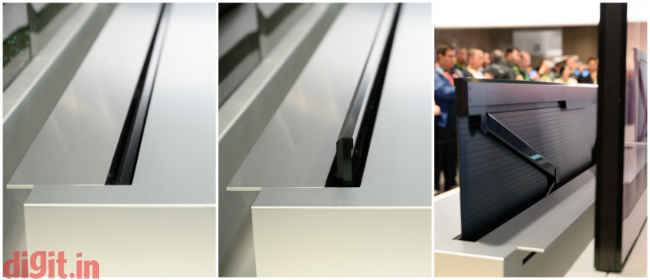 The one question which remains is how the rolling of the display will affect picture quality. LG has teased rollable displays for some time now and it is safe to assume that LG has tested the technology enough to ensure it gives a premium experience.
Adding a better aesthetic appeal to TVs has become the norm this past year. LG has its super slim wallpaper TV where as Samsung has the Frame and the Wall which essentially become pieces of art in your living room when they aren't simple black mirrors.
Also Read
Samsung shows off a 219-inch and 75-inch modular The Wall MicroLED TVs at CES 2019
CES 2019: Dell Alienware m17 with 8th-gen Core i9K processor, NVIDIA GeForce RTX 2080 Max-Q GPU launched
CES 2019: Corsair introduces new and refreshed lineup of gaming mice