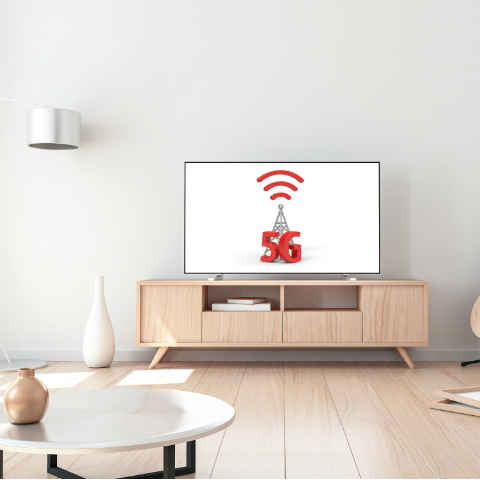 HIGHLIGHTS
Huawei is also aiming to become one of the top five PC makers by 2021 and is said to be making its CPUs in-house

Huawei could source its 8K displays from Chinese vendors BOE or China Star Optoelectronics

The 5G TV is set challenge traditional cable and STB businesses: Analysts
Huawei Technologies is planning to branch out of its smartphones, wearable devices and PC business into high-end consumer electronics as per a new report by Nikkei Asian Review. The company is reportedly planning to launch a 5G-enabled 8K television as early as this year. The TV will be equipped with a 5G modem, possibly made in-house, a source close to the development told Nokkei Asian Review.
If the report is to be believed, this will be Huawei's first venture into the television hardware industry and the 8K 5G connected TV will be the first of its kind in the world. Currently, most smart TVs are Wi-Fi enabled for internet access, but a 5G-capable television will ensure that Huawei's TV supports the next generation of network technology.
It is believed that Huawei could source 8K panels from Chinese display-makers like BOE or China Star Optoelectronics, however, Samsung is still the largest vendor of 8K OLED displays.
With its ability to connect to 5G networks, The Huawei TV could offer ultra-fast video downloads, quality streaming experience and 360 degree views of content such as sports. At MWC 2019, we saw how 5G will enable 360 degree sports-watching experiences, letting users switch camera angles while they watch content like cricket matches. The Huawei 5G TV could also enable virtual reality experiences.
While the Huawei 5G 8K TV would not need fiber connectivity or broadband, it will require telecom operators to support the network infrastructure. Huawei does make 5G network equipment as well and that will work in the company's favour of closing off the ecosystem loop. The company is also the second-largest TV ship supplier in the world, so it already has experience in that area of the business. Add to that, Huawei already has its own 5G-enable chipset called balong 5000, which also powers its foldable phone Huawei Mate X.
However, the hurdles that Huawei might have to cross is that the availability of the TV would have to be restricted to a handful of markets because 5G is still in development in many countries. The 8K 5G TV will also be price-restrictive for many consumers to buy because of its novel technologies and the lack of 8K content would add to the TV's limitations.
Besides the TV, Huawei is also reportedly targeting a spot in the list of the top 5 PC makers in the world. The company aims to achieve this position by 2022. The company is said to be developing its own CPUs to lower its reliance on Intel for processor chips that feature in its laptops. According to IDC, Huawei shipped 1 million units of its laptops last year and gained 4 percent market share in China with its MateBook and MagicBook series. Huawei is also expected to launch its MateBook laptop series in India sometime this year.
Huawei is not the only smartphone-maker planning to enter the TV industry. OnePlus is also expected to announce the OnePlus TV sometime soon. The OnePlus TV will play on AI rather than network technology. OnePlus is also looking to enter the PC space, but has not detailed any plans for it just yet. With both Huawei and OnePlus in the television and PC verticals, Samsung and Apple will see their position challenged in two of their biggest businesses. Huawei is already giving both tech giants a run for their money in the smartphone industry and was the only brand, amongst the top three, to register a hike in market share in Q1, 2019.