Vodafone-idea, Jio and Airtel are the three top telecom operators that keep announcing new plans and offerings to get a leg up against each other. Jio has now announced new benefits for its subscribers, aimed at those who are following the ICC cricket World Cup. Jio users can watch all world cup matches live for free via Hotstar or JioTV. Jio subscribers will automatically log in and won't need to buy a Hotstar subscription to watch the ongoing cricket matches. JioTV users will also be redirected 'seamlessly' to Hotstar to access the matches. Do note that while viewing the matches is free, data used for streaming the event will be counted against a user's current plan.
Speaking of data consumption, watching a cricket match that lasts a couple of hours or more in good quality will surely burn through one's data pack. Keeping this in mind, Jio has also announced a Cricket Season special data pack that is priced at Rs 251 which credits 102 GB of high-speed data for 51 days. While this data can be used to watch matches, the pack is also a good option for users who consume high amounts of data. Alongside access to Hotstar and the new Jio Cricket Season data plan, the telco has also announced a Cricket Play Along game.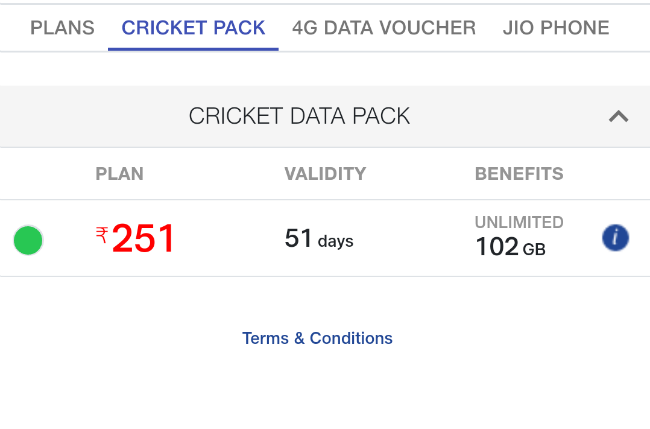 Jio Cricket Play Along is said to be an interactive concept that enables users to test their knowledge of cricket in real-time as the matches are being played. The game can be accessed via the MyJio app on mobile phones and is available for both Jio and Non-Jio subscribers. "Players can test their knowledge of cricket while predicting real-time outcomes and accumulate points for every correct prediction," says Jio. The Jio Cricket Play Along will also display match scores, schedules, results and other information.