For over 20 years, researchers have been using laser light to control cellular interactions, to correct any problems in intercellular communication. So far there have been no methods developed to directly fix any problems in the genetic code. A new approach addresses this problem by combining optogenomics with nanotechnology.
Researchers from the University at Buffalo first grew brain tissue in the lab using stem cells. This tissue was embedded with implants, tiny wireless devices with lasers and antennas. The wireless "switches" were triggered with various kinds of laser lights, a blue laser, a red laser and a far red laser. The interactions of the laser triggers and the implants allowed the researchers to activate and deactivate a particular gene, Fibroblast Growth Factor Receptor 1 or FGFR1 at will. FGFR1 controls about 4,500 other genes, or about one fifth of the human genome. It plays an important role in the development of an individual, right from the embryo to the adult. Co author of the study, Michal K. Stachowiak explains, "In some respects, it's like a boss gene. By controlling FGFR1, one can theoretically prevent widespread gene dysregulations in schizophrenia or in breast cancer and other types of cancer."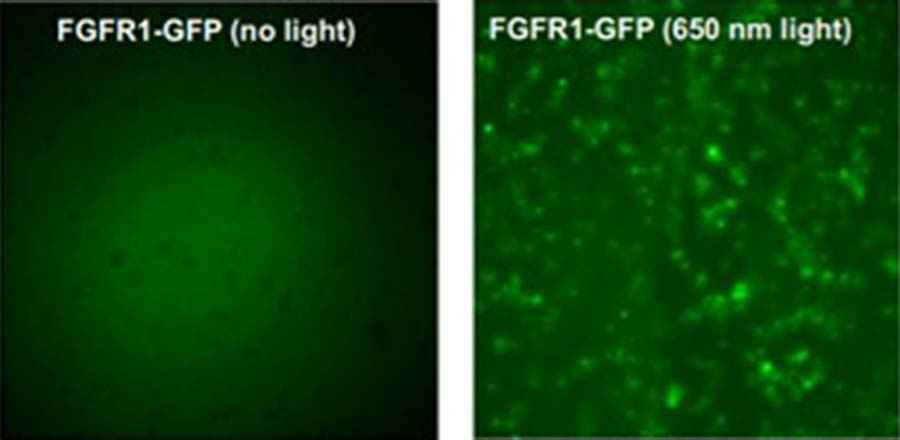 On the left is the FGFR1 gene in its natural state. On the right is the gene exposed to laser light, which can activate and deactivate it. Image Credit: University at Buffalo.
Researchers have essentially used wireless technology to hack a gene. The approach can open up new treatments for treating cancer and mental health disorders, or even prevent them from occurring in the first place. The emerging field of direct manipulation of genes using light is known as "optogenomics". Josep M. Jornet, another co-author of the study says, "The potential of optogenomic interfaces is enormous. It could drastically reduce the need for medicinal drugs and other therapies for certain illnesses. It could also change how humans interact with machines."
The researchers want to introduce nano detectors onto the implants in the future. The next steps for the research is further testing on more lab grown brain tissue, as well as cancerous tissue.
Source: University at Buffalo