The Indian Space Research Organisation's (ISRO) ambitious low-cost Mars Orbiter Mission (MOM) laid the foundation of a golden era in the Indian space sector when the Mangalyaan was successfully put into Mars' orbit almost four years ago. The Indian space agency then entered into the record books by sending a staggering 104 satellites into the orbit and successfully deploying all of them. It seems that they are looking to add another feather in their hat. Starting September, ISRO aims to send 31 satellites to space till next December (that's two satellites every month!) and a total of 50 over the next three years.
"The space agency has a tight schedule ahead, as we are targeting nine launches over the next five months and 22 missions from February to December in 2019, aiming at two per month," ISRO Chairman K Sivan said in a press conference in Bengaluru. "We have also identified 50 satellites that will be launched over the coming three years," Sivan said on the sidelines of an event that was organised to mark the 99th birth anniversary of Vikram Sarabhai. Sarabhai is regarded as the father of India's space programme and a statue of Sarabhai was unveiled at the event.
In the next mission, ISRO will launch two satellites from Britain in September on the Polar Satellite Launch Vehicle (PSLV) C-42 rocket. This comes after The European Commission and India's Department of Space signed a landmark cooperation arrangement related to sharing of earth observation satellite data in March this year. "Advanced satellites which can perform earth observation, ocean mapping etc will be launched over the coming year. We have also scheduled the launch of GSAT-20 in August next year, which along with the three other satellites, will help in expanding 100 Gbps (Giga bytes per second) of internet connectivity to rural India," Sivan added.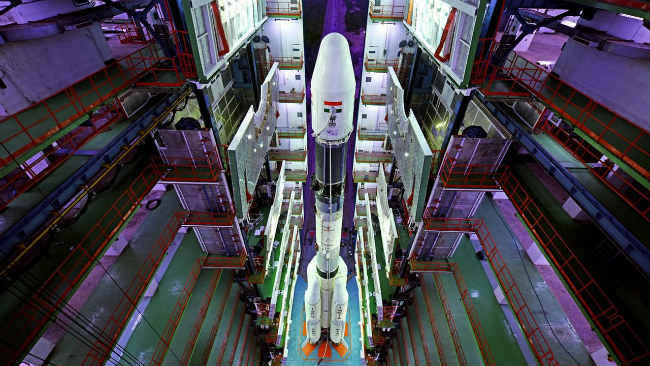 Apart from these two missions, ISRO also plans to land the first Indian spacecraft on the moon in a mission named Chandrayaan-2, in early 2019. As a tribute to Sarabhai, ISRO has named the spacecraft of the Chandrayaan-2 mission 'Vikram'. "We have planned a year-long centenary of the visionary architect of the space programme and our first Chairman, Dr. Sarabhai, during 2019-20. A series of activities will be organised nationally and internationally to commemorate the great international scientist," Sivan noted.
Also, in a first-of-its-kind initiative, ISRO will be conducting a test flight in May-June next year of its light rocket, Small Satellite Launch Vehicle (SSLV). According to the space agency, the SSLV costs only a tenth of a PSLV and is the ideal vehicle to launch small satellites that weigh between 500-700 kgs. "It will be an on-demand launcher, requiring minimum infrastructure, and can be readied for launch within 72 hours, as against a PSLV rocket which requires 45-60 days before the launch," Sivan said. Soon, the space agency also plans to roll out a dedicated ISRO TV channel which will showcase space applications, developments and science issues.
Cover Image courtesy: ISRO