Portronics, best known for its accessories and digital devices, has announced the launch of a universal charger in India, called the Portronics Charge X, which has been priced at Rs. 2.999.
The Portronics Charge X power-pack will work with smartphones, tablets, gaming consoles, portable speakers, Bluetooth dongles, etc., in other words, any device that charges using USB.
Charge X features two USB ports, and a 5,600 mAh battery, allowing users to carry it around without worrying about the availability of a power socket. It will ship with two different connectors – microUSB and Apple's proprietary port. It also features a built in LED light to show the battery power availability, as well as a battery indicator show the levels of charge.
Portronics claims the charger can provide up to 24 additional hours of calling, 120 additional hours of music, and 30 additional hours of Wi-Fi or video playback, on a single charge. The Charge X device can reportedly also sustain its own charge for nearly a year, if not used.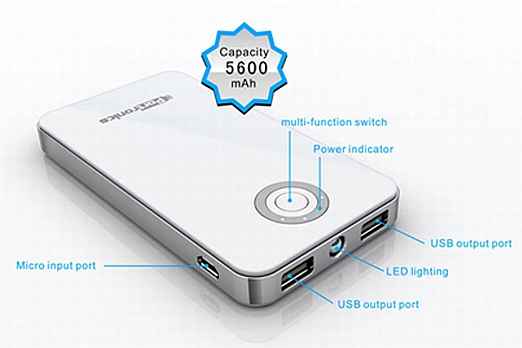 Check out further specifications below:
Item Name

Portable power bank

Model

POR 5600

Battery Cell

Lithium-ion polymer

Capacity

5600mAh

Charge time

11 hours

Discharge time

About 125 minutes/5V 1A output

Input

Micro USB DC5V lOOOmAh max

Output

DC5V 2000mAh for 1st output

DC5V lOOOmAh for 2nd output

Charge temperature

-20° C~60° C

Discharge Temperature

0° C~40° C

Cycle life

510 times (^80% initial capacity)

Size

118*63*11.6mm

Colour

White

Weight

136g