NVIDIA TITAN X is the Pascal architecture based compute powerhouse from NVIDIA capable of 11 TFLOPS for $1200
NVIDIA sure is on a killing streak with GPU launches as it just announced the NVIDIA TITAN X based on the Pascal GPU microarchitecture. Powered by 3584 CUDA cores clocked at 1.5 GHz, the NVIDIA TITAN X is capable of crunching out 11 TFLOPs of performance while sporting 12 GB of GDDR5X memory. To jog your memory, the NVIDIA GTX 1080 too featured the same GDDR5X type memory which has a 10 Gbps memory speed. The card was unveiled by Jen-Hsun Huang, CEO, NVIDIA at Stanford University yesterday and the cards will go on sale from the 2nd of August for a whopping $1200. In India, the card could end up costing around Rs.1,09,000. We don't have the official pricing yet.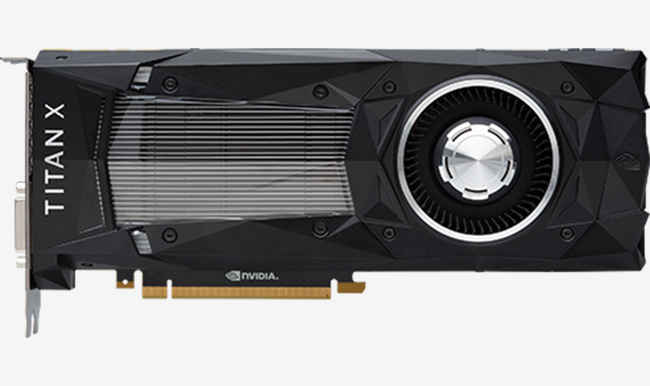 While we haven't heard of any Founders Edition SKUs for the new NVIDIA TITAN X but you can expect board partners to come out with their own SKUs bearing aftermarket cooling solutions soon enough. Based on the GP102 GPU, the NVIDIA TITAN X will have 3584 CUDA Cores, which means there are 28 Pascal Streaming Multiprocessors (SMs). Since we know how many Texture units each SM has, this would, in turn, mean that there are 224 Texture Units. The number of ROPs is a bit difficult to figure out but if we are to go by what the the GP104 looks like then we are looking at 96 ROPs. The NVIDIA TITAN X has considerably more CUDA Cores than the Maxwell based TITAN X so despite Pascal's power saving features we are still looking at a card designed with a TDP of 250 W. The new member of the TITAN X family will have 1x 8-Pin + 1x 6-Pin power connectors.

NVIDIA TITAN X Specifications

NVIDIA Titan X

GTX 1080

GTX Titan X

GTX Titan

Launch Year

2016

2016

2015

2013

Launch Price

$ 1200

$ 599

$ 999

$ 999

CUDA Cores

3584

2560

3072

2688

Texture Units

224

160

192

224

ROPs

96

64

96

48

Core Clock

1417 MHz

1607 MHz

1000 MHz

837 MHz

Boost Clock

1531 MHz

1733 MHz

1075 MHz

876 MHz

Memory

GDDR5X

GDDR5X

GDDR5

GDDR5

Memory Clock

10 Gbps

10 Gbps

7 Gbps

6 Gbps

Memory Bus Width

384-bit

256-bit

384-bit

384-bit

VRAM

12 GB

8 GB

12 GB

6 GB

TFLOPs

11 TFLOPs

9 TFLOPs

6.6 TFLOPs

4.7 TFLOPs

FP64

1/32

1/32

1/32

1/32

TDP

250 W

180 W

250 W

250 W

GPU

GP102

GP104

GM200

GK110

Transistor Count (Billion)

12

7.2

8

7.1

Manufacturing Process

TSMC 16nm

TSMC 16nm

TSMC 28nm

TSMC 28nm
More images: