Away from the big stages and halls teaming with people, Intel made a pretty big announcement in the cosy setting of their Media room at CES 2019. The new Intel Optane Memory H10 is an m.2 device that houses both cache and NAND flash on the same stick. The hybrid Optane module is designed specifically keeping laptops in mind, especially those that offer only one m.2 socket on the motherboard.
What is it and what does it do
On the new Intel Optane Memory H10 module, we find two distinct chips; one for the Optane caching and the other being Intel's QLC 3D NAND flash. The former will serve to speed up functions like boot times and waking up from sleep while the QLC NAND flash will serve as the primary storage space. Besides prioritizing read-write speeds and OS related files, Intel's software will also learn of files that are used more frequently and add them to the Optane cache, space permitting. Intel's Rapid Storage driver will integrate the H10 into system storage so that it appears unified with any other primary drive on the laptop or system. Both the Optane module and the QLC NAND flash have their own controllers, which do not talk to each other directly. The module will take over all 4 PCIe lanes of the m.2 slot, but each of the modules will get access to only 2 lanes each, theoretically impacting the overall performance.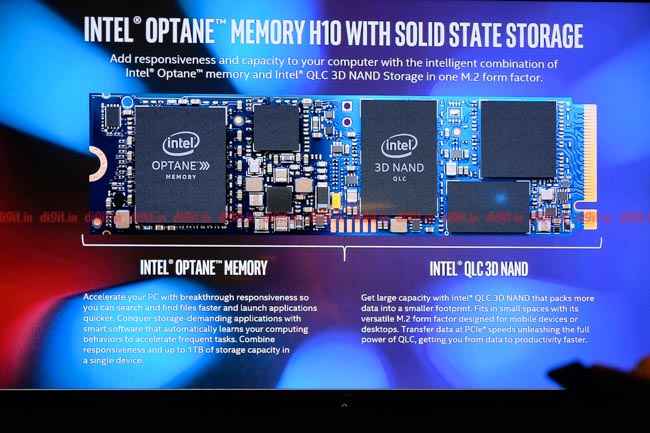 Who does it help
The H10 module would prove to be especially beneficial for thin and light laptops which often only offer a single m.2 socket on the motherboards. Laptops that cost as little as Rs 35,000 also come with an m.2 socket. Plugging in the H10 module will offer consumers the benefit of not just the traditional Optane caching, but also of a faster storage media. Intel has not released any performance numbers yet, but it can safely be assumed that the H10 module will definitely show improvements in a system that otherwise comes equipped with only a regular 2.5" hard drive. For those who buy a system with an SSD or even an NVMe drive pre-installed, installing the Optane Memory H10 module would give you additional storage space, without, theoretically, impacting read-write speeds.
Will it really be better
With no numbers available, it is hard to gauge just how much of benefit users will derive from the new Intel Optane Memory H10. We do expect to notice improvements on machines that still ship with traditional hard disk drives. What's another clear benefit is that this new module packs up to a terabyte of storage along with the Optane memory chip all on one side of the stick, allowing it to be used in the thinnest and lightest of laptops. Pairing the Optane memory with 3D QLC NAND storage on a single stick with up to a terabyte of storage could allow the new H10 module to even make it's into lower-end gaming laptops to boost load times and overall system responsiveness. For systems that already come with an SSD, the new Intel Optane Memory H10 would offer increased storage space while offsetting the relatively slower performance of the QLC NAND chip with the use of superfast Optane memory.
When can I buy One?
Intel told us during the briefing that the H10 module is not yet ready to ship, but when it is, it will be available in three configurations; 16GB Optane + 256GB storage, 32GB Optane + 512GB storage, and 32GB Optane + 1TB. The module will first be made available to OEMs to include on their various laptops. There is no word on when consumers will be able to buy this for themselves, but Intel did say that users should eventually be able to pick this up off the shelf.