Intel has officially announced their 12th Gen Alder Lake hybrid desktop processors during their Intel InnovatiON virtual event. These new processors are built using the Intel 7 process (previously known as Intel 10nm Enhanced Super Fin process) and utilise a hybrid architecture that includes powerful P-Cores to handle demanding workloads and efficient E-Cores to handle less intensive workloads. Intel hopes to win back the desktop CPU performance crown with the help of Alder Lake CPUs that boast of having enough power to take the single threaded performance crown while also providing decent multithreaded performance on account of the E-Cores. In fact, Intel claims that just the E-Cores on the 12th Gen Core processors can provide similar multithreaded performance at 1/4th the power of their older 11th Gen Intel Core processors. The top of the line Intel Core i9-12900K will feature 8P and 8E cores which total up to 24 threads (only the E-Cores feature multi-threading) and will have 20 PCIe Gen 5.0 lanes. All Alder Lake desktop processors will require LGA1700 motherboards and as of launch, there will only be the top-of-the-line Z690 chipset based boards available for sale. The Intel Core i9-12900K will be priced at USD 589 which works out to be around INR 44,182 (direct conversion) or INR 52,135 (if you factor in taxes). The launch lineup does not include Core i3 entry-level processors so budget builds will still have to resort to either AMD Ryzen 3 CPUs or Intel 10th Gen Core i3 CPUs.
Intel 12th Gen Core Desktop Processors
The Intel 12th Gen desktop processor lineup will only have six processors at launch. This includes two each under the Core i9, Core i7 and Core i5 segments. This leaves out budget PC builders for the second time in a row since even the 11th Gen Rocket Lake launch did not include any Core i3 processors. Here's the full lineup of Intel 12th Gen Alder Lake processors.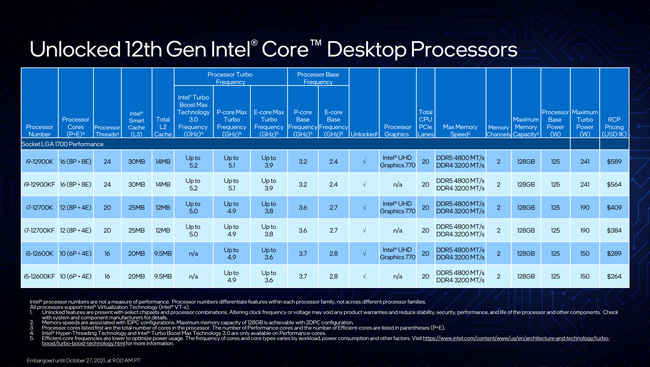 Interesting thing to note here is that the base frequency for the P-Cores is a little lower than what we saw with the 11th Gen Rocket Lake desktop processors. While E-Cores didn't exist in the previous microarchitecture, we did have T-Suffix 11th Gen Rocket Lake processors which had their base clock frequencies starting at 1.3 GHz. Not that it matters a lot, processors have various power levels and sleep states that allow for conservation of power and we could very well see the 12th Gen E-Cores consuming even less power than what the 11th Gen cores did.
DDR5 and PCIe Gen 5.0 on Z690 Motherboards
The new Intel 12th Gen Alder Lake processors will see the latest DDR5 memory standard making its way into the mainstream PC space. Without any overclocking, Z690 motherboards will support DRAM modules rated up to 4800 MT/s which is quite the step up from DDR4 modules. Although, affordability considered, DDR5 would be anything but mainstream for the next year or more. Intel knows this for a fact, which is why you will find Intel Z690 chipset based motherboard variants that support either DDR4 or DDR5. When used with DDR4, the 12th Gen processors will go up to 3200 MT/s. In the past, when memory standards were introduced, we could often see "combo" motherboards which would have a pair of slots supporting the latest DDR standard and a pair of slots for the older memory standard. Unfortunately, for this transition from DDR4 to DDR5, we have not come across any such "combo" boards, yet. There are some crazy motherboard designs out there and we just might get what we're looking for in the next couple of months.
Also being introduced for the first time on consumer PCs is PCIe Gen 5.0. The shift from PCIe Gen 3.0 to 4.0 took quite a while and it did seem like PCIe Gen 4.0 was a little ahead of time. Although, enthusiasts wouldn't dream of going back to PCIe Gen 3.0 storage having experienced the speeds that PCIe Gen 4.0 has to offer. Also, graphics cards are yet to fully consume the full bandwidth of PCIe Gen 3.0 and are miles away from utilising all that PCIe Gen 4.0 x16 slots have to offer. Naturally, similar doubts exist for PCIe Gen 5.0. It will be interesting to see the real world impact of this shift from PCIe Gen 4.0 to 5.0. Content creators might love the faster scratch disks but we doubt if the editing software would even utilise the additional storage bandwidth. Perhaps, 8K editing on the PC using 4:2:2 footage might just become viable. Only time will tell.
Speaking of chipsets, the 12th Gen Alder Lake launch will only see the Z690 chipset and none of the H670, B660, Q670 or any other chipset that were seen in previous iterations. Even the 11th Gen Rocket Lake launch was similarly bereft of options for mid-range and budget PC builders. And since most of the market share is in the mid-range and low-end segments, Intel has no chance of regaining any market share in those segments without board partners being able to offer competitively priced boards.
Intel 7 and Thread Director
Alder Lake processors for the desktop are built using the Intel 7 process node which was previously known as 10nm Enhanced Super Fin. So the process node is a minor improvement over the previous 10nm Super Fin process and offers about 10-15 percent perf/watt improvement. How that pans out for users will only be known once the processors are reviewed.
The biggest change with Alder Lake is the hybrid microarchitecture that has two types of cores suited for different workloads. Deciding which core gets to handle a particular workload and when it gets to do it is something that's decided by the scheduler. With processors that have just one type of core microarchitecture, the job of a scheduler is quite easy. However, in the case of Alder Lake, the scheduler needed a complete overhaul. Enter, Intel Thread Director. It's an on-board microcontroller which continuously monitors the instructions running on the core during runtime. This way, it can continuously talk to the operating system and take a call whether to let a process run on a P-Core or E-Core and whether to move it around to save power or move it to a P-Core in anticipation of a more intensive workload. Intel states that Thread Director works best on Windows 11. The reason being that Windows 11 has a broader perspective on workloads and also factors in efficiency whereas Windows 10 only looked at Cores from the perspective of performance and nothing else. From a developers perspective, this aspect can easily be ported to Windows 10, whether Microsoft will do it is entirely up to them.
Higher power levels - The new normal
Intel has not revealed TDP numbers for the processors, instead it is referring to them using terms such as Processor Base Power and Maximum Turbo Power. The Processor Base Power for the Core i9-12900K is 125W and the Maximum Turbo Power is 241W. It would appear that Intel is done with not disclosing the actual power that their processors consume. We'd found the flagship Rocket Lake processor came really close to 300W and the 10th Gen 10900K had also managed to rack up similar figures. The 9900K on the other hand was closer to 170W. So it would appear that power consumption levels are constantly rising on the CPU front and GPUs aren't that far behind. If this trend keeps on going then we're going to need much beefier power supplies in desktop PCs going forward. 1000W, 1200W and 1600W power supplies will end up being the new normal. And all of this is happening while both CPUs and GPUs are moving to more power-efficient process nodes.
Availability and Price
The Intel 12th Gen Core processors and compatible Z690 chipset based motherboards will go on sale starting November 4, 2021. We haven't received Indian pricing for the SKUs for any of the motherboards or the processors but going by the dollar pricing of the SKUs, upgrading to Z690 will make you think twice.
For more technology news, product reviews, sci-tech features and updates, keep reading Digit.in or head to our Google News page.