InFocus has launched a portable desktop computer called the Kangaroo. According to the company, the Kangaroo is the world's smallest portable desktop and is about the size of a smartphone. The device weighs about 200 grams and is 124mm tall, 80.5mm wide and 12.9mm thick. It comes with a removeable base unit which added a HDMI port, a USB 2.0 and a 3.0 port, as well as a DC power port. The InFocus Kangaroo also comes with a Windows Hello fingerprint sensor for security and privacy. The device has been launched with a price of $99 which is about Rs. 6,400 by direct conversion.
The device is powered by a quad-core Intel Cherry Trail Atom X5-Z8500 processor that can be clocked at 2.24GHz. It also comes with 2GB of RAM and 32GB of storage that can be expanded to a maximum of 128GB via a microSD card. The Kangaroo uses two cables, one that connected to the TV while the other is a power cord. However, the InFocus Kangaroo also comes with a battery which the company claims can offer upto 4 hours of "casual use". It also has a micro-USB port for charging. The device runs Windows 10 and comes with Bluetooth 4.0 wireless connectivity. InFocus has said that it will look to users for guidance in developing future Kangaroo base attachments and new models. The bases will add a whole range of features to the Kangaroo.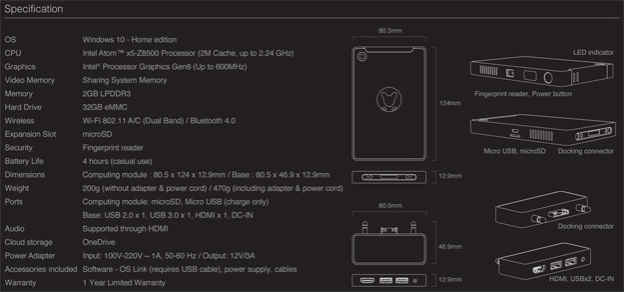 Portable computers have started to become quite common nowadays, but most are usually in the form of a PC-on-a-stick. Earlier this year, Microsoft launched such a device in partnership with iBall called the Splendo. The device plugs directly into a TVs HDMI port and converts it into a PC. The iBall Splendo was launched with Windows 8.1 and is an Intel Atom quad-core processor with 2GB of RAM. It also came with a microSD card slot, USB and micro-USB ports, multi-channel digital audio as well as Wi-Fi and Bluetooth 4.0. The device was launched at a price of Rs. 8,999.