Want to modernise your banking loan application?
Build an application that analyses credit risk with #IBMCloud Pak for Data on #RedHat #OpenShift
Click here to know more
Advertisements
After a long wait, Apple has finally refreshed its Mac Pro with a modular design. Starting at a price of $5999 (Rs 4.15 lakh). The CPU comes with Intel Xeon processor that has up to 28 cores, and supports a massive 1.5TB of RAM. To go along with a new Mac Pro, the company also unveiled a new 32-inch Retina 6K display, called the Pro Display XDR. Both the devices wear a cheese-grater design.
Apple Mac Pro
Apple's 2019 Mac Pro has a stainless steel frame which is covered with a box that can be removed easily by just twisting the lever on the top. This will likely make it a lot easier to upgrade than the older models. The company has equipped an Intel Xeon processor that will have up to 28 cores. The processor is assisted by up to 300W of power and heavy-duty cooling, "so it can run unconstrained at full power at all times." Users can expand the memory to up to 1.5TB with six-channel memory across 12 DIMM slots. There are also eight PCI Express slots. On the user facing side, the Mac Pro comes with two Thunderbolt 3 ports, two USB-A ports, and a 3.5mm audio jack.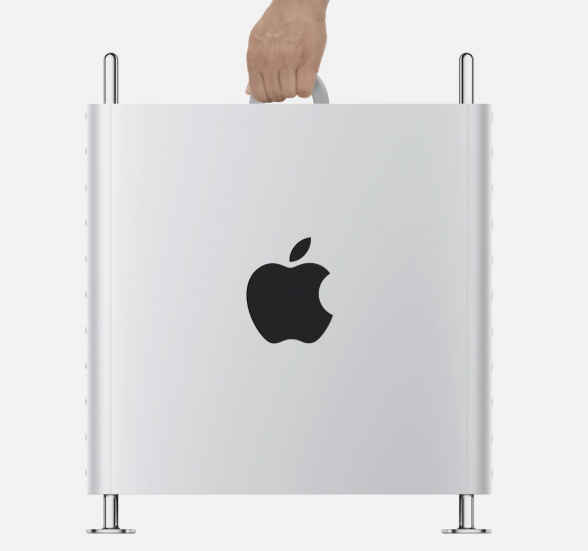 In Mac Pro 2019, Apple also introduced a custom expansion module called an MPX Module. It is a quad-wide PCIe card that fits two graphics cards and has its own massive heat sink. There are eight internal PCIe slots, four double-wide slots, three single-wide slots, and one additional half-length slot for an I/O card. According to the company, users can fit in AMD's Radeon Pro Vega 2 or Radeon Pro Vega 2 Duo to increase the efficiency of the system. Apple said that users can add up to two Radeon Pro Vega 2 Duo cards at the same time.
When it comes to processing power, Apple has included a custom hardware called Afterburner. The company claims that with Afterburner, the Mac Pro can play three simultaneous 8K RAW video streams, or 12 4K streams. Apple claims that the card is capable for processing 6 billion pixels per second. To keep the temperature under control, the Mac Pro has three fans, whcih blow air at a rate of 300 cubic feet per minute, and a blower.
The new Mac Pro will launch later this year in the US at a starting price of $5,999 (approx 4.15 lakh). In this price, users will get 32GB of RAM, an octa-core Intel Xeon CPU, Radeon Pro 580X graphics, and a 256GB SSD.
Apple Pro Display XDR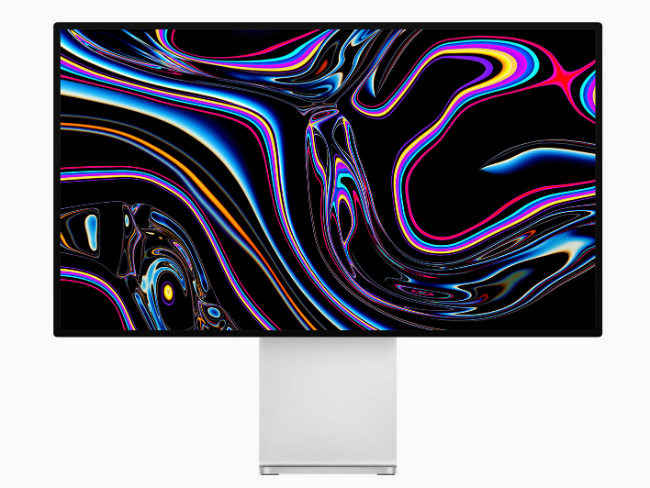 Apple also introduced a 32-inch LCD display that Apple is calling a 6K Retina display with HDR. Called the Pro Display XDR, the display offers a 6016 x 3384 pixel resolution. The screen matches the design of the Mac Pro and now sports a glass with a "nano-texture." The screen touts a 1,000-nit typical and a 1,600-nit peak brightness. As mentioned, the screen also features the same the cheese grater-style vents on the back as on the Mac Pro. According to Apple, users can join up to six of panels essentially giving about 120 million pixels. Apple also launched a stand that supports rotation into portrait mode.
The Pro Display XDR will with Mac Pro later this year in the US at a starting price of $4,999 (approx Rs 3.45 lakh). The model with the nano-texture glass will cost $5,999 (approx 4.15 lakh).