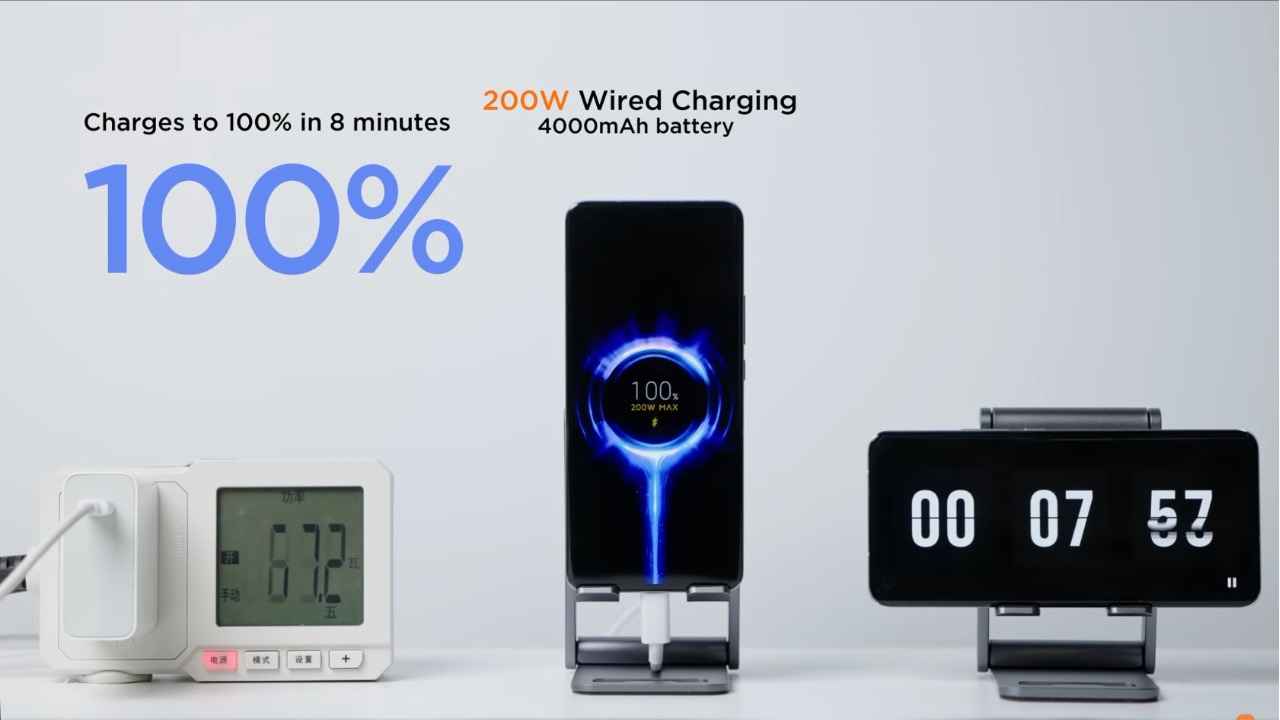 HIGHLIGHTS
Xiaomi unveils 200W fast charging solution

Xiaomi's HyperCharge technology can fully charge a phone in 8 minutes

Xiaomi shows-off 120W fast wireless charging solution
Xiaomi has teased it's 200W fast wired charging technology that the company is calling HyperCharge. The new fast-charging solution can fully charge a phone's battery to 100% in just 8 minutes. Moreover, Xiaomi has also unveiled a 120W fast wireless charging solution that can charge a phone's battery to 100% in just 15 minutes.
Xiaomi posted a video online that depicted a modified Mi 11 Pro with a 4,000mAh battery that supports HyperCharge fast charging. In the video, the phone charges to 10 percent in 44 seconds, 50 percent in 3 minutes and takes 8 minutes to fully charge to 100 percent.
200W Wired Charging
120W Wireless Charging

We're about to redefine the charging experience with #XiaomiHyperCharge. #InnovationForEveryone pic.twitter.com/2rPrzw7BEu

— Xiaomi (@Xiaomi) May 31, 2021
Meanwhile, the new 120W HyperCharge wireless charging solution was also demoed in the same video using a modified Mi 11 Pro. With the HyperCharge wireless solution, the phone with a 4,000mAh battery charged to 10 percent in 1 minute, 50 percent in 7 minutes and 100 percent in just 15 minutes.
There is no official word on when we would be able to see the HyperCharge charging technology on a smartphone. In 2019, Xiaomi showed off its 100W Super Charge Turbo fast charging technology which was followed by the Mi 10 Ultra launching with support for upto 120W fast charging.
Earlier this year, a report hinted that Xiaomi could be working on a 200W fast charging solution and could launch a smartphone in the second half of 2021. Now that the 200W HyperCharge fast charging solution has been unveiled officially, Xiaomi may launch a commercial phone that supports it too.
The new HyperCharge solution takes Xiaomi to the top of the charts when it comes to fast charging standards. Many companies including Xiaomi and Oppo are leading the race to develop new fast-charging technologies for smartphones and the breakthrough attempts to narrow the gap between fully charging a phone and makes it one of the quickest fast-charging solutions to date.