After alleging certain market research institutions of providing "inaccurate and unfair information" about the smartphones it shipped in the first quarter of 2019, Xiaomi has released a statement noting the figures based on its own management accounts. It also said that the information on the shipment of Xiaomi smartphones, once finalised, will be included in company's results announcement [for the first quarter of 2019].
"This announcement is made by Xiaomi Corporation (the "Company" and, together with its subsidiaries, the "Group") on a voluntary basis to inform the shareholders of the Company and potential investors of the latest business development of the Group," Lei Jun, Xiaomi CEO and Co-founder, said in a statement. "The board ("Board") of directors of the Company ("Directors") is aware that recently several media publications quoted some information from certain market research institutions about our estimated shipment of smartphones in the first quarter of 2019. The information is inaccurate and unfair, and deviates from our actual performance in terms of shipment of smartphones," he added.
"In order to protect investors from any misleading information, the Company hereby announces that based on our management accounts, our shipment of smartphones in the first quarter of 2019 exceeded 27.5 million," the top executive said. However, Xiaomi says that these figures are not final and it will give the exact numbers in its quarterly announcement, which is expected to be made soon.
"The information contained in this announcement has not been discussed with the Company's auditor. The ultimate number of smartphone sales to be recorded in the financial statements of the Company may be different from the number as shown in this announcement taking into account the applicable accounting rules for revenue recognition," he noted.
Recently, several market research firms released their findings in which they talked about the smartphone market share as well as the number of phones shipped globally (in millions) in the first quarter of 2019. Xiaomi was placed among the top five brands in all of them. Counterpoint Research and Canalys Research reported that Xiaomi shipped 27.8 million phone in the quarter, while International Data Corporation (IDC) pegged the figures at 25 million. (See below)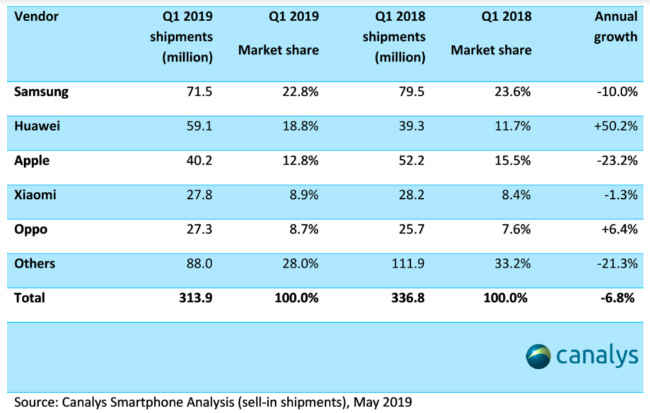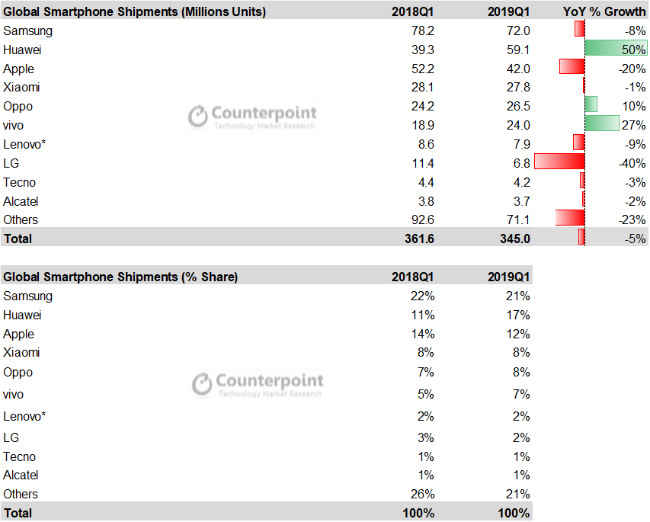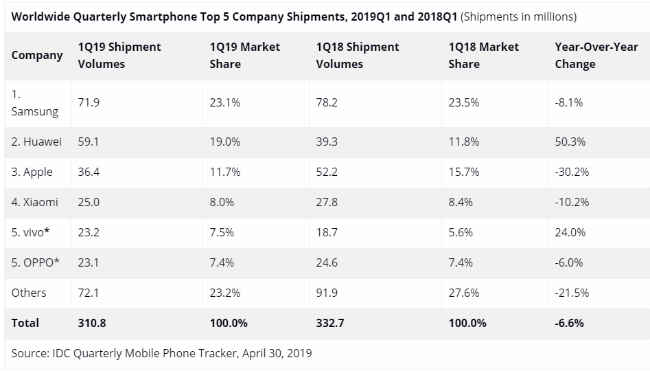 As evident, Counterpoint's and Canalys' numbers are close to what Xiaomi is claiming, but IDC's figures are around 2.7 million less than what the Chinese company claims. IDC said that while Xiaomi experienced a decline in volumes of 25.0 million, down 10.2 percent YoY, the brand remains strong in China, India, and Indonesia. While IDC hasn't released any official statement on this, Counterpoint and Canalys have.
"We have been meticulous in tracking quarterly data for all brands and provide you with accurate shipments in confidence. We can do this as we arrive at our estimates by tracking 55+ countries quarterly, conducting regular OEM/distributor/supply chain surveys and secondary research. We are unique in tracking both shipment (Sell-in) and monthly sales (Sell-through) that gives us the ability to accurately estimate inventory and demand every quarter, making our data robust. We do not just rely on public company documents. We use supply chain numbers, monthly distributor and retail checks (sample size 20% of the total market), also most of our senior analysts come from the industry: Nokia, Samsung, LG, Philips, Intel, TSMC etc," Counterpoint Research said in an email.
"Canalys has become the go-to-source of mobility industry research. We don't issue preliminary numbers, instead we publish the best quality data once our process is complete. That is why we are in the privileged position of serving so many industry leaders and financial institutions with high-quality information," Rita Chaher, Executive Vice President at Canalys, said in a statement.