OnePlus TV 32Y1 - Smarter TV
Android TV with superior craftsmanship and elegant design.
Click here to know more
Advertisements
While Huawei has registered an increase in the global market share as well as smartphone shipments in the first quarter of 2019, Samsung's and Apple's have dropped, two popular market research firms, Counterpoint Research and International Data Corporation (IDC), have said. This comes at a time when Q1 2019 smartphone shipments are falling (of 5% as per Counterpoint, and 6.6% according to IDC) year-over-year (YoY) - making it the sixth consecutive quarter that has seen a decline in smartphone shipments.
According to Counterpoint Research, Huawei's share in the global smartphone market reached its highest ever level of 17 percent during Q1 2019. Huawei overtook Apple as the second largest selling smartphone brand in the quarter as its volumes increased by nearly 50 percent YoY. Although, Samsung's share decreased, it grabbed a market share of 21 percent maintaining the top spot. Apple was able to capture 12 percent of share globally. Meanwhile, IDC says that Samsung took 23.1 percent, Huawei captured 19 percent and Apple got 11.7 percent share.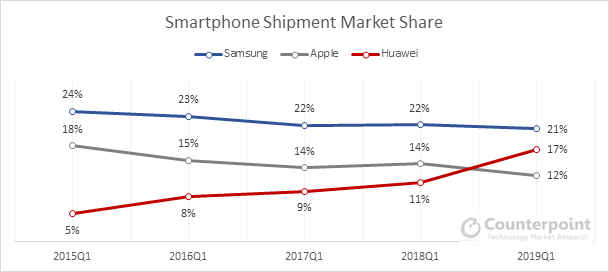 Recently, Huawei announced its business results for the first quarter of 2019 and said that the company generated CNY 179.7 billion in revenue - an increase of 39 percent (YoY). The company's net profit margin in the quarter was about 8 percent, and it shipped 59 million smartphones. Samsung, meanwhile, registered 56.9 percent year-on-year decline with net profits in the January-March period falling to 5.04 trillion won ($4.3 billion) -- the lowest since the third quarter of 2016. Apple is yet to publish its earnings report.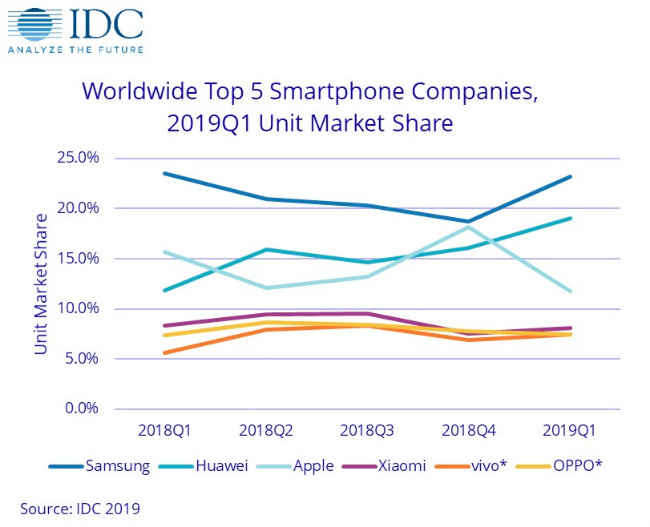 Huawei became the second largest smartphone brand by shipments without a significant presence in an important market like the US. It was also the fastest growing brand among the top 10. Moreover, only Chinese brands Huawei, Oppo and Vivo were able to register a growth in the first quarter of 2019.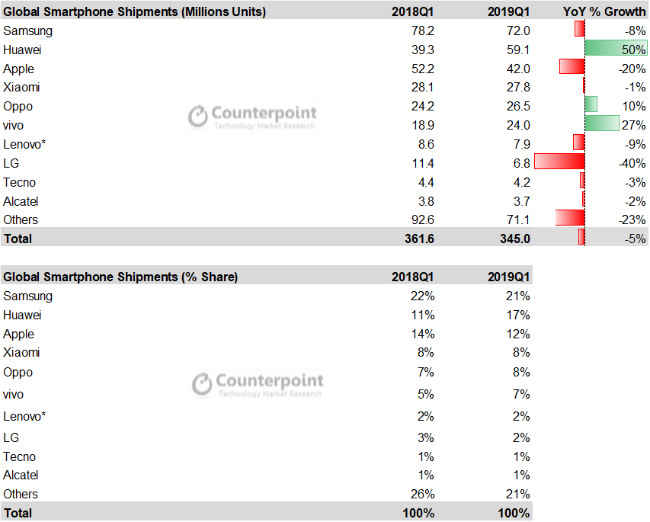 "At this pace, we expect Huawei to remain ahead of Apple at the end of 2019. What has helped Huawei is the pace of its innovations. It was the first to introduce features like reverse wireless charging, on-board AI, advanced camera, and more. A dual-brand (HONOR) strategy has helped Huawei build a youth connect and gain market share in a sluggish Chinese market. Huawei is now a match for Samsung in smartphone hardware. Like Samsung and Apple, Huawei also is becoming increasingly vertically integrated. We believe it is Huawei that Samsung should be worrying about rather than Apple," Shobhit Srivastava, Research Analyst at Counterpoint Research, said in a statement.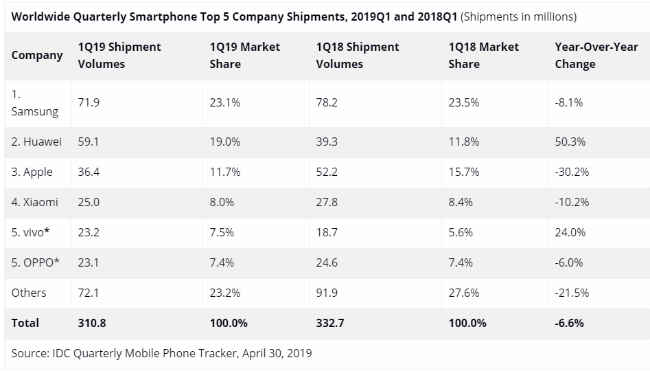 "It is becoming increasingly clear that Huawei is laser focused on growing its stature in the world of mobile devices, with smartphones being its lead horse. The overall smartphone market continues to be challenged in almost all areas, yet Huawei was able to grow shipments by 50 percent, not only signifying a clear number two in terms of market share but also closing the gap on the market leader Samsung. This new ranking of Samsung, Huawei, and Apple is very likely what we'll see when 2019 is all said and done," Ryan Reith, Program Vice President with IDC's Worldwide Mobile Device Trackers, added.
Global smartphone shipment decline:
While, Counterpoint Research says that the overall smartphone shipments fell to 345 million units from 361.6 million units registering a 5 percent decline, IDC found that smartphone vendors shipped a total of 310.8 million units from 332.7 million units in 1Q19.
"The global smartphone market showed no sign of recovery in Q1 2019. The rate of decline came down, particularly in February, due to inventory correction by some brands and the production halt during Chinese New Year. Another reason for the decline is lengthening replacement cycles, especially in the premium segment. The replacement rate for iPhones is reaching close to 36 months, while the replacement rate for premium Android devices is closing in at 30 months. This can be attributed to the higher quality of devices, increasing average selling price (ASP), and the lack of innovative technology," Tarun Pathak, Associate Director at Counterpoint Research, said about the smartphone shipment decline.
Anthony Scarsella, Research Manager with IDC's Worldwide Quarterly Mobile Phone Tracker, echoed Pathak's comments saying, "Consumers continue to hold on to their phones longer than before as newer higher priced models offer little incentive to shell out top dollar to upgrade. Moreover, the pending arrival of 5G handsets could have consumers waiting until both the networks and devices are ready for prime time in 2020."
Brandwise segregation:
Counterpoint: Samsung recorded an increase in revenue as Galaxy S10 flagship smartphones did better than Galaxy S9 at the time of launch. Apple iPhone shipments declined year-over-year for the second consecutive quarter. It is increasingly difficult for Apple to grow ASP's and China remains a declining market for the company. iPhone XR was the best-selling iPhone during the quarter. Xiaomi smartphone shipments declined annually as it faces competition in home market, though it continued to do well in India. All the brands of the BBK Group: Oppo, Realme, Vivo and OnePlus, registered growth during the quarter.
IDC: Samsung saw volumes drop 8.1 percent in 1Q19 with shipments of 71.9 million. The South Korean company retained the top spot, but Huawei is continuing to close the gap between them. Apple's shipments dropped to 36.4 million units representing a staggering 30.2 percent decline from last year. Xiaomi experienced a decline in volumes of 25.0 million, down 10.2 percent YoY. the brand remains strong in China, India, and Indonesia. Vivo returned to the top 5 of the smartphone market with volumes of 23.2 million and a market share of 7.5 percent. Its sister company Oppo tied with Vivo in terms of market share, and shipped shipped 23.1 million units.
From a geographic standpoint, China is likely to see things heating up in the remainder of 2019. The US market felt the worst of the downturn in the first quarter. Smartphone volumes declined 15 percent YoY during the quarter as replacement rates continue to slow in one of the world's largest markets. "Apple iPhone challenges contributed to the exceptionally poor 1Q19 in the US, but they were not alone as Samsung, LG, and other top vendors also witnessed declining volumes during the quarter," IDC said.