Smartphone batteries have been a major issue that OEM manufacturers have been desperately trying to solve. In fact, some of them are marketing their phones highlighting the run-time of the phone on a single charge. But now, Xiaomi may have finally found a solution to the problem. Tech news platform LetsGoDigital has found a design patent from the company for a smartphone with an integrated solar panel at the back.
The solar panel is likely to charge the phone by absorbing sunlight and converts it into electrical energy. The patent also shows the phone sporting a vertically-aligned, dual-camera setup placed on the top left corner on the back panel. On the front, it features an edge-to-edge screen without a selfie camera, suggesting an under-screen camera. Since it also lacks a visible fingerprint sensor, it is assumed that the phone could ship with an under-display fingerprint reader.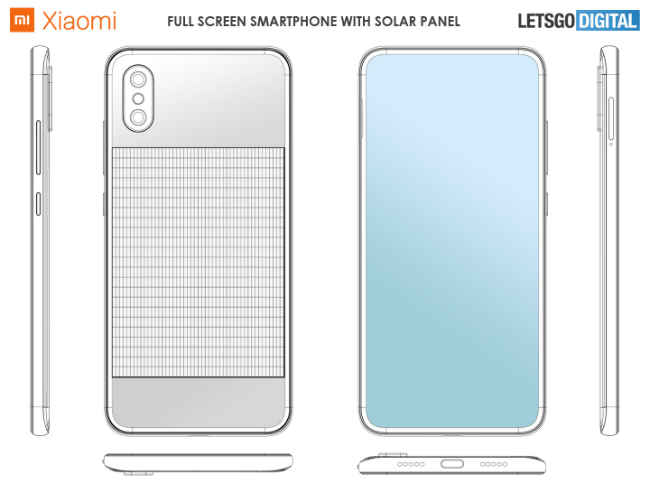 Xiaomi has already patented their new periscope lens technology. A patent listing entitled "Camera Components and Electronic Devices" was released to the public on July 2. The patent carries the application number CN201822150093.2 and dates back to December 20, 2018. The same page gives us more information about the camera assembly, which includes a main lens and at least one periscope auxiliary lens.
Xiaomi has been at the helm of smartphone shipments in India for quite sometime now and recently, it again grabbed the top spot in the second-quarter of 2019. Xiaomi captured a 28 percent market share and its shipments grew 6 percent year-over-year (YoY) driven by portfolio expansion, and offline expansion in the budget segment. Xiaomi recently launched its 2000th Authorised Service Center (ASC) in Delhi. With service centres in over 680 cities, Xiaomi has also emerged as the first industry brand to be certified under ISO 9001 and 14001 for after sales quality management systems.