Vostro 3501
Popular tech to stay connected anywhere. Save more on exciting Dell PCs.
Click here to know more
Advertisements
Another day, another leak of the upcoming Samsung Galaxy S9(₹ 24999 at flipkart) has hit the internet. It seems to be a big revelation this time as the very box the phone is supposed to ship in has been leaked. An image popped up on Reddit allegedly showing the back of the box and we are inclined to believe this leak. Why? For one, considering the phone is confirmed to launch at the end of next month, this is usually the time when definitive leaks come out. Moreover, the photograph seems to be quite genuine with the gloves, the white workspace and even the layout and the font of the box.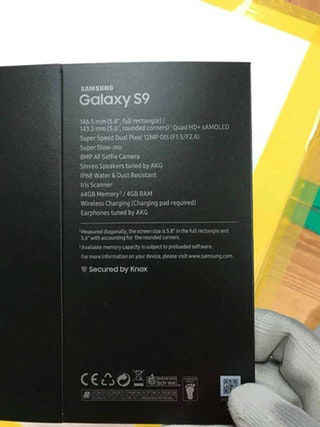 The box reveals the hardware specifications of the device and from that, we can confirm that the Samsung Galaxy S9 will have a rear camera with variable aperture. If that sounds too farfetched, note that the Korean giant had launched a flip phone in China with a camera that had a variable aperture between f/2.4 and f/1.5 for improved low light photography.
Additionally, the box also reveal a "super slo-mo" feature which could confirm the rumour of the phone having the ability to take super slow motion videos at 1,000 fps which will beat the 960fps benchmark set by the Sony Xperia XZ Premium (review) last year. There's also stereo speakers "tuned by AKG" and the expected 5.8-inch quad HD+ Super AMOLED display, 8-megapixel front camera, IP68 water resistance, iris scanner, 4GB of RAM and 64GB of storage.
There's no mention of face-unlocking though, which is a feature that is being highly anticipated after the iPhone X introduced it last year. Samsung's newly unveiled Exynos 9810 SoC is capable of 3D face scanning and recognition. Even the Qualcomm Snapdragon 845 which will be powering the Galaxy S9 in the US has the capability to do so.
There's massive confusion over what features Samsung is expected to give to users this year. The good news is that the phone will be announced in about a month, right before Mobile World Congress in Barcelona.