The Reliance Jio Postpaid Plus plans offer a host of additional benefits to the customer. The plans also include subscription to Netflix, Amazon Prime and Disney+ Hotstar
Reliance Jio announced the Jio Postpaid Plus plans that comes with bundled with benefits that includes subscriptions to popular OTT services — Netflix, Amazon Prime and Disney+ Hotstar, along with access to the Jio suite of apps. The postpaid plans start from Rs 399 and bundles 4G data and unlimited calling, along with in-flight connectivity for passengers flying to foreign destinations.
The most basic plan under the Postpaid Plus service is priced at Rs 399 and comes with 75GB 4G data, unlimited voice and SMS, and subscription to Netflix, Prime Video, Disney+ Hotstar, along with data rollover option up to 200GB. There's also a Rs 599 plan that includes 100GB data, and an additional connection under a family plan. For Rs 799, users can option of adding two SIM cards, and 150GB data, while the Rs 999 plan offers 200GB data, 500GB rollover and three additional SIM cards. The highest plan is worth Rs 1,499 and offers 300GB data and unlimited voice and data services when roaming in the USA and UAE.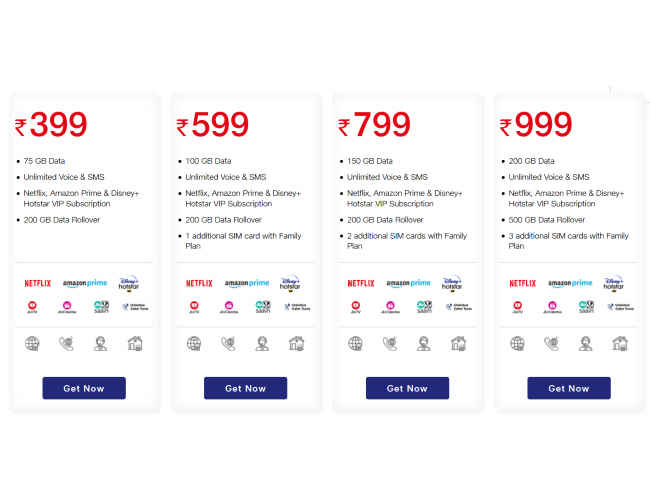 While all this certainly sounds quite the bargain, we wonder how Jio is able to cram so many benefits for plans that are priced just Rs 399. Subscription to Amazon Prime itself costs Rs 999 for a year, while Disney+ Hotstar VIP subscription is Rs 399 per year. Netflix plans starts from Rs 199 for a single mobile screen, going all the way up to Rs 799 for 4K HDR quality. So we delved deep into the terms and conditions of the offer to see what the fine print has to say. Let's break down the offer for each benefit to examine whether it is indeed a good deal —
Netflix
The Reliance Jio Postpaid Plus service terms and conditions state that the offer "gives Customer using Android and iOS, the entitlement to access the Netflix service application on their mobile device at no additional cost." This means that Netflix can only be accessed from iOS and Android devices (basically, smartphones) without interruption. Going by the limitations, it's likely that the basic Rs 199 plan for Netflix is being offered here. The basic Rs 199 plan supports a single screen and only streams in 480p quality. For most smartphone users, that's just decent.
Amazon Prime
The terms and conditions for Amazon Prime state that there's no change here. Jio is indeed offering an annual subscription to Amazon Prime worth Rs 999 that covers all benefits under the Prime subscription, including free one-day deliveries, Prime Music and Prime Video. Having said that, the same benefit is also offered by Airtel as part of Airtel Thanks benefits.
"The Offer includes Amazon Prime membership for 12 months at no additional cost when they are subscribers or subscribe to an eligible JioFiber plan. With Amazon Prime membership, Customer gets access to all the benefits available under Amazon Prime membership such as content on Amazon Prime Video application, free fast delivery, and access to Amazon Music. Customer can watch the content on all the means which are compatible with Amazon Prime Video app as per Amazon Terms and Conditions," reads the T&C.
Disney+ Hotstar
The Disney+ Hotstar subscription is also billed annually. Getting a Jio Postpaid Plus plan will activate 12 months of VIP access and will not require the plan to be kept active to continue enjoying the service. The same holds true for Amazon Prime, but not for Netflix. To keep the Netflix subscription alive, the user needs to continue to recharge with the plans that include the benefit. However, users will need to activate the offer manually on the respective platforms within 15 days of availing the offer.
The VIP subscription to Disney+ Hotstar covers live sports, 7 multiplex blockbusters, exclusive Hotstar Specials, Star serials and Disney+ shows, movies and kids content.