Qubo Smart Security WiFi Camer with Face Mask Detection
India's most versatile weatherproof outdoor camera that protects your outdoors 24x7 and provides crystal-clear video streaming day and night through the qubo mobile app.
Click here to know more
Advertisements
Netflix recently confirmed that it would introduce a mobile-only plan by Q3 this year in India. True to its word, the company is now rolling out the new Mobile plan, which is priced at Rs 199. With its new offering, the online streaming platform is aiming to add more subscribers to its now slowly stagnating growth numbers. This new mobile plan by Netflix offers viewing on only one device at a time and this device can only be a phone or a tablet. In addition, video streaming quality will only be in Standard Definition (SD). This new offering joins the company's existing basic, standard and premium plans.
To opt for the new mobile plan, one can either download the Netflix app on a smartphone or tablet and select the mobile plan, which is priced at Rs 199. One will get to avail a free month of Netflix in case this is the first time they are signing up for the service but one needs to add their account details. Ajay Arora, Director, Product Innovation, Netflix says, "Our members in India watch more on their mobiles than members anywhere else in the world- and they love to download our shows and films. We believe this new plan will make Netflix even more accessible and better suit people who like to watch on their smartphones and tablets—both on the go and at home."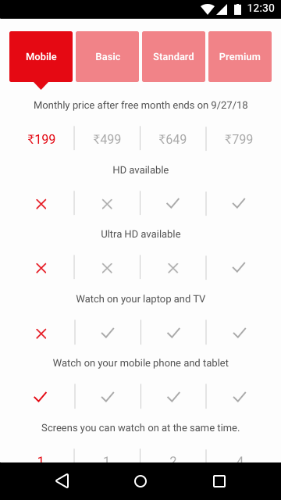 This new plan by Netflix follows the report of the online streaming platform adding far fewer subscribers than it had projected. The company added 2.7 million new subscribers in the second quarter this year, as opposed to the predicted 5.1 million. The company had been testing the plan in India from some time now and commenting on the tests it said that all users might see the option to subscribe for the new plans and that there's a possibility of the option never making it out of testing. However, it seems like the company is willing to revamp its services to get ahead of the competition.
It was previously reported that Netflix's mobile plan could be priced at Rs 250. However, at Rs 199, it is competing with Amazon Prime and Disney-owned Hotstar, whose services are priced at Rs 129 and Rs 199 per month respectively. Moreover, local online media streaming providers like AltBalaji and ZEE5 are even cheaper. Recently, MX Player also announced some free-to-watch original shows. It remains to be seen how the new mobile-only plan by Netflix fares for the company in India.