Reliance Jio has launched its Jio Postpaid Plus services in India that come with many benefits including a subscription to OTT services, complimentary access to Jio apps, family plans, data rollover and global Wi-Fi calling features. The Jio Postpaid Plus tariff plans start from Rs 399 in India and will be available from September 24 across Jio Stores and through home-delivery.
Speaking on the launch of Jio Postpaid Plus service, Akash Ambani, Director at Jio said, "JioPostpaid Plus has been intricately designed keeping in mind the needs of every postpaid customer. It accounts the need for dependable and high-quality connectivity, limitless premium entertainment, seamless and affordable international roaming, cutting-edge innovative features and most importantly the customer experience. We have tried to design a gold standard service experience, and we hope that every postpaid user in India will make full use of it. "
Reliance Jio Postpaid Plus features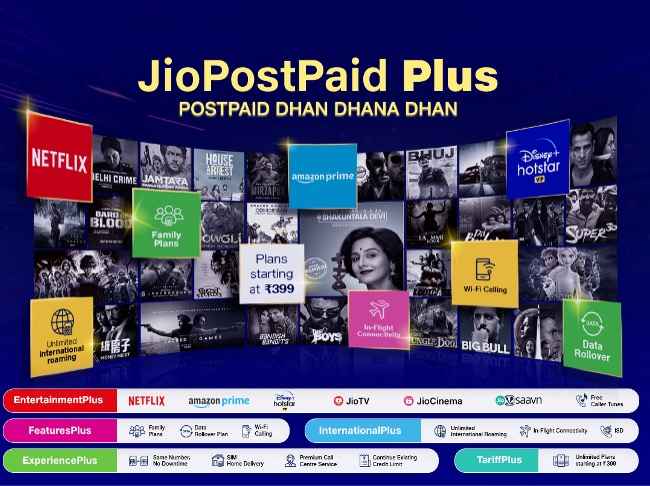 Reliance Jio Postpaid Plus plans come with subscriptions to premier OTT services including Netflix, Amazon Prime Video, Disney + Hotstar, JioTV, Jio Cinema, JioSaavn and more. The postpaid plans also offer family plan benefits with features like data sharing, data rollover and Wi-Fi calling.
Jio is offering a family plan at Rs 250 per connection with data rollover upto 500 GB and Wi-Fi calling. With the Postpaid tariffs, Jio is also offering free international roaming in the USA and UAE. On Wi-Fi calling, postpaid users will be charged Rs 1 on international roaming and ISD starting at 50 paise per minute. The company is also offering in-flight connectivity for passengers going visiting other countries.
Jio also promises of no downtime while migrating from other plans to Postpaid Plus and offers free home delivery and activation of SIM cards.
Reliance Jio Postpaid Plus tariff plans
Reliance Jio Postpaid Plus tariff plans start at Rs 399 that comes with 75GB data, unlimited voice and SMS, subscription to Netflix, Prime Video and Disney + Hotstar VIP and 200GB data rollover.
Then there the Rs 599 plan that offers 100GB data and 1 additional SIM card if choosing a family plan. Rest of the benefits remain the same as those with Rs 399 plan. Similarly, the plan worth Rs 799 offers 150GB data and 2 additional SIM cards under the family plan. This is followed by the Rs 999 tariff plan that provides 200GB data, 500GB data rollover and 3 additional SIM cards. There is a plan worth Rs 1,499 that offers 300GB data and unlimited voice and data in the USA and UAE.
Reliance Jio Postpaid Plus: How to get
Reliance Jio Postpaid Plus will go live from September 24 and prepaid users who want to port to the company's postpaid plans will need to either get the SIM home-delivered or visit their nearest Jio Store. We would advise readers to choose home delivery over given the current situation.
Prepaid users who wish to port to the Postpaid plans can visit the website or call 1800 8899 8899 to register for the Postpaid plans.
For postpaid users who wish to get the Postpaid Plus benefits, users need to send a text message saying "Hi" to 88501-88501 on WhatsApp.
Click here to know more about Reliance Jio mobile recharge plans.