OnePlus TV 32Y1 - Smarter TV
Android TV with superior craftsmanship and elegant design - Buy Now
Click here to know more
Advertisements
We all know that when it comes to freebies, Reliance Jio leads the pack. The telecom giant has been the bane of many of its rivals with its progressive schemes and offers. The latest to come out of the house of Ambani is free additional data for a few of Jio's customers. Anecdotally, two of our very own Digit team members were offered a free data voucher on the 15th and 16th of August. But, we also asked other Jio users in the office and they hadn't received any free additional data. If you want to see of you can avail the free additional data, head on over to the MyJio app and see for yourself.
To check if your account has been credited with a free data voucher, boot up the MyJio app. Press on the My Vouchers section on the bottom, where the free data voucher should be present. As mentioned earlier, the Reliance Jio free data voucher doesn't seem to be present for everyone. To redeem the voucher, you need to tap on the Redeem section and select the voucher and tap on proceed now. Once the voucher is redeemed, one can head over to the My Plan section in the MyJio app to see that the additional free data is available over the currently available regular data plan.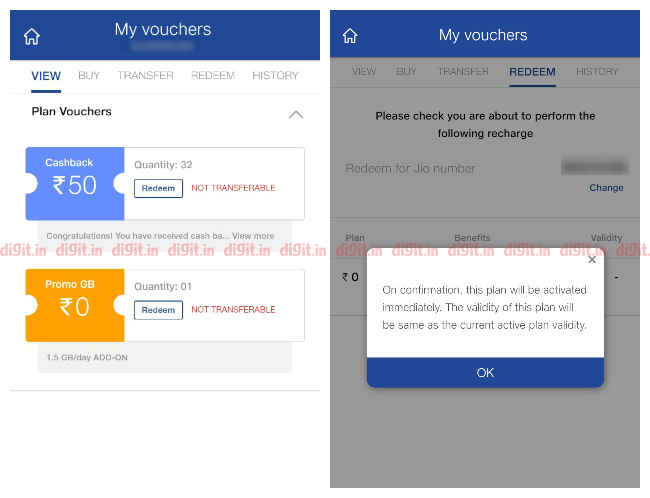 Jio offering free data to its users is nothing out of the ordinary. The telco recently made a bunch of announcements at its 42nd AGM regarding JioFiber, it's upcoming set-top box, and more. The company also announced a new Jio PostPaid Plus plan priority service, which addsas additional services for JioFiber users. Under the service, one will have a priority SIM-setup service so that users can switch to the Jio network from home. There are also Family plans that will enable one data plan, and data sharing with family members. You can read more about it here.