We saw some new foldable phones at this year's Mobile World Congress 2019 event, from smartphone makers like Samsung and Huawei. Oppo also quietly announced a foldable handset that was said to be a prototype and the company's Vice President, Brian Shen, said that there is no big improvement in user experience due to a foldable screen. However, the company executive asked users to show their interest in the device in a Weibo post. Back in 2018, the company applied for a patent of its foldable phone with the World Intellectual Property Office (WIPO), and as noted by LetsGoDigital, the company has been granted the patent.
The patent filing consists of phone renders of Oppo's foldable device. However, unlike other foldable phones, the patent hints at the presence of a pop-up camera module. The screen also features thinner overall bezels since the camera is moved in the pop-up module. The renders also suggest that the camera can be operated in both folded and unfolded display scenarios, and depending on the form factor, it can be either used as a front or the rear camera setup. Additionally, while the Samsung Galaxy Fold features a display that folds inwards, the Oppo handset's screen folds outwards, same as the Huawei Mate X.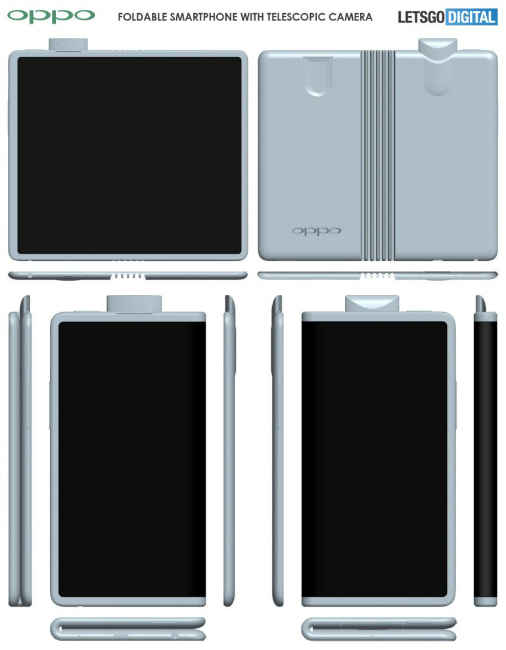 The patent renders also reveal the presence of a 3.5mm audio jack on the smartphone. Additionally, it shows off the hinge mechanism Oppo could end up employing on its foldable device. However, since this is a patent, we suggest you don't get your hopes too high for now as there's a good chance that the company might not use the technology at all.
Speaking of foldable phones, the Samsung Galaxy Fold is expected to be announced soon. However, the inner display on early units supplied by the company to phone reviewers in the US broke down. The company issued a statement saying that it is looking into the issue but reassured that the phone will be launched soon. While the Huawei Mate X was shown off as an innovative product, the company itself is in hot water since it was placed in the US Entity List. The company is banned from using Android and it is currently under a 90 day grace period to deliver updates to its phones. You can read more about this here.