HIGHLIGHTS
OnePlus Nord Android 11 update paused

OnePlus working to fix performance issues

OnePlus Nord 2 leaked earlier this month
OnePlus has temporarily paused the OxygenOS 11 rollout for OnePlus Nord after several users faced performance issues. OnePlus released the stable Android 11 based OxygenOS 11 build for Nord earlier this month after conducting many Open Beta tests. However, some bugs crept into the stable update and now the rollout has been paused.
Over at the OnePlus Forums, Community Consultant dsmonteiro posted a message informing users that the Android 11 update for Nord has been paused temporarily and the company is working to fix the issues in an updated build that will be released soon.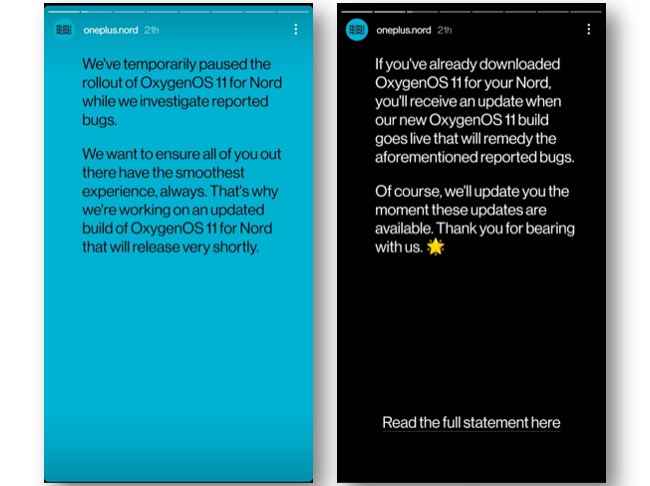 "We've noticed that many of you have queries about the availability of Nord's Android 11 update. The update has been temporarily paused to ensure a smooth user experience, due to some bugs that have been detected. We are now trying our best to investigate and will release an updated build ASAP in the near future. Users who have installed the previous version can get the issues fixed through the later version updates. Thank you very much for your patience," the message reads.
Many Nord users have taken to the forum reporting about the issues they are facing after updating to the latest version of the OxygenOS. There have been reports of battery issues, app lock, bugs in the gallery app and more. The new Android 11 based OxygenOS 11 brings several changes to the interface along with new features like always-on display and more.
OnePlus is currently working on a new updated build of the OxygenOS 11 for the Nord, but it has not shared a detailed timeline for when users might start receiving it. The users who updated to the latest build and are facing issues will have to wait for the upcoming build that will fix those bugs.
Following the successful run of the OnePlus Nord, it's the successor to the OnePlus Nord 2 that has been leaked earlier this month. The OnePlus Nord 2 reportedly is powered by the MediaTek Dimensity 1200 processor that was launched in January. Having said that, we are still months away from the launch of the purported OnePlus Nord 2 and there's a lot that could potentially change between now and when the phone officially launches.
Also Read: OnePlus Nord 2 could be the first MediaTek-powered phone from OnePlus