OnePlus 9 series phones will get a two-year warranty in China. This doesn't apply to the OnePlus 9 series phones in India or North America. OnePlus will launch these new phones on March 23.
The OnePlus 9 series launch is just a few days away now and the company is still feeding us teasers and information, leading up to the launch event. The new piece of info, coming straight from the CEO Pete Lau himself is that the OnePlus 9 series phones will get a two-year warranty instead of one.
Pete made an elaborate post on Weibo explaining how most users replace their flagship phones typically in two years and the new OnePlus 9 series warranty period will now reflect their replacement cycle.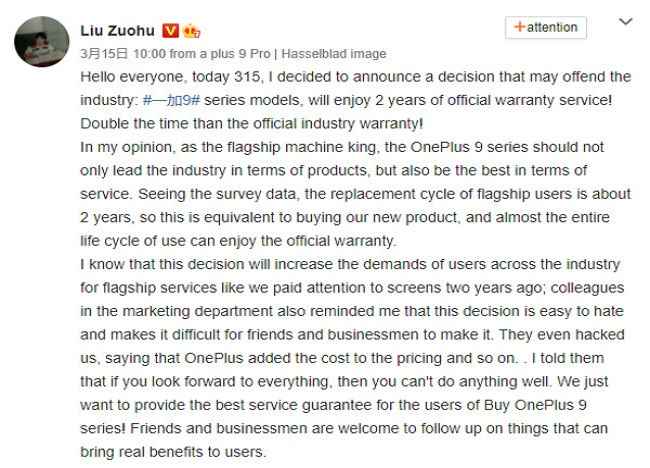 As exciting as this news is, it's worth pointing out that the two-year warranty offer will be limited to China only. Yes, according to the OnePlus representatives who spoke with the folks over at Android Authority, that particular Weibo post about the extended warranty period was specific to China.
In India and North America, however, the phones will continue to have the same one-year warranty for free based on industry-standard. An extended warranty can be availed at an additional cost, of course. This is a little disappointing news considering the fact that OnePlus is a popular name in India.
Two-year warranties are mandatory for devices in Europe, so the consumers in that region will be covered by the law. So this means the OnePlus 9 and 9 Pro variants in both China and Europe will come with a two-year warranty, whereas the Indian and North American variants won't get the same treatment.
OnePlus 9, OnePlus 9 Pro Launch Details
OnePlus will be hosting a virtual event on March 23 to launch the new phones. The company will also be launching the much-awaited OnePlus Watch alongside the new phones. Recently, we also learned that the company is preparing the OnePlus 9R for the Indian market, and it will debut alongside the new phones on the same day.