After a series of leaks on the OnePlus 9, now some key details of the OnePlus 9 Pro have been leaked online. The leaks come in the form of screenshots that are allegedly taken on the OnePlus 9 Pro. The leak not only reveals some key specifications but also adds weight to the possibility of its existence alongside the upcoming OnePlus 9.
The new OnePlus 9 phones are expected to launch in mid-March, and the anticipation among Indians is as high as always. Rumours indicate that there will be three models of the phone - OnePlus 9, 9 Pro, and a cheaper 9E/9Lite/9R. You can get all the scoop about the upcoming OnePlus 9 series here.
Coming back to the latest leak, a Greek publication Techmniacs.gr has shared screenshots of the 'About Phone' screen and camera app of the OnePlus 9 Pro. As per the screenshot, the OnePlus 9 Pro will have a 6.7-inch Fluid AMOLED display with a 120Hz refresh rate. The information is already known that it will have a Snapdragon 888 chipset. However, it does reveal that is paired with 8GB of RAM and 128GB of storage.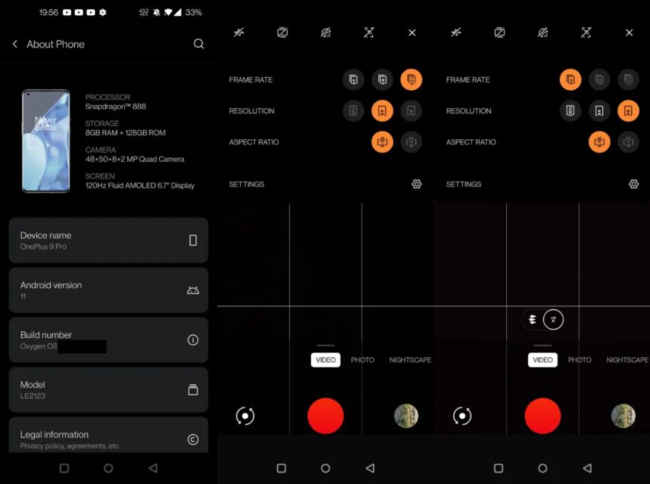 OnePlus 9 Pro leaked screenshots revealing key details
The image also shows that the OnePlus 9 Pro will have four rear cameras – a 48MP + 50MP + 8MP + 2MP. It does not mention the details of the front camera, but we expect it to be the same as it will be on the OnePlus 9 - a 16MP selfie shooter. Previous reports have claimed that the OnePlus 9 Pro will feature a Hasselblad powered rear camera.
Lastly, it also revealed that the OnePlus 9 Pro will run Android 11 out of the box.
While the first screenshot reveals some of the specifications, the other two images show that there could some tweaking in the camera app's design. As per the image, the settings menu has been moved to the top and from the bottom. The redesigned video settings menu will allow users to switch between frame rates, resolutions, and aspect ratios.
Looking closely, you will also find a key camera feature - support for 8K video recording at 30 frames per second and 4K video recording at 120 frames per second.
That's all that the new leak has revealed about the OnePlus 9 Pro. With the launch date approaching, we're likely to see more details of the phone pouring in.