OnePlus is all set to unveil its OnePlus 7 series of handsets on May 14, which is confirmed to feature the OnePlus 7 and the OnePlus 7 Pro. As always, the company has commenced teasing its upcoming phones before the official launch. OnePlus CEO Pete Lau previously teased that the OnePlus 7 Pro will feature an all-new "super-smooth" display but refrained from dropping details about it. Now, Lau reveals that the phone has received an A+ display rating in DisplayMate's Lab Tests, which was confirmed by DisplayMate in a tweet. Pete Lau tweeted the information saying, "Can't wait for you to experience our A+ rated display (there is no A++ so we hit the ceiling) by the renowned independent research and test lab - DisplayMate."
The company also claims that its OnePlus 7 Pro scored "exceptionally well" across parameters like colour accuracy, brightness, contrast accuracy, pixel density, among others. The display on the OnePlus 7 Pro is said to deliver a sharper viewing experience and enable users to adjust the display colour gamut and colour temperature to calibrate the phone's screen as per their requirement. Additionally, the DisplayMate grading suggests that the display panel on the OnePlus 7 Pro can be expected to deliver the same level of viewing experience as other premium flagships like the iPhone XS Max, Samsung Galaxy S10 and the Pixel 3 XL.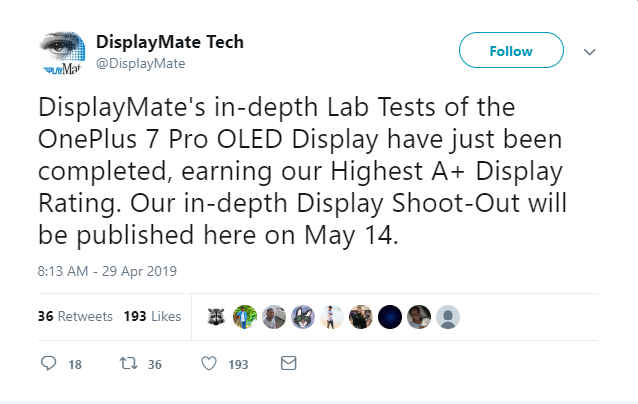 "Not only does the display on the OnePlus 7 Pro provide an impeccable viewing experience, but it also better protects your eyes even after prolonged hours of use. Our display has also received the 'Safety for Eyes' certification from the independent and neutral VDE Testing and Certification Institute for its ability to better filter out harmful blue lights. Its upgraded eye protection features allow for an adjustable temperature and brightness to enhance eye comfort," says OnePlus. However, we will be sure to test the phone' display, and every other aspect of the device, when we put it through our testing process for review.
OnePlus has again reiterated a "smooth" display on the OnePlus 7 Pro, which reports suggest is a hint towards higher refresh rate. A previous report about the phone claims that the OnePlus 7 Pro will come equipped with a 6.64-inch curved Quad HD+ Super AMOLED "90hz" display with a pop-up front camera. The company also recently teased the presence of triple-rear cameras on the smartphone, which is reported to consist of a 48MP main camera with f/1.6 aperture and OIS support. It could also be equipped with an 8MP sensor that is paired with f/2,4 aperture lens, which is capable of 3x zoom and a 16MP wide-angle camera with a 117-degree field of view.