The OnePlus 7 Pro is the company's latest flagship handset with which the company aims to take on premium flagship phones by other companies like Samsung and Apple. The 6GB RAM + 128GB storage variant of the handset is sold for Rs 48,999 in India but how much do you reckon it costs to build the OnePlus 7 Pro? Well, as per a leaked BOM cost sheet of the handset, the sum of components used on the OnePlus 7 Pro is $324.21 or Rs 22,359. As per the leaked sheet pricing, the most expensive component of the OnePlus 7 Pro is the 6.5-inch AMOLED display that the company sources from Samsung, which is listed for $80 (Rs 5,400 approx).
The second most expensive component is said to be the Snapdragon 855 chip, which is reported to cost $70 (Rs 4,800 approx). The handset comes equipped with triple rear cameras consisting of a 48MP primary sensor, an 8MP telephoto lens with 3x optical zoom and a 16MP Ultra-wide camera. This camera setup is apparently priced at $27.29 (Rs 1,922 approx), while the 6GB PDDR4X RAM and 128GB storage are listed for $26 (Rs 1,785 approx) and $20 (Rs 1,372 approx) respectively. While the cost of components might add up to $324.21 or Rs 22,359, it doesn't take into account the labour, production, marketing, distribution and other costs.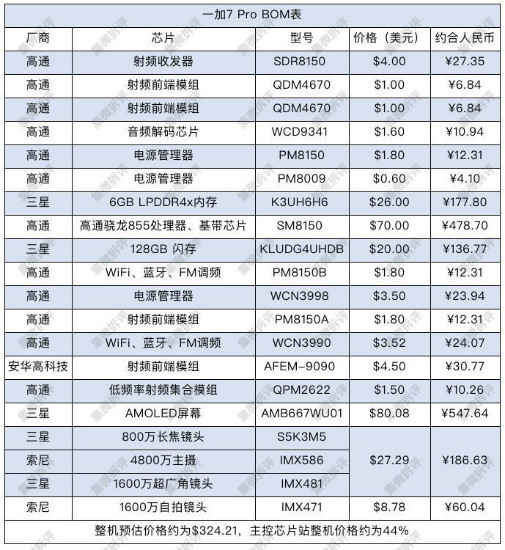 We previously came across a similar BOM sheet for the Samsung Galaxy S10 Plus. It revealed that the 128GB storage version of the phone, which retails at a price of $999, costs about $420 in parts. In this case too, the display was reported to be the costliest component, which was listed for $86.50 (roughly Rs 6,200), and was followed by the applications processor and modems at $70.