Flagship smartphones like the Samsung Galaxy S10+ do cost a pretty penny, but just how much does it cost Samsung to make one unit?
Highlights
Samsung Galaxy S10+ cost is estimated to be $420 in parts, based on a teardown.
The display is the most expensive component of the phone.
Flagship smartphones continue to get pricier each successive year. Part of this is, of course, each company's need for more profit, but also the fact that newer technologies sometimes take a significant investment in terms of R&D. While we cannot determine the exact contribution of the R&D costs to the retail price of the phone, what we can quantify is the total cost of hardware. The Samsung Galaxy S10+ has been torn down by Tech Insights, who has revealed the estimated cost of each component.
The Samsung Galaxy S10+ which has a retail price of $999 for the 128GB storage variant, costs about $420 in parts. That is roughly 44 percent of the price of the phone itself. The highest contributor to the cost is, of course, the display, which costs a whopping $86.50 (roughly Rs 6200), seconded by the applications processor and modems at $70. You can see the detailed cost breakdown of components in the chart below.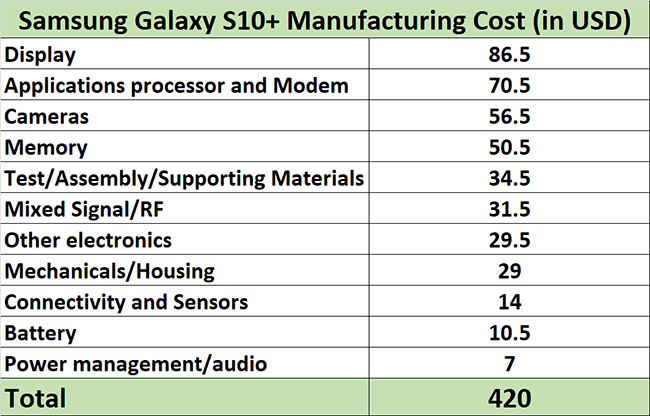 The teardown also reveals that the Samsung Galaxy S10+ continues to use the UFS2.1 storage and not UFS3.0, as previously rumoured. Additionally, it also gives us our first, clear look at the ultrasonic fingerprint sensor. The module is provided by Qualcomm and measures 4mm X 9mm. This is a considerably small sensor, although Qualcomm has said that bigger sensors are on their way. Lastly, the teardown also showed that the S10+ is using the second generation LPDDR4x RAM.
The Samsung Galaxy S10+ sure is an impressive device, as are the Samsung Galaxy S10 and S10e. The phones are set to launch in India on March 6, with the phones being made available on store shelves around the country on the 8th of March.
Related Reads: Samsung Galaxy S10e First Impressions: Compact and uncompromising