Xiaomi announced the rollout of MIUI 12 in India. MIUI 12 roll-out begins in August 2020, with the first update rolling out on Mi 10, Redmi Note 9/ Redmi Note 9 Pro, Redmi Note 8/ Redmi Note 8 Pro and Redmi Note 7/ Redmi Note 7 Pro.
Xiaomi held an online event to announce the rollout of MIUI 12 in India. The upgraded version of the popular user interface brings a new design and optimisations at the kernel level, and this is a big one. Xiaomi had deviated from the matching new features with a new Android version. The Android 10 update to MIUI 11 wasn't as significant in terms of new features added. MIUI 12, however, is different.
MIUI 12 Rollout Timeline: Mi 10, Redmi Note 9, Note 8, Note 7 series have first dibs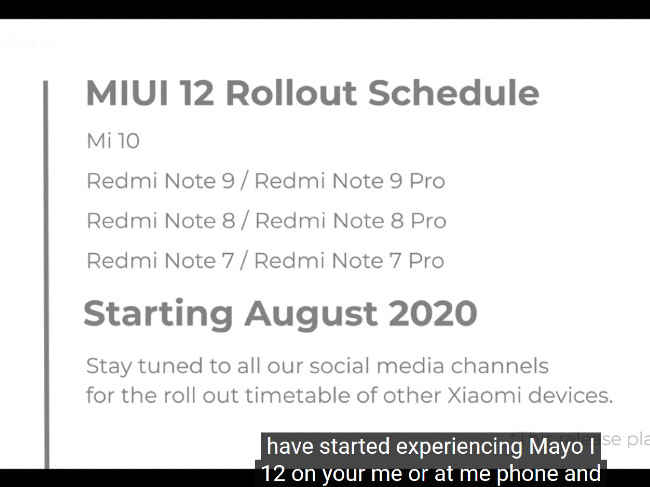 Before we get to the features, here's the good news. MIUI 12 has already started rolling out to Mi and Redmi smartphones in India. Some users have already reported receiving the update on the Poco X2, Redmi Note 9. Additionally, in the event Xiaomi said the Mi 10, Redmi Note 9, Note 8 and Note 7 series will receive the update to MIUI 12 in August.
Xiaomi will be notifying about MIUI 12 update to more devices via its social channels.To check if you have received the update to MIUI 12 on your Xiaomi smartphone, go to Settings → About Phone → System Update → Check for Update. Xiaomi will be rolling out the update in phases, so check back or wait for a notification.
MIUI 12 will likely come without the banned apps pre-installed
A few days before the official rollout, Manu Kumar Jain announced that Xiaomi is bringing a dedicated version of MIUI for Indian users which won't have the apps banned by the Indian Government. It's likely that this is what he was talking about, even though the topic was not touched upon during the event. New Xiaomi smartphones like the Redmi Note 9, Poco M2 Pro and the Redmi 9 Prime still come with some of the 59 banned Chinese apps, including some of Xiaomi's own apps like Mi Community and Mi Video. We will report on it as and when we receive the MIUI 12 update on our review units.
MIUI 12: Top Features
MIUI 12, Xiaomi said, refreshes the UI from the ground up with a new animation rendering engine allowing system-wide fluid animation, and interestingly, an app drawer and more integrated Dark Mode which covers third party apps along with system apps.
MIUI 12 will also persistently show permissions being used by app as a status bar icon, notifying users when an app is using critical components like the camera, microphone, etc. in the background.
There's also the expected bunch of new live wallpapers, AOD designs, floating windows, an ultra power saving mode a built-in sleep tracker.