Most technology companies announce the date of their upcoming annual developer conference over a simple tweet or YouTube video at most. But no—not Google. The search engine giant usually packs the date as an easter egg inside a riddle or game to tease its followers before eventually making the official announcement on Twitter. This year, it released a game called 'A Collaboration of the Cosmos'. A few minutes of exploration is enough to learn that Google will host this year's I/O event from May 12 to 14. The event will take place in the same venue as last year's I/O: Shoreline Amphitheatre in Mountain View, California.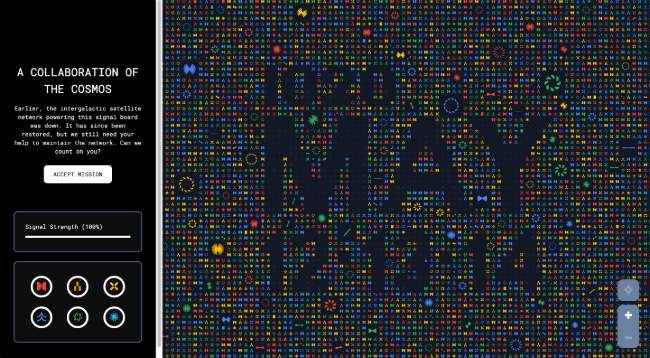 When Google held I/O last year, Android Q (what we now recognise as Android 10) was already reaching its third beta. The company announced what new features would be incorporated in it. Google also released more information on its Stadia game streaming service and unveiled the Pixel 3a and Pixel 3a XL smartphones, both of which are sold in India. Google also showed off the new, faster Google Assistant. Finally, it announced the renaming of its Home Hub smart speaker. With that little recap out of the way, let's take a look at what Google might announce this year:
Pixel 4a
Google is definitely expected to announce the Pixel 4a smartphone at this year's I/O. Second in Google's a-series line-up of Pixel smartphones, the Pixel 4a could continue to be a mid-range model with Qualcomm's Snapdragon 765 chip under the hood. Both, 4G-only and 5G versions of the Pixel 4a are expected to be announced. Recent renders of the handset hint at the presence of a 5.7-inch/5.8-inch flat display with a 'punch hole' for the selfie camera. The Pixel 4a is expected to have 4GB of RAM and 64GB of storage. You can read more about the Pixel 4a here.
Android 11
We expect Google to talk about the upcoming version of its popular mobile operating system, Android 11. By then, a couple of Android 11 beta releases are likely to be out. With Android 10, Google officially ditched the idea of naming its versions after popular sugary treats, such as Lollipop, KitKat, and Marshmallow. Android 11 will be no different. We hope the next version packs some useful features, such as an inbuilt screen recorder. The word on the street is that Google will include an extended or 'scrolling' screenshot feature, something seen on OnePlus and Oppo smartphones.
Google Assistant
Since the announcement at last year's I/O, Google has made some progress with the rollout of the new Google Assistant. The new, more lightweight digital assistant is already active in the US and, more recently, went live in Canada, Ireland, Australia, Singapore, and the UK. The new version packs Assistant's large online speech recognition models into a 500MB local package that can function without an internet connection. We expect this new version to make it to more countries this year. At I/O, Google could talk more about how it's planning to make that happen.
Stadia
Announced at Game Developers Conference 2019, Stadia is Google's recently released game streaming service. Since the time it went live in November 2019, the service has been fraught with problems. For example, games did not stream on the promised 4K resolution and users experienced a fair amount of latency. Google has been talking about how it's tackling some of these problems. At I/O, the company could further discuss its issues revolving around Stadia. Google's Stadia is currently available in 14 countries across the world, but sadly, India isn't one of them. To understand how Google Stadia works in detail, read our story here.
More Nest Speakers
At last year's I/O, Google's Home Hub smart speaker was renamed as Nest Hub to reflect the parent company's acquisition of Nest Labs in 2014. The speaker came to India and was later joined by the more affordable Nest Mini. You can read our review of it here. This year, we can expect Google to announce new smart speakers and smart display models under the Nest sub-brand. But this may or may not happen. In our opinion, Google should incorporate a 3.5mm jack in its future smart devices for those who would rather use their own speakers for sound while retaining the power of Google Assistant.
Our list of what to expect from Google I/O 2020 isn't admittedly comprehensive. In those three days, Google usually packs in a lot of information and announcements. If you're looking forward to a Google development this I/O, let us know in a comment.