Apple iPhone 12 and iPhone 12 Pro cost roughly Rs 27,500 and Rs 30,000 to make, as per a new teardown report
Apple iPhone 12 and iPhone 12 Pro cost roughly Rs 27,500 and Rs 30,000 to make, as per a new teardown report that reveals the Bill of Materials (BoM) for the two phones. The iPhone 12 was launched alongside the iPhone 12 Pro, iPhone 12 Pro Max and iPhone 12 Mini in October and have recently gone on sale in India. The iPhone 12 is priced starting at Rs 79,900 while the iPhone 12 Pro starts at Rs 1,19,900.
According to a new teardown report by Nikkei in collaboration with Tokyo-based research specialist Fomalhaut Techno Solutions, the BoM for the iPhone 12 totals to $373 (~Rs 27,500) while that of the iPhone 12 Pro is $406 (~Rs 29,900). Do note, however, that various overhead charges go into deciding the retail price of the phone.
The report also indicates that the most expensive parts inside the iPhone 12 series are the Qualcomm X55 5G modem at $90 followed by the OLED display that is manufactured by Samsung at $70. Sony is the key supplier for the camera sensors used in iPhone 12 Pro including the wide-angle and telephoto camera that is priced between $5.40-$7.40 per unit. Moreover, the A14 Bionic chip that powers the iPhone 12 and 12 Pro is expectedly priced at $40 with RAM and memory chips supplied by Samsung costing $12.8 and $19.2 per unit respectively.
Additionally, the battery on the iPhone 12 series has been redesigned and the report states that the capacity was cut by 10% in order to get additional space for new components. The battery cells are made by Amperex Technology Ltd which is a Hong-Kong based company.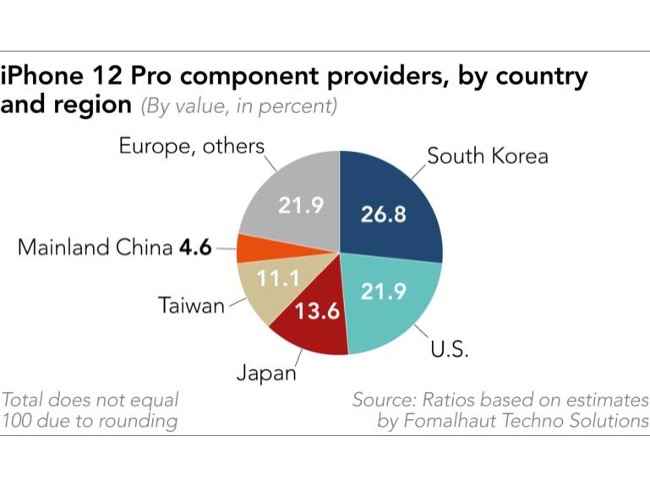 The teardown report also reveals the origin of the component providers with South Korea accounting for 26.8% of share followed by the US and Europe at 21.9%. The report notes that while China accounts for less than 5% of the component share, Apple still prefers to outsource iPhone assembling to producing sites in China. The other two countries from where the components are sourced include Japan and Taiwan with a 13.6% and 11.1% share, respectively.
To know more about the iPhone 12 Pro Max, go here or you could watch the iPhone 12 Pro Max unboxing video here.