Google announced eSIM support for its phones starting with the Pixel 3 series and the Pixel 3a series of handsets. However, the eSIM support for the Pixel 3 series was pulled after the Android Q Beta update. Having an eSIM can be convenient for users since one doesn't need to worry about getting a physical SIM card. However, there wasn't the Dual Sim Dual Standby option for the eSIM supporting Pixel handsets but this is changing for the Pixel 3a series of handsets with the latest Android 10 update. Google is now rolling out the update for its Pixel smartphones and with the update, the Pixel 3a and Pixel 3a XL gain support for the Dual Sim Dual Standby option.
We updated the Pixel 3a XL in our office and found that the option is now available for use. One can set it up on their device by navigating to the handset's settings and tapping on Network & internet option. Tap on the + icon to add another network operator and select the 'Don't have a SIM card?' option to add an eSIM. A new message now shows up at this step that reads, "This device can have 2 SIMs active at once…" tap yes to activate the Dual SIM Dual Standby feature and you will be asked to restart your device to go ahead with the setup with the option turned on.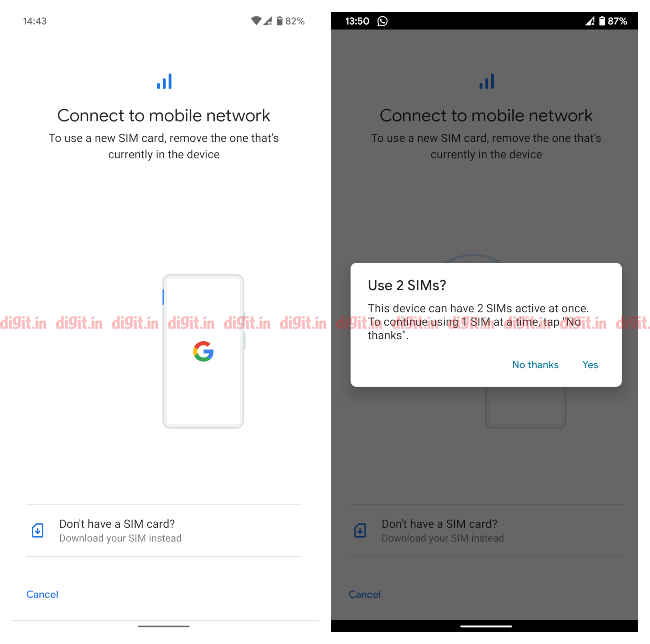 The new feature now being available on the Pixel 3a series of handsets was first spotted by 9to5Google. Google mentions in a support page that the eSIM and dual-SIM support is available only for select mobile carriers. Currently, only Reliance Jio and Airtel offer eSIM services in India and we advise you to check with your telecom operator before setting up an eSIM. As for the Android 10 update, all Pixel smartphones are now receiving the latest software by Google that brings a slew of new features. Read more about some of the best Android 10 features that you might have missed here.