Here is our first impression of the Xiaomi Mi Laptop 14 Horizon Edition. It is powered by a 10th generation Intel Core i7-10510U and comes with an Nvidia Ge Force MX350.
Laptops aren't the first thing that comes to mind when you think of Xiaomi, but as it so happens, the company has been making laptops for some time now. If you have had a friend travel to China or seen our coverage from CES, you would have seen photos of these laptops and there's no denying that they're good. The Mi NoteBook 14 Horizon Edition is the company's first laptop to be launched in India, and as per the company, it's been designed specifically for India and is being launched in the country before anywhere else in the world. Xiaomi sent over their Made-for-India Mi NoteBook 14 Horizon Edition for us to review. While the laptop is still under review, just two days of using it have definitely left us with some impressions
Xiaomi Mi NoteBook 14 Horizon Edition Specifications
The Xiaomi Mi NoteBook 14 Horizon Edition comes with some very impressive specs. The unit we have runs off the 10th generation Intel Core i7-10510U. This is a quad-core processor with 4 cores, 8 threads and has a base clock speed of 1.8GHz and a boost clock of 4.90GHz. Accompanying the Comet Lake processor is Nvidia's GeForce MX350 graphics with 2GB VRAM. This is the first laptop to launch in India with this GPU. There's 8GB of DDR4 memory clocked at 2666MHz. Last but not the least, we also get a 512GB NVMe drive, which operates at PCIe 3.0 x4. The display used by Xiaomi is a 14-inch full HD display with a matte coating. The Horizon Edition means that the display is surrounded by slim bezels on three sides, measuring a measly 3mm.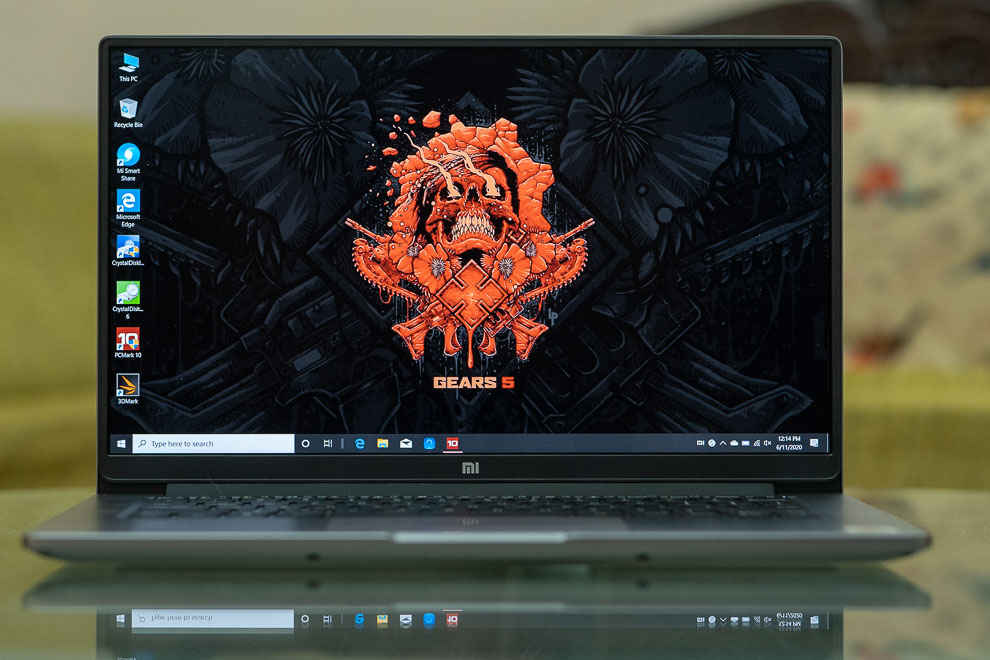 Xiaomi Mi NoteBook 14 Horizon Edition Special Features
The Xiaomi Mi NoteBook 14 Horizon Edition doesn't feel like a laptop that's "just been put together by using available parts." It is a laptop that feels purpose-built. After you take the Mi NoteBook 14 Horizon Edition out of its very standard cardboard box, you realise that you're holding a laptop that feels almost as premium as a Lenovo or Dell machine. The whole thing is made using magnesium alloy but does not give off a "MacBook" vibe, which is great. There really is no way to iterate the high quality of the build, but you can definitely see the very minimal nature of the design. There's no branding anywhere, except the mi logo on the bottom bezel of the display and an Intel Core i7 sticker on the bottom right corner of the keyboard island. I like minimal and I'm sure you will too. The narrow bezel display is definitely appreciated, but in terms of its peak brightness and colour accuracy, that's a matter for the in-depth review that will come later. Saving the best for last is the Nvidia GeForce MX350, which has been often claimed to almost match the performance of the Nvidia GeForce GTX 1050. There are definitely more things to talk about, but we also want to leave some things for our longer review that comes out in a few days.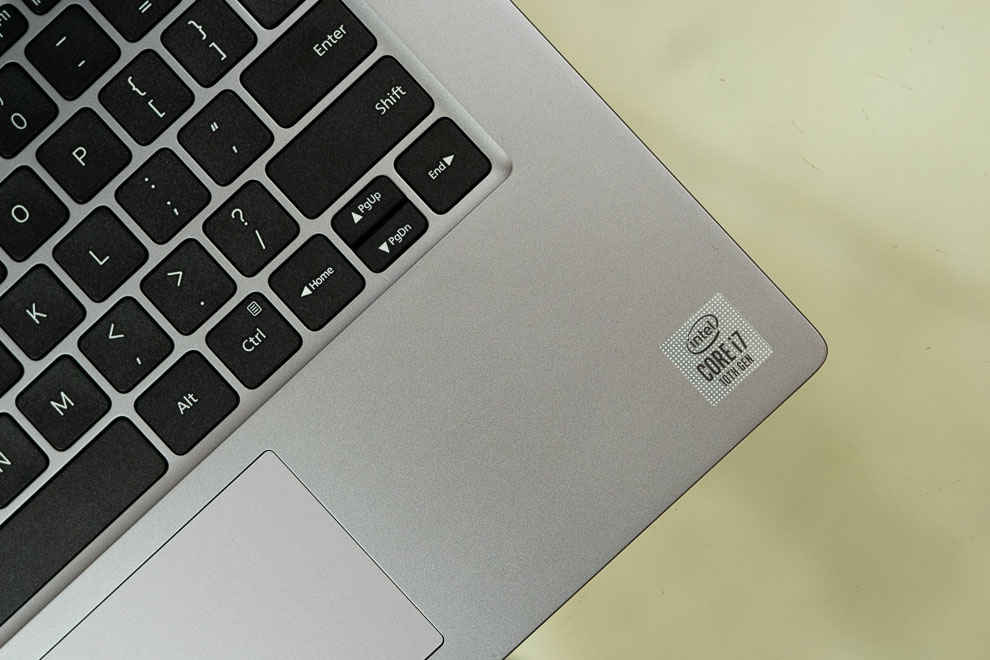 Using the Xiaomi Mi NoteBook 14 Horizon Edition
While I've only had the Xiaomi Mi NoteBook 14 Horizon Edition fore two days, I have been using it to do most of my work like writing and even light photo editing (RAW files from a Sony A7 Mark3). The laptop has been chugging along mostly just fine, without throwing any serious performance issues my way. What stands out is the incredibly thin and light design, without compromising on the rigidity of the body. However, there is one glaring omission from the laptop and that's the webcam. Xiaomi prioritized the slim bezels on this machine, so there's no built-in webcam. Instead, the company provides an external USB-webcam in the box which slides neatly onto the display. This is actually also quite great if you're the paranoid kind who has his/her webcam taped up like me.
Xiaomi Mi NoteBook 14 Horizon Edition First Impressions
Honestly, I was expecting a flimsy laptop, built using plastic parts. I expected the lid to have a lot of flex and the overall build to feel cheap. I have no shame in admitting how wrong I was. The Xiaomi Mi NoteBook 14 Horizon Edition is built extremely well. Their choice of features and specifications also allude to a well thought out machine, choosing the performance-oriented Comet Lake processor over Ice Lake. The fact that we get a 512GB NVMe drive operating at a full PCIe 3.0 x4 interface is also super impressive. You get all this at an incredibly competitive price, with Xiaomi claiming that the models that the Mi NoteBook 14 Horizon Edition competes against, coming in at the Rs 80,000-85,000 range, while this fully spec'd machine costs only Rs. 59,999. Early benchmarks of the processor do tell a favourable story, but the laptop still has a very long way to go in terms of testing. The initial impressions of the Mi NoteBook 14 Horizon Edition are highly favourable, but we will reserve our verdict on the laptop's value proposition for our full review, which comes out June 16 2020.