Nvidia lists the new MX300 series of mobile GPUs.The new lineup currently consists of the MX330 and the MX 350.The two chips are reportedly based on the now ageing Pascal architecṭure.
Nvidia has listed a couple of mobile GPUs under its new MX300 series, on its website. This lineup currently consists of the MX330 and the MX350, and we can expect a few more to be announced under this new series. True to previous rumours, the two new chips are based on ṭhe now ageing Pascal architecṭure. The MX330 and the MX350 are said to be 2x and 2.5x faster as compared to (Ice Lake) Iris Plus Graphics on the Intel i7-1065G7 processor. Some specs of both the GPUs are also listed on the official website, which reveal that they support GDDR5 memory interface and support a number of APIs, OSes and interfaces.
Some additional information about the two new GPUs have been reported by NotebookCheck, who apparently got hold of benchmark numbers. As per the report, the MX330 and MX350 are said to be akin to the "MX150 v3," and a "nerfed GTX 1050 on par with a GTX 960M," respectively. The MX330 is essentially a rebranded MX250 as it apparently has 0.8 percent higher clock speed for the 25W version, the report claims. As for the MX350, it could be based upon the same GP107 Pascal chip as the GTX 1050. However, the GPU apparently features only a 64-bit memory bus and could operate on a lower 25W TGP. Results of the MX350 are said to be more in line with a GTX 960M rather than a GTX 1050.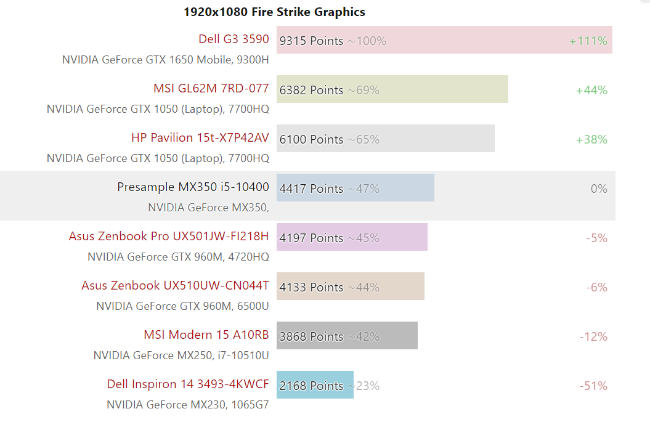 The image embedded above is said to be a preliminary benchmark of MX350 with other NVIDIA GPUs. It is a screenshot of the 1920x1080 Fire Strike Graphics benchmarks with MX350 set as the baseline. One will notice that the MX350's performance is quite close to the Nvidia GeForce GTX 960M and that the GeForce GTX 1050 mobile GPU is about 38 percent faster than the MX350. In another test, the MX330 was shown to underperform by about 11 percent slower as compared to the MX350. These new chips are expected to be the last Pascal-based refresh of Nvidia's GeForce MX series for ultra-mobile laptops.