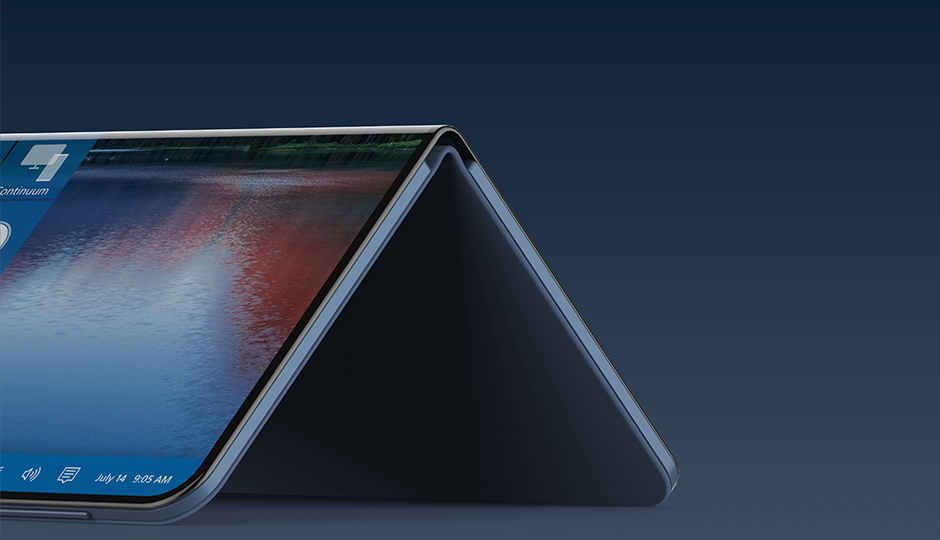 HIGHLIGHTS
We are yet to see smartphones with a foldable display, but Samsung has already announced that they are working on a laptop with a foldable display.
Foldable displays have held the fancy of consumers for the longest time. Time and again, we've seen concept art or even prototype devices that show off flexible displays, capable of being bent but up until now, all this was just limited to smartphones. Samsung has just announced that they are working on a foldable display equipped laptop. Samsung Mobile CEO DJ Koh already announced that the company is working on a smartphone with a foldable display, but a notebook with the same in the works is new.
In the laptop space, we've already seen a rudimentary implementation of folding displays, with Lenovo's Yoga Book, which had two displays put together with a hinge. Asus also showed off its Project Precog, a dual-display notebook with a hinge to allow the two displays to fold onto each other. Both these devices actually use two rigid displays that fold thanks to the hinge that join them together. What we don't have, is a laptop with a truly flexible display, one that can be bent or folded like it was paper. While this is what we would expect from any device claiming to have a "foldable" display, it is still very early stages of the technology.
Samsung's announcement of working on a notebook with a foldable display doesn't necessarily clear whether they are developing a display capable of bending and folding. However, as per Apple Patently, Samsung vice president of PC marketing Lee Min-cheol said "Like foldable smartphones, Samsung is collaborating with display makers to develop laptops with foldable displays that will not just simply fold in and out but create new value and user experience, amid the changing market trends for laptops."
Microsoft too had recently been awarded a patent for a device with a folding display, a device that's been codenamed, Project Andromeda. While the project was originally shelved as Microsoft was not able to find a real-world use case scenario where the device would have actual benefits, there are rumours that Microsoft may re-ignite the project, but this time, relying on the combination of a hinge and a folding display.
Foldable displays are a technology that has held the fancy of many consumers and given that most OEMs have basically hit a brick wall when it comes to innovation, foldable displays could be the next big trend. Whether it will actually be of benefit and become mainstream is something that remains to be seen.
Cover Image Credit: Ryan Smalley