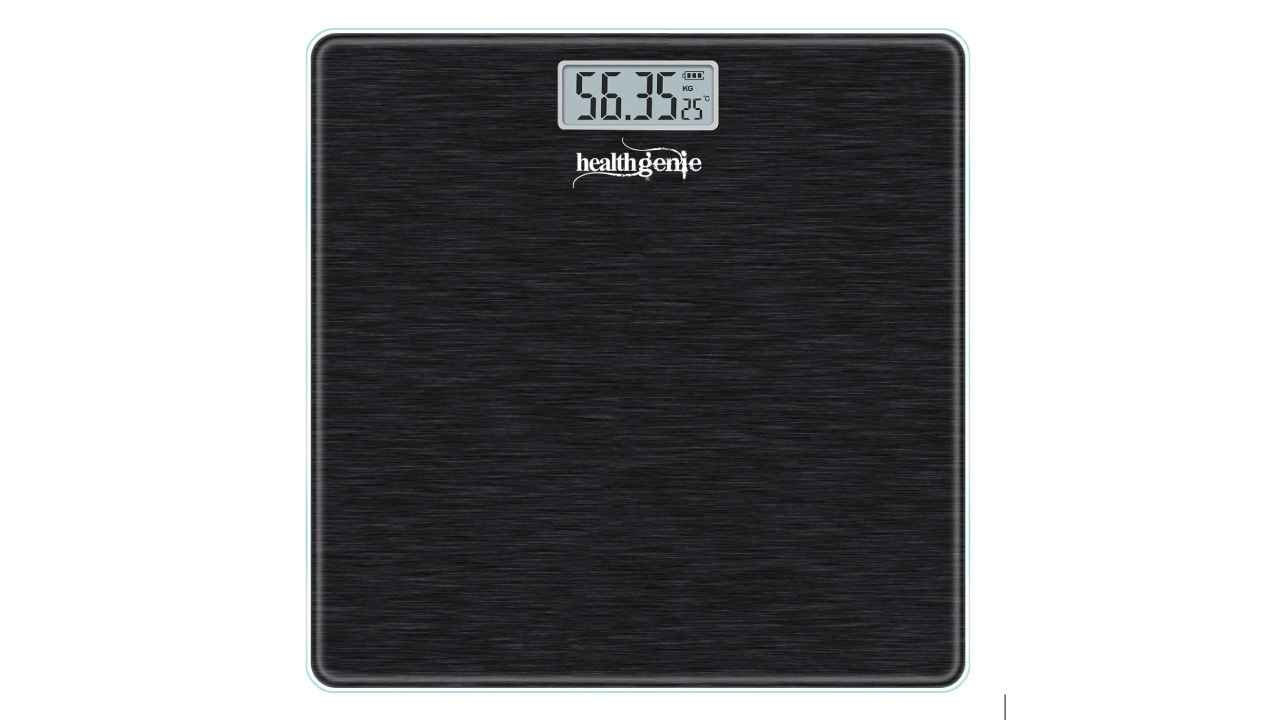 Tracking your weight should be important for everyone. It is an important parameter for our health. At certain levels, it can indicate early signs of various conditions. Additionally, if you're dieting or working out at home to lose weight, measuring your weight regularly is an effective way to know if your plan is working. With a wide range of weighing scales available online, it might be confusing to pick just one. You should look for a robust design and a high degree of accuracy in the machine. We've curated some models available on Amazon that combine great specifications and promising features.
Hoffen HO-18
Featuring high precision sensors, the Hoffen HO-18 scale ensures a great degree of accuracy for your readings. The design features strong bearings and durable tempered glass, keeping you worry-free about damage. It comes with a bright LCD display that makes it possible to see the reading clearly without needing to bend or squint. With a weight range of 2.3kg to 180kg, it is suitable for people of all ages. The display also shows you error messages when there is low battery and overload or similar issues, making maintenance easier. Its auto power-off feature helps you conserve the battery when not in use.
HealthSense Ultra-Lite PS 126
The Ultra-Life PS126 from Healthsense comes with a well-designed body. It is built with lightweight ABS that also makes it durable. The rounded corners in its design prevent accidental injuries. The weighing surface has a wavy platform to keep your feet in place. With its high precision G sensors, the model ensures accuracy to the nearest graduation of 100g. The anti-slippery surface on top and the anti-skid pads at the bottom delivers extra stability while you weigh yourself. The white readings on the large LCD display help you see it clearly, while the 10-second duration gives you ample time to record it.
Healthgenie Weighing Machine
In addition to your weight and the battery levels, the display on the Healthgenie Weighing Machine also shows you the room temperature, thanks to its temperature sensors. With the least count of 50g, the machine ensures a high degree of accuracy for all your readings. This is further amplified by the gauge sensors used by the model. To save battery, the model comes with an auto-off feature. Additionally, its low battery indicator lets you know when it's time for a battery change, helping you keep it ready for measurements at all times. Its anti-skid padding keeps it secured in place while you weigh yourself.
Easymart Weighing Scale
The sleek black design of the Easymart weighing scale makes it an aesthetic addition to your home. Beyond just looks, the model is also designed well. Its rounded corners prevent any risk of injury, while its thick tempered glass coating improves the durability of the device. The auto zero feature on the model keeps the readings correct, saving you the trouble of manually setting the zero weight each time. Overload and low battery indicators keep you informed of any anomalies in usage. Designed with a prominent large LCD display, the Easymart weighing scale keeps the readings easy for you to see.