Truecaller has launched a COVID-19 Healthcare directory in the app that will allow users to quickly find the contact details of hospitals in their area. The rising number of Coronavirus cases in India has led many people to look for hospital beds for themselves or for family, friends and acquaintances. The directory is currently only available for beta users on Android and will be rolled out to all Truecaller Android users soon.
The Truecaller COVID-19 hospital directory includes contact details and addresses of hospitals that have been designated for the treatment of COVID-19 across India. Do note, however, it does not display if there are any beds available in a particular hospital. The hospital directory will allow you to check the contact details of the hospitals in your city and it is being expanded to include as many COVID-19 hospitals as possible.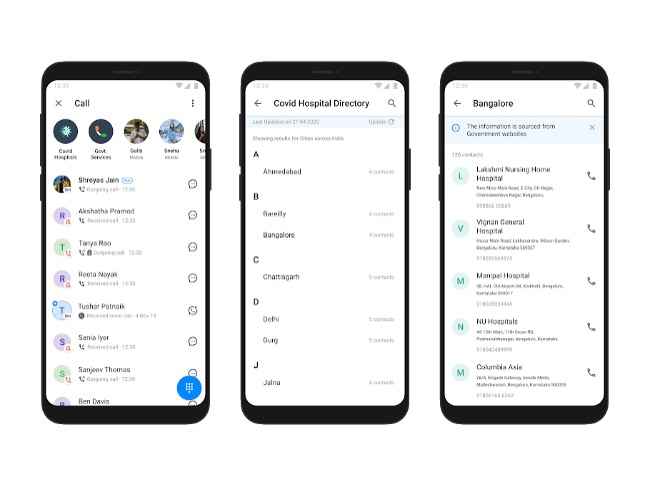 "We wanted to quickly introduce a simple directory of important numbers for Covid-related services. We have started with this hospital list and we're working to add more verified sources soon. This is one among the many ways we're helping with Covid relief efforts. We offer the support of the entire organisation and the Truecaller platform, for anyone that we can help," said Rishit Jhunjhunwala, MD India, Truecaller.
There is a search button that lets users find the contact details of the hospitals in your city in a jiffy. Truecaller has sourced this data from the different official government websites across India. "The Covid Healthcare Directory is launching today. We will be updating it every day and making sure that as many hospital phone numbers from as many areas in India are available," Truecaller said in a blog post.
As mentioned above, only Truecaller beta users will currently be able to see and use this COVID-19 hospital directory. It will be gradually rolled out to all Android users soon.
Also Read: List of online COVID-19 resources in India
For more technology news, product reviews, sci-tech features and updates, keep reading Digit.in or head to our Google News page.