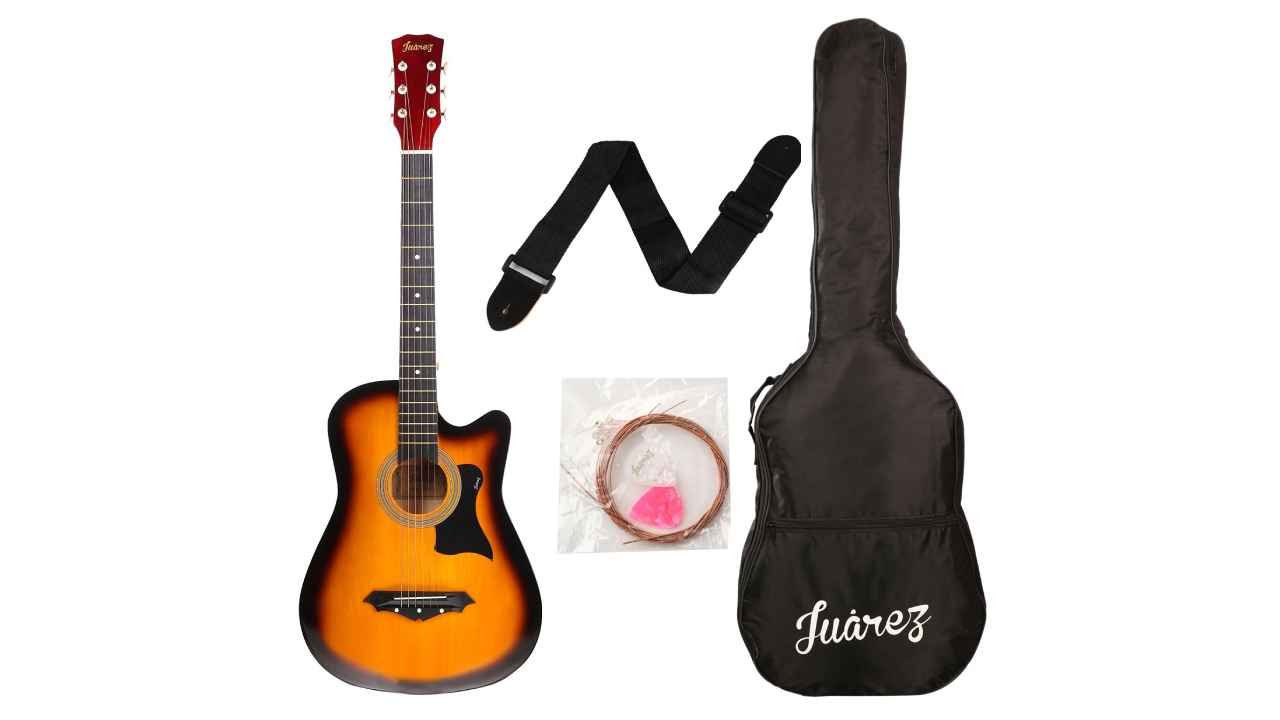 Every master was once a beginner, and if you are aiming to become a guitar maestro, you need to give yourself a great start. To start your guitar journey with a bang, make sure, to begin with, acoustic guitars. These musical instruments might be hard to play at first, but your introduction to advanced guitars would become easier once you acquaint yourself with their various intricacies. In case you are searching for the perfect acoustic guitar, make sure it comes along with a sturdy build and has a comfortable string height. Here are a few good acoustic guitars on Amazon that would be a perfect buy for beginners.
Kadence Frontier Series Semi-Acoustic Guitar
The Kadence Frontier Series Semi-Acoustic Guitar has been designed for great sound quality, high durability and most importantly, convenience for beginners. Coming fitted with a Linden wood body, this guitar enables high fidelity resonance within the hollow chamber. This is supplemented with a rosewood fretboard that doesn't only help in making the guitar more durable but also more in tune with musical notes. Its tuning keys are smooth and easy to adjust, making the guitar the perfect choice for beginners. The acoustic guitar has a streamlined cutaway curvature that brings together the head and the guitar's body, giving the guitar a fine touch. Its strings are covered in a bronze coating that doesn't allow it to rust quickly. Some of its other notable features are a built-in truss rod, an Indian rosewood bridge, and a built-in preamp.
Cort AD810-OP Acoustic Guitar
The Cort AD810-OP Acoustic Guitar features a spruce top that helps in giving the guitar a more resonant tone. It comes with mahogany back and sides to give greater sound projection, while its die-cast sealed tuners give way to robust tuning stability. This acoustic guitar is furnished with a 20-fret rosewood fingerboard that makes the guitar durable. Its neck is made out of a single piece of mahogany and sports a C contour that helps ensure the guitar is convenient enough for beginners. It is available in a dreadnought body through which the musical instrument radiates deep lows and crisp highs.
Yamaha F280 Acoustic Guitar
The Yamaha F280 Acoustic Guitar comes along with a rosewood fingerboard that helps in giving the instrument a warm and rich tone. Featuring a dreadnought body, this acoustic guitar gives out a more balanced voice across the entire tonal spectrum. In terms of sound quality, its strumming is smooth, and it allows you to observe the balance between low mids and highs. It gives a stellar bass response and offers a classic wooden finish. Apart from these, one of its prominent features is a solid spruce top that provides the instrument with more resonance and has a total of 20 frets.
JUAREZ JRZ38C Acoustic Guitar
The JUAREZ JRZ38C Acoustic Guitar is topped with solid wood that enables the instrument to produce a smooth and rich sound ideal for rock, folk, country, and every genre in between! It features a cutaway that makes things easier for beginners when they handle it for the first time. It comes equipped with low action strings that help in reducing hand fatigue and is easy on the fingers. This makes the JUAREZ JRZ38C Acoustic Guitar ideal for beginners who want to build their hand strength. Moreover, it offers a good set of tuning pegs that are smooth and easy to adjust, helping keep the guitar in tune. In terms of build, the musical instrument is made out of different types of strong wood. For instance, its fingerboard is made out of linden wood, while its fretboard is made out of ebony wood.