The Prime Minister of India Narendra Modi's personal website's Twitter account was hacked late last night, Twitter has confirmed. Following this, the attackers who had illegally gained access to the Twitter account of PM Modi's personal website and mobile app posted tweets asking people to "donate generously to PM National Relief Fund for Covid-19" in different cryptocurrencies like Bitcoin and Ethereum. There are two other accounts that the PM uses but those weren't a part of this attack.
Interestingly, this comes just hours after the government of India decided to ban PUBG Mobile and this led to a lot of backlash on different social media platforms. The tweets posted by the attackers on the "narendramodi_in" Twitter handle have since been taken off but screenshots are circulating online that give us a look at the Bitcoin and Ethereum addresses that the attackers wanted people to donate to.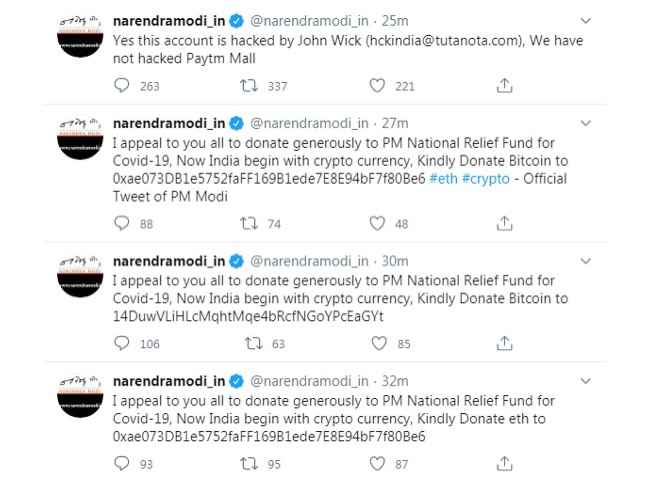 In another tweet, the attackers have stated that the account is hacked by "John Wick" and further clarified that the individual/group isn't responsible for the attack on Paytm Mall.
In a statement to the media, Twitter said, "We're aware of this activity and have taken steps to secure the compromised account. We are actively investigating the situation. At this time, we are not aware of additional accounts being impacted."
This latest incident of Twitter accounts getting hacked comes after a massive breach that led to the compromise of accounts of prominent personalities around the world. While Twitter hasn't yet found any connection between the July hack and PM Modi's account hack, the former incidentally saw the attackers asking people to donate cryptocurrencies which is similar to the tweets posted by the narendramodi_in handle, late last Wednesday.
The attack in July led to around 130 accounts of prominent figures being compromise including Tesla CEO Elon Musk, former US President Barack Obama, former US Vice President Joe Biden, Microsoft co-founder Bill Gates, Amazon CEO Jeff Bezos, to name a few. The hack was later found to be the work of a 17-year-old boy who resided in Florida.